Q: Which Sandals Resort is the best overall?
A: Sandals Grenada Resort & Spa is the best Sandals resort overall. It has been awarded the Leading All-Inclusive Resort" and "Grenada's Leading Resort".
Sandal's Royal Plantation and Sandal's Grand St Lucia are also highly recommended and awarded. But what is important to you might make you choose a different resort. So see below for additional ratings and categories.
Top 10 Sandals Resorts Overall
The ratings above of the best Sandals Resorts are based on 141,034 online reviews. Which Sandals resort is the best for you may be different depending on what you are looking for.
Ranked By Category
Best Sandals Resort For Hurricane Season
Hurricane season is from July to November, which makes up half of the year. If you are worried about hurricane season, don't worry so much. Hurricanes only affect a small portion of travelers each year.
If you want to go to the best Sandals resort for hurricane season, Curacao is the best bet because it is outside of the hurricane belt.
Sandals St Lucia, Barbados and Grenada are also great options with reduced risks.
Best Sandals Resorts in Jamaica
Jamaica is home to 5 Sandals resorts, each with its own flavor and vibe. Not to mention the 2 family-friendly Beaches Resorts. Of the 5 Sandals resorts, here is how we would rank them.
Best Sandals Resort Suites
If you're looking to stay in an amazing suite during your stay at a Sandals Resort, here are some show-stopping experiences you should consider:
Over-the-water Bungalows and Villas
You don't have to fly to the south pacific to experience these show-stopping accommodations! Your secluded room hovers over the ocean and features see-through floors so you can make the most of your prime location. You'll also enjoy an over-the-water hammock for two, a tranquility soaking tub, and personalized butler service.
You can find over-the-water bungalows and villas at Sandals Grande St. Lucian in St. Lucia, Sandals South Coast in Jamaica, and Sandals Royal Caribbean in Jamaica.
Millionaire Suites
Millionaire suites are made with honeymooners in mind. They're the perfect combination of privacy, luxury, and experience. Their specific amenities vary by the resort—for example, at Sandals Negril, you'll have access to a private plunge pool, waterfall, and outdoor shower— and they all come with personalized butler service. Our favorite Millionaire Suites are found at Sandals Montego Bay in Jamaica, Sandals Negril in Jamaica, and Sandals Regency La Toc.
Skypool Suites
These rooms are the pinnacle of luxury. Enjoy a king-sized bed and private access to a private plunge pool with an infinity edge. The balcony features an opulent soaking tub for two, and you'll love the personalized butler service. Our favorite sky pool suites can be found at Sandals Grenada in Jamaica and Sandals Royal Barbados in Barbados.
Most Affordable Sandals Resorts
Sandals Ochi Beach Resort in Jamaica comes in at the most affordable, starting at $221 per night. At this price point, you'll stay in a Great House Luxury room, which comes with its own balcony, a flat-screen TV, and a fully stocked drink refrigerator.
You can also stay at Sandals Negril Beach Resort & Spa for the low cost of $226 per night. Here, you'll stay in the Caribbean Luxury Honeymoon suite, equipped with a beautifully tiled bathroom, smart TV, and fully stocked drink refrigerator. This resort has slightly better customer reviews than Sandals Ochi and is our top pick for the Best Sandals Resort for Beaches, so if we were picking between the two, this would be our choice.
Best Sandals Resort For Older Couples
I think an older couple can treat choosing a sandals resort similarly to any other couple. Look at the categories above to see what matters most to you. Are you looking for amazing food? Seclusion? Activities? Every couple is different, regardless of age.
Biggest Sandals Resort
Sandals Ochi Beach Resort is the largest Sandals Resort with over 100 acres of gardens overlooking the Caribbean, 519 villas, rooms and suites, 105 pools, 22 whirlpools, 16 dining options, and two spas.
Newest Sandals Resort
Sandals seem to always be opening new resorts! Sandals Royal Curacao has just opened in June 2022.
Why We Love Sandals Resorts
We know you are looking for the best Sandals Resort, but first, we wanted to share why we love them. Sandals have been around for 40 years and with that comes experience. They know how to make sure you have carefree locations. With that comes the best of what all-inclusive resorts can offer.
Dining – With up to 16 restaurants per resort, the variety is unmatched.
Drinks – Sandals Resorts have up to 11 bars per resort with unlimited premium spirits.
Activities – Sandals has more activities included like scuba diving and water sports that I don't see at other all-inclusive resorts.
Service – Sandals goes above all to make sure you have a good time.
Ease of booking – You only need to make a small deposit to make a reservation. This can be changed or canceled up to 30 days before your trip.
Access to nearby Sandals Resorts – We love that you do not have to decide on just 1 resort. If you stay at a resort that has another Sandals nearby, you can visit it.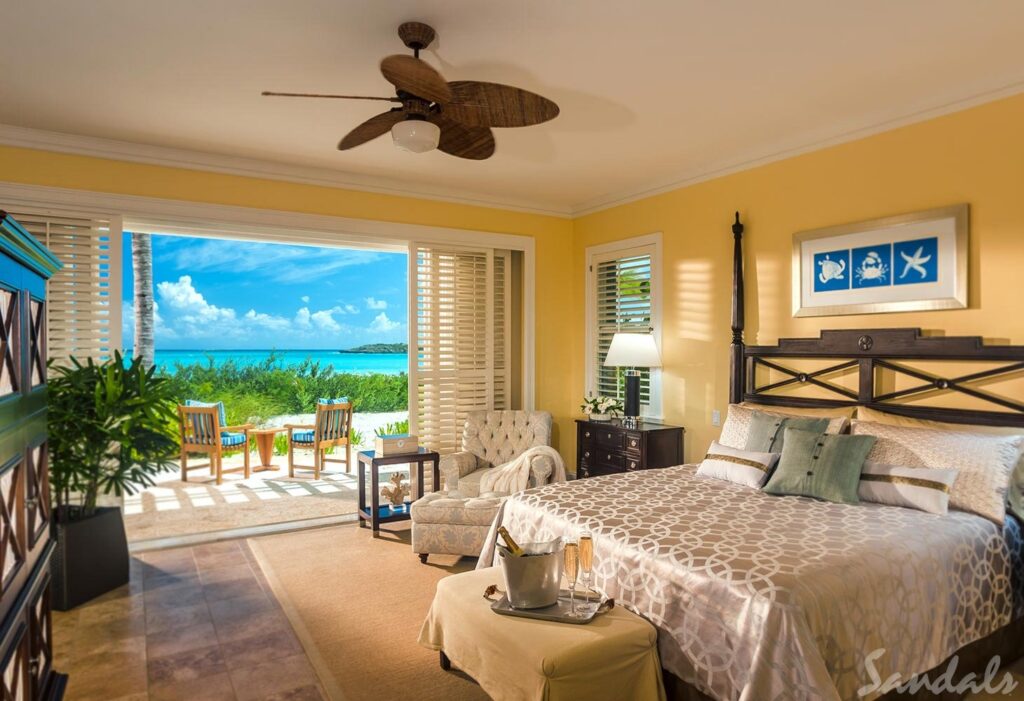 You do not need to take our word for it. Here are the most recent awards Sandals took home from the World Travel Awards.
World's Leading All-Inclusive Company 2021: Sandals Resorts International
World's Leading All-Inclusive Resort 2021: Sandals Grenada
World's Leading All-Inclusive Family Resort Brand 2021: Beaches Resorts
World's Leading Caribbean Attraction Company 2021: Island Routes Caribbean Adventures
But I know you came here to see what we think is the best Sandals resort, so here is the list!
Keep in mind that everyone is looking for something different. Below are general rankings and we have added some categories for you to book based on what you are looking for. Best Rated by TripAdvisor
Why trust us? We are part of the elite Sandals Chairman's Royal Club, a group of the top Sandals agents.