Considered one of the most romantic Caribbean islands, St. Lucia is nestled between the South Caribbean Sea and the Atlantic Ocean and often referred to as "little Hawaii" due to its jaw-dropping scenery. You can enjoy spectacular views, stunning beaches, and a plethora of activities here, making St. Lucia an idyllic romantic retreat or honeymoon destination.
One of the best romantic vacation or honeymoon resorts in St. Lucia is Sandals Grande St. Lucian, set on a gorgeous beach in Gros Islet in the northern part of the island.
Many of the Sandals Grande St. Lucian reviews mention the resort's incredible overwater bungalows (see more details below) as well as all the variety available in dining and entertainment options. This St. Lucia Sandals has the best beach as well, and the protected waters of Rodney Bay make it possible to go swimming or enjoy watersports at any time.
How many Sandals resorts are in St. Lucia?
There are three Sandals resorts in St. Lucia: Sandals Grande St. Lucian, Sandals Regency La Toc, and Sandals Halcyon Beach, all in the north and close to plenty of activities and nightlife. Each resort is a luxurious, adults-only enclave set on a beautiful beach, but there are some differences. Guests at each have access to the facilities and amenities of all three resorts, with complimentary transportation provided. This means you can access 3 beaches, 2 golf courses, 11 pools, 27 restaurants, and 21 bars on your St. Lucia vacation!
How old is Sandals Grande St. Lucia?
Sandals Grande St. Lucian is fairly new, having opened in the fall of 2002 after a $10 million renovation.
Overview of Sandals Grande St. Lucian
Where is Sandals Grande St. Lucian? Sandals Grande St. Lucian is in Pigeon Island, which is home to St. Lucia's top national park. Set on a private peninsula along a one-mile white sand beach, the resort offers incredible views across Rodney Bay of mountains and historic Fort Rodney.
These are the calmest waters on the island, so Sandals Grande St. Lucian is perfect for swimming, snorkeling, and paddleboarding right off the beach. It also has the most dining options of the three Sandals locations. Something that truly sets it apart is that you can stay in overwater bungalows at Sandals Grande St. Lucian (see more details below, under Sandals Grande St. Lucian Rooms and Suites).
Sandals Grande St. Lucian reviews have described it as "the closest vacation to a picture-perfect postcard." With 12 restaurants at this resort and 15 at a nearby Sandals resort, you'll never run out of dishes to try. You also have access to 2 golf courses, with complimentary transfer and green fees included.
Sandals Grande St. Lucian Rooms and Suites
Let's talk about the famous Sandals Grande St. Lucian bungalows! Perched over sparkling waters of the most vivid blue and turquoise, the 9 Over-the-Water Honeymoon Butler Bungalows at Sandals Grande St. Lucian deliver a true luxury experience. When you stay in one of these, you get a VIP arrival service including expedited immigration, personal airport greeting, private luxury transfer coordination, and access to arrival lounge amenities. Rooms include 24/7 room service, whether it's breakfast in bed or an elaborate dinner affair.
Couples looking for privacy will love the Sandals Grande St. Lucian over the water bungalows . Not only do you get gorgeous accommodations, but you also get your own private butler who will handle everything from unpacking to making dinner reservations and arranging activities to drawing a rose-petal-filled bath to restocking your (complimentary) top-shelf minibar.
Constructed of beautiful wood with thatched roofs, these honeymoon overwater bungalows in St. Lucia have hardwood floors with glass floor panels so you can see exotic marine life without even having to get in the water. However, should you want to get in the water, you can easily do so from a short ladder off your private extended sun deck.
On the deck, you'll find a bistro set, comfortable lounge chairs, and a huge hammock suspended over the water for the ultimate in relaxation—not to mention the outdoor Tranquility Soaking Tub™ for two!
Inside, you'll find vaulted ceilings, a ceiling fan plus air conditioning, a stocked refrigerator and minibar, a tea/coffeemaker, and smart TV. The beautiful bathroom features his and her sinks and a rain shower, and you'll enjoy the Red Lane Spa Amenity Kit, plush robes, and slippers that are provided.
The comfy king-size bed comes with luxury linens and a pillow menu, and it's positioned directly in front of glass doors to give you fantastic views the minute you wake up. These doors slide open to catch the breeze and provide easy access to the outdoors.
Other amazing accommodations at the Sandals Grande St. Lucian are the unique Beachfront Grande Rondoval Butler Suites with private patios featuring plunge pools, a jacuzzi, an outdoor shower, and a hammock, located just steps away from the sand; the Caribbean Beachfront One Bedroom Butler Suites with private balconies and Tranquility Soaking Tubs; and Lover's Lagoon Swim-Up Club Level rooms, with easy access to a lagoon pool from private patios. There are also Caribbean Beachview Walk-out Rooms which allow you to head directly for the sand from your furnished terrace.
What room amenities are available at Sandals Grande St. Lucian? As at every Sandals resort, your room will include a minibar that is stocked with complimentary drinks and refreshed daily, plush beds, smart TVs, spa-like bathrooms with robes and toiletries; coffee and tea makers, in-room safe, and free WiFi.
Sandals Grande St. Lucian Restaurants and Bars
Sandals Grande St. Lucian is the best Sandals in St. Lucia for foodies. There are twelve restaurants available here, offering gourmet cuisine, fresh seafood, local flavors, Asian, Indian, sushi, Italian, French crepes and pastries, English pub fare, pizza, Caribbean, and other international dishes.
Many restaurants at Sandals Grande St. Lucian have water views or are on the water; Barefoot by the Sea is exactly that, with tables on the sand, while Gordon's on the Pier offers an elegant experience set out over the beautiful waters of Rodney Bay. Resort casual attire is requested at most restaurants.
You can also take advantage of room service or request private dining options like a candlelight dinner on the beach. If you are in a club level room, you can get room service between 7 a.m. and 10 p.m.; butler suites get 24/7 room service. As usual at Sandals Resorts, your all-inclusive rate covers unlimited meals and snacks plus beverages including premium liquors and Robert Mondavi wines.
Whenever you feel like having a drink at Sandals Grande St. Lucian, you can choose from one of 6 bars, including a piano bar, a beach bar, and an authentic British pub. There are plenty of entertainment options here after dark, from live music to parties to theme nights.
What to Do at Sandals Grande St. Lucian
Sandals Grande St. Lucian offers a huge assortment of complimentary water and land activities. Water sports include scuba diving, snorkeling, sailing, paddleboarding, kayaking, kneeboarding, windsurfing, waterskiing, and wakeboarding. Professional instruction for watersports is also complimentary (except for scuba diving). Unlimited land activities include beach volleyball, day and night tennis, pool tables, table tennis, croquet, and a fitness center with exercise classes.
Sandals Grande St. Lucian has 5 pools and 4 whirlpools, including the 7800-square-foot waterfront Sunset Pool with a swim-up bar and the quiet, lagoon-style Lovers Pool. In addition, you get access to all facilities and activities at the other two Sandals resorts in St. Lucia, Sandals Halcyon Beach and Sandals Regency La Toc.
You also have access to 2 golf courses, with complimentary transfer and greens fees included. In fact, if you want to stay at the Sandals resort that is closest to an 18-hole golf course, the best St. Lucia Sandals golf resort is Sandals Grande St. Lucian.
Sandals Golf & Country Club at Cap Estate features an all-new 18-hole championship course designed by Greg Norman. This par-71 course is set in the lush tropical landscape and has significant elevation changes. Onsite you'll find a practice range with a full-sized driving range and putting greens, changing facilities, and a full-service pro shop. Free golf clinics are held each week, and golf lessons can be taken (for an extra fee).
Guests at all Sandals resorts in St. Lucia get complimentary greens fees at and transfers to both courses (if needed). Transfers to Sandals La Toc Golf Club are 25 minutes from Sandals Grande St. Lucian. Transfers to Sandals Golf & Country Club are 5 minutes from Sandals Grande St. Lucian.
Sandals Grande St. Lucian is also the best Sandals in St. Lucia for snorkeling. Here you can go on snorkeling trips directly from the onsite pier. There are some incredible snorkeling opportunities in this tropical paradise, including the marine reserve around Anse Chastanet Beach, where you can see octopi, flounder, scorpionfish, and parrotfish; the calm and sheltered waters of Marigot Bay, which has coral formations and fun sea creatures like seahorses; and Reduit Beach in Rodney Bay, which is excellent for beginner snorkelers.
You can also choose to add on area excursions during your vacation at Sandals Grande St. Lucian. St. Lucia is full of wonderful natural attractions, such as the Piton mountains, Soufriere Volcano, and Toraille waterfall. Take a mud bath at the sulfur springs or tour St. Lucia Distillers and sample the rum.
Daily and nightly entertainment at Sandals Grande St. Lucian includes live shows, theme nights, beach parties with local bands, and talent nights where guests participate.
The Spa at Sandals Grande St. Lucian
If you want the ultimate relaxation on your St. Lucia honeymoon or vacation, book a couples massage or other indulgent spa service. The Red Lane® Spa offers a full range of restorative treatments (not included in your room rate) such as facials, massages, and body services.
Weddings at Sandals Grande St. Lucian
And if you're planning a destination wedding in St. Lucia, how about walking down a glass floor aisle in a stunning overwater chapel, surrounded by 360-degree views of the Caribbean? You can do just that at Sandals Grande St. Lucian, which is one of just four Sandals resorts that offer an Over-the-Water Wedding Chapel.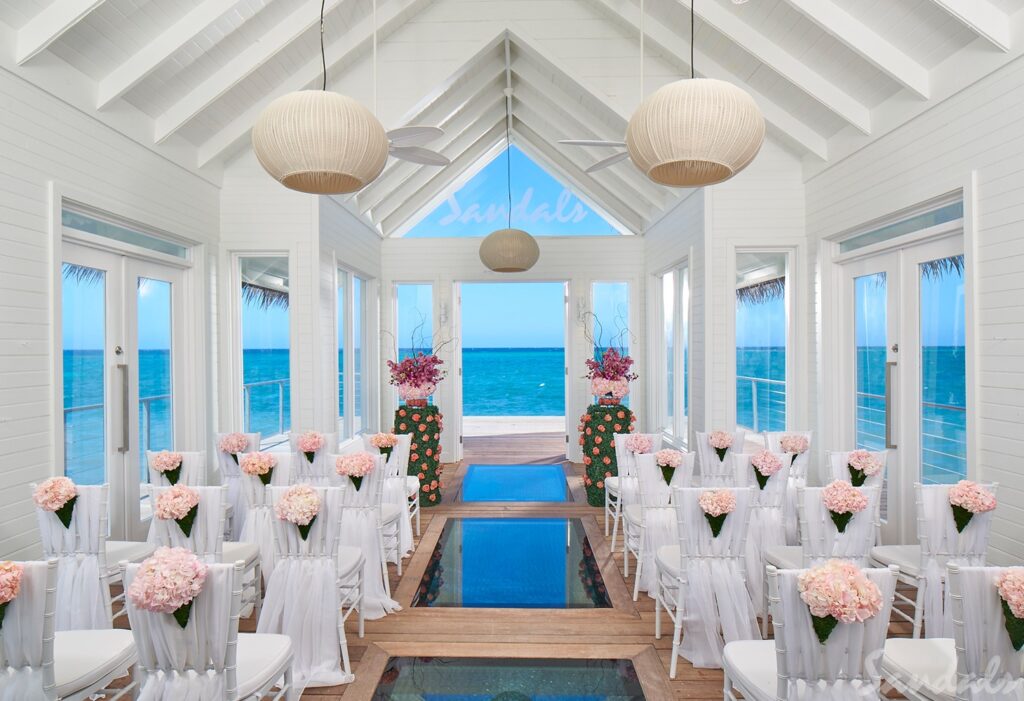 Honeymoon package at Sandals Grande St. Lucian
If you get married and then honeymoon at Sandals Grande St. Lucian, or if you come here within 30 days of your wedding date, you'll get Sandals' complimentary honeymoon package.
This includes a bottle of chilled sparkling wine, special turndown service with flower petals on your bed the first evening of your honeymoon, fresh flowers, and a decadent breakfast in bed one morning of your choice.
Sandals Grande St. Lucian Cost
Sandals Grande St. Lucian cost is relatively inexpensive; rooms here start at $283 per person per night.
What is included at Sandals Grande St. Lucian?
Your rate at any Sandals in St. Lucia will cover the same inclusions offered at all Sandals resorts: complimentary airport transfers; all dining and beverages including unlimited premium liquors and unlimited Robert Mondavi Twin Oaks wines; a stocked minibar in your room; a coffee maker with Jamaican Blue Mountain Blend coffee; water sports and equipment plus professional instruction; roundtrip shuttles to the other resorts; WiFi; daily and nightly entertainment; unlimited land sports; golf greens fees and transfers to courses; state-of-the-art fitness center; and all tips, taxes, and gratuities (except for airport transfer drivers, spa staff, and butlers, if you stay in a butler suite).
What to pack for Sandals Grande St. Lucian
You can pack light when you stay at a Sandals resort, since so much is provided for you. For example, you don't need to pack a hairdryer. A gift shop is available onsite in case you forget any necessities.
In terms of clothes, the dress code is casual during the day and resort elegant at night, which means a mix of shorts, t-shirts and tanks, lightweight short sleeve shirts, sundresses, casual slacks, and swimsuits, plus dressier outfits (including shoes) for dining in the nicer restaurants.
If you're planning on golfing, make sure to bring the appropriate clothing. Women may want to bring a scarf, shawl, or light jacket in case they get chilly in air-conditioned places.
Tip: It's illegal in St. Lucia to wear or carry any sort of camouflage or military style print, so don't pack any items with that.
Bring several swimsuits since you'll likely be wearing one every day. Women can bring a cute cover-up to throw on for walking around the resort, and may also want to pack some shorts to pull on over their swimsuit if doing any watersports. A rash guard will come in handy during watersports as well.
The type of shoes you bring will depend on what activities you want to do while in St. Lucia. You will probably want to bring water shoes, flip flops, and sandals; you may want to add tennis shoes if you're going to do a lot of walking or playing sports.
You will of course need to bring your passport (make sure it's more than 6 months away from expiring) and ID, including a valid driver's license if you want to rent a car. (But remember that they drive on the left in St. Lucia!)
You will also want to bring a credit card (not that you'll need it in the resort, since everything is covered, but in case you want to add extras like spa services or go exploring in St. Lucia) and some cash as well, for tips at the airport, taxis, and local shops that don't take credit cards.
You may need to pay a departure tax in cash at the airport, if it's not included in your plane ticket, so be sure to ask in advance.
Tip: Bring two cards and hide one in a safe place for an emergency backup. Also, make sure you have a record of your credit card numbers, as well as the customer service contact information
As with any trip, make sure you pack any medicine that you need. Put it in your carry-on bag so you don't have to worry about your luggage getting lost.
In addition to any prescription medication, you can bring over-the-counter drugs (like aspirin, ibuprofen, stomach remedies, seasickness medicine, antihistamines) so you'll have them on hand if you need them.
But in case you forget, these types of remedies will be available at the gift shop.
Tip: Keep all prescription medications in the original bottles when flying to avoid any issues.
Pack all the usual beach necessities including a bag to carry everything in (choose one that can get wet and sandy).
These include sunglasses, sun hats, and sunscreen—the higher the SPF, the better when you're in the Caribbean! If you're going to be diving or snorkeling, make sure your sunscreen is reef-safe. You won't need to pack beach towels, however, as these are provided for free at every Sandals resort.
You may also want to bring a camera—especially a waterproof camera if you plan on watersports; a waterproof case for your phone, and your phone charger.
A few more items to consider: insect repellant and bite relief cream, bandaids, antiseptic wipes, antibiotic ointment, prescription snorkeling goggles if you wear them, a backpack for day trips, and a waterproof bag if you're going to go on a boat.
However, you don't need to pack toiletries like shampoo, conditioner, body wash, and lotion unless you want to—these items are included in your room at Sandals, and they come from the onsite spa so they're top quality!
Tip: Make sure all your luggage is labeled clearly with tags, and add something bright like a colorful ribbon to make your bags stand out at baggage claim.
Now that you've read our Sandals Grande St. Lucian review, are you ready to plan your St. Lucia honeymoon or romantic escape today? Let us know what you think in the comments!
Google Rating: 4.5
TripAdvisor Rating: 4.5
Sandals Grande St. Lucian Airport Info
How long is the ride from airport to Sandals Grande St. Lucia? The closest airport to Sandals Grande St. Lucian is Vigie Airport (SLU), and the ride from the airport to Sandals Grande St. Lucian takes about 15 minutes.
If you choose to fly into the other airport in St. Lucia, Hewanorra International Airport (UVF), the ride from that airport to Sandals Grande St. Lucian is about two hours.
As at every Sandals resort, your transportation to and from the airport is included and complimentary. Just head to the Sandals desk or lounge at the airport, where you will be greeted and shown to your air-conditioned transportation.