This post may contain affiliate links where we are compensated if bookings or purchases are made.
If your fantasy honeymoon or romantic escape takes place in a tropical overwater bungalow, we can help. When you are getting started it can feel overwhelming to select the best best overwater bunglow for you. To make that easier we've compiled this list of 25 top overwater bungalows in the world to help you find the perfect one for you, whether your dream destination is the Caribbean, Tahiti, Fiji, or the Maldives.
Overwater Bungalows at Sandals Grande St Lucian
St. Lucia
The over-the-water bungalows at Sandals Grande St. Lucian convey an intimate connection to the beautiful Caribbean waters and rich marine life. Glass floor panels and lit water ensure you can enjoy undersea views at any time. Couples can also admire the beauty of the ocean from their private outdoor Tranquility Soaking Tub for two or an overwater hammock—or just slip right into the water from your deck.
The extended private sun deck on each overwater bungalow is also equipped with an outdoor shower, sun loungers, and a bistro set for two. Butler Elite service, which handles every detail of your vacation with unobtrusive grace, and 24-hour room service are included to complete your over-water vacation.
This resort is all-inclusive, offering a huge assortment of complimentary water and land activities. And with 12 restaurants on-site plus 15 more at two nearby Sandals resorts, you'll never run out of dishes to try. You also have access to 2 golf courses, with complimentary transfer and greens fees included, and all facilities at the other two resorts.
One of the best reasons to consider these overwater bungalows is are close to the US, making travel easier.
Google Rating: 4.6
TripAdvisor Rating: 4.5
Four Seasons Resort Bora Bora
The Four Seasons Resort Bora Bora has long had a reputation for providing service of the highest standard with the comforts you expect in a 5-star luxury hotel, mixed with Polynesian hospitality, making it the most sought-after choice for staying at an overwater bungalow in Bora Bora.
The resort has recently been enhanced. The thatched-roof overwater bungalows have a refreshed contemporary Polynesian feel and solar panels provide natural and sustainable power for heating water.
Four restaurants offer a vast selection of creative culinary experiences, while the full-service spa has breathtaking views of both the lagoon and the Pacific Ocean.
You can choose a Specialty Overwater Bungalow with Plunge Pool and either one-bedroom or two, or one-bedroom Overwater Bungalow Suites. All offer traditional teak furnishings, high ceilings, oversized tubs, and a private deck with lounge chairs and direct access to the calm, clear waters of the lagoon.
Adventures on water and land welcome you at this sand-fringed idyll in the shadow of Bora Bora's Mount Otemanu. Toast sunsets from your private plunge pool, stretch out on the white sand beach, marvel at the Tahitian night sky, or lose yourself in the lagoon, where the waters teem with exotic reef fish and colorful corals. The Four Seasons can also create unparalleled luxury experiences for the ultimate in romance.
Google Rating: 4.8
TripAdvisor Rating: 5
Deluxe Overwater Lagoon Suite at Rosewood Mayakoba
Playa del Carmen, Mexico
Ideal for honeymooners and couples, the Deluxe Overwater Lagoon Suite at Rosewood Mayakoba floats above the emerald lagoon. This one-of-a-kind accommodation provides an inviting lounge terrace with a plunge pool, a luxurious bathroom with an outdoor garden shower, a walk-in closet, a king bed, and spectacular views of the lagoon and mangroves.
Rosewood Mayakoba is known for its elaborate network of canals carved through limestone, linking its natural lagoons and mangrove forests. You take a boat to arrive at your overwater suite, fully immersing you in the tropical setting.
During your stay you can go to the beach; enjoy a variety of water and land activities; indulge in treatments at the Rosewood Spa; enjoy the adults-only seaside retreat, Aquí Me Quedo, with three tranquil infinity-edge pools; and feast on local cuisine.
Google Rating: 4.8
TripAdvisor Rating: 5
Six Senses Laamu
Just a 35-minute domestic flight from Male International Airport, Six Senses Laamu is surrounded by clear turquoise waters and white sand beaches. Like the rest of the resort facilities, the over-water villas here are crafted from local materials to harmonize with the environment.
Six Senses offers two types of overwater havens, lagoon and ocean. Both have upper and lower decks. Swim and snorkel from the lower deck or relax in the overwater hammock. The lower deck also features comfy sun loungers and a glass-bottomed table, and the upper deck provides stunning views of the sunset over the sapphire sea.
You can also enjoy incredible panoramic views while pampering yourself in the glass overwater bathtub and outdoor rain shower. The Ocean Overwater Villas also have a private plunge pool!
And if you feel like leaving your private paradise, Six Senses offers a beautiful beach, gorgeous swimming pool, stylish spa, modern fitness room, yoga pavilion, and onsite diving center, as well as a multitude of unique experiences.
Booking.com Rating: 9.7
Google Rating: 4.8
St. Regis Bora Bora Resort
You'll find the largest overwater bungalows in the South Pacific at St. Regis Bora Bora Resort. They come in a variety of sizes, starting at 1,550 square feet. Each lavish overwater villa has separate sleeping and living areas plus oversized luxury bathrooms, glass panels revealing the turquoise blue waters below, stunning views, and an outdoor deck with loungers, a dining gazebo, and direct water access. Some feature an outdoor whirlpool or a swimming pool. Your villa also comes with 24-hour butler service to make sure your stay is perfect.
St. Regis offers an onsite spa and sauna, two swimming pools (one with a swim-up bar), three gorgeous beaches, a fitness center, and a tennis court. Guests can enjoy many aquatic activities such as snorkeling, scuba diving, kayaking, and boating, as well as offsite adventures. This incredible private getaway also features the Lagoonarium, a protected underwater space that you can explore.
Dining at the St. Regis Bora Bora is an experience in itself, with four restaurants offering a variety of incredible cuisine, plus a relaxing beach bar. You can also arrange secluded candlelight dinners or order from 24-hour room service.
Google Rating: 4.8
TripAdvisor Rating: 4.5
Conrad Bora Bora Nui
The stunning Conrad Bora Bora Nui resort has been thoughtfully designed around Bora Bora's key features: the lagoon and Motu Tapu. The overwater villas here have breathtaking views and indulgent amenities including spacious bathrooms with large tubs. Fully retractable windows give you amazing access to the outdoors, where you can relax in loungers on your terrace, laze in the overwater hammock, or swim in your private infinity pool. Or, slip into the dazzling lagoon below.
For the ultimate private paradise experience, book the Presidential Overwater Villa. Its 3000 square feet include two bedrooms, three spacious bathrooms, a sauna, two dressing rooms, and a large living room. Outside, you'll find three separate terraces, an infinity pool, a whirlpool, sunbeds, a dining table, and a bar and lounge area that is perfect for private dining. This multi-level overwater villa comes with a personal butler at your service throughout your stay.
The Conrad Bora Bora Nui offers a wide range of activities and many unique dining experiences to choose from, such as a floating breakfast that you can enjoy while wading in your private pool, the Motu Tapu picnic lunch, and lobster dinner.
Google Rating: 4.7
TripAdvisor Rating: 4.5
Velaa Private Island
Velaa Private Island provides a luxury vacation at a luxury all-inclusive resort in an overwater bungalow in the Maldives. Located on beautiful Noonu Atoll about 200 kilometers north of Male International Airport, this destination was designed as the ultimate island escape.
You can choose either Sunrise Water Pool Villas or Sunset Deluxe Water Pool Villas. These overwater bungalows have a dreamy design with an outdoor dining area, a huge bathroom with a rain shower and round tub, and a large private terrace with stairs leading directly to the sea. Catch the sun on your deck while lounging in a huge daybed full of pillows.
For incredible privacy and astonishing views, you can book the Romantic Residence, which is only accessible by boat. This overwater villa includes a spacious bedroom with a super-king-size bed, a separate seating area, a dining gazebo, a full kitchen (with a private chef if you desire), plus a personal gym and spa treatment room. The sundeck features daybeds, an outdoor jacuzzi, an infinity pool, a sunken outdoor bath, and steps leading into the lagoon.
Velaa offers "thrilling adventures and unlimited possibilities" such as hoverboarding in addition to a wide range of the usual water and land activities. Feast at 5 upscale restaurants with local delicacies and gourmet dishes prepared by a world-class chef, indulge yourself at the spa, or enjoy lunch on a deserted island. Relax on the stunning white-sand beaches or explore numerous exotic dive sites just offshore.
Google Rating: 4.8
InterContinental Bora Bora Resort & Thalasso Spa
The InterContinental Bora Bora Resort was the first hotel in French Polynesia to feature overwater villas, and they are a stunning mix of Polynesian style and modern convenience for the perfect tropical escape.
Each overwater bungalow here has a separate bedroom and seating area, with a glass coffee table providing a peek at the colorful marine life below. In the spacious bathroom, you can enjoy views of the lagoon from your bathtub. The private sundeck is furnished and features a shaded area and direct access to the water, as well as an outdoor freshwater shower.
Some of InterContinental Bora Bora's overwater villas are accessible, and some also include a private plunge pool.
There are plenty of land, sea, and air activities and excursions to choose from here. This resort also features a Lagoonarium, a protected area of water you can explore that is home to nearly 200 species of sea creatures. The tranquil Deep Ocean Spa was the first in the area to offer thalassotherapy, which uses seawater, and offers glass-bottomed treatment rooms so you can enjoy a view while indulging!
Choose delicious international and local cuisine from the resort's collection of casually elegant restaurants, opt for a Romantic Dinner set in an enchanting location, or dine in your private overwater paradise with 24-hour room service. Two beach bars offer the perfect place to sip something cool with your toes in the sand.
Google Rating: 4.7
TripAdvisor Rating: 4.5
Le Taha'a Island Resort & Spa
Le Taha'a Island Resort & Spa is not actually on Bora Bora, but it is very close and has a view of Bora Bora. This one-of-a-kind tropical paradise (the first member of Relais & Chateau in Tahiti) is located on its own motu, a private islet that extends between the coral reef and lagoon.
Its beautiful overwater bungalows are elegantly crafted in the authentic Polynesian tradition, with thatched roofs and natural materials. There are four types of overwater suites to choose from, and each offers nearly 1000 square feet with plush king beds plus single beds, floors with glass panels to watch marine life below, and stunning bathrooms with oversized tubs. Private decks have sun loungers, shaded areas, outdoor showers, and direct access to the dazzling lagoon.
The Bora Bora Overwater Suite is a guest favorite because it overlooks not only the lagoon but also Bora Bora, a chain of islets, and the Coral Garden. The most private options are the End of Pontoon Overwater Suites, which have views of either the horizon or the island of Taha'a. Wherever you choose, be sure to have breakfast delivered in a traditional outrigger canoe!
Le Taha'a Island Resort is a serene escape, surrounded by lush greenery and colorful flowers. Amenities include a waterfront swimming pool, white sand beach fringed with palm trees and hammocks, full-service spa, tennis court, fitness center, and helipad.
Three lovely restaurants offer delicious creative cuisine ranging from local to gourmet choices, including French-Polynesian fusion, and there are two bars. You can also enjoy maximum romance with private dining in your bungalow or on the beach.
Google Rating: 4.7
TripAdvisor Rating: 4.5
Four Seasons Maldives Private Island at Voavah
Four Seasons Private Island at Voavah is an idyllic secluded sanctuary offering a fantastic luxury vacation you'll never forget, with just a handful of accommodations for the ultimate privacy.
The 6,000-square-foot Two-Bedroom Water Villa is perched above the lagoon, with a chic air-conditioned interior opening onto an outdoor deck with lounge chairs and hammocks, a dining table, a huge pool, and stairs leading down to the clearest water on the atoll. Each bedroom in the overwater bungalow has a private bathroom where you can take a relaxing bath while admiring the panoramic ocean views. There are also outdoor showers.
Located in a 5-acre UNESCO haven, this resort offers incredible opportunities to explore the surrounding waters. You can also indulge in bespoke treatments at the spa, cruise on a private yacht, or take part in a wide range of other activities.
Dine at the Beach House restaurant, enjoy a poolside barbecue or beach picnic, or share a romantic candlelit dinner on the yacht or on a private sandbar. Whatever you choose, it will be a world-class culinary experience.
Booking.com Rating: 9.5
Google Rating: 4.8
COMO Laucala Island
For the ultimate luxury retreat, how about a private overwater villa in the Maldives on a private island? The COMO Laucala Island resort offers just one overwater bure—but wow, is it spectacular! Imagine enjoying 2000 square feet of rustic elegance in a completely secluded private home, with stunning ocean views from every angle.
With only the lush tropical forest behind you, it feels as if you are the only people in the world—but the Wai Residence is just a short distance from the rest of the resort, and a complimentary golf buggy comes with it.
This overwater bure is split-level and has two bedrooms, beautiful open spaces, outdoor dining bures, indoor and outdoor bathtubs, air conditioning, and a fully stocked bar and light bites that are replenished daily. It can accommodate up to four guests (if you feel like sharing!).
You can lounge on the waterfront deck that spans the entire front of the home, climb a ladder down into the deep blue and emerald lagoon, or swim overlooking the water in an incredible private pool carved into the neighboring rock.
If you decide to venture away from your private haven, you can play an 18-hole golf course, relax on white-sand beaches, go horseback riding along the water or through plantations and coconut groves, enjoy watersports, snorkel and scuba dive along a thriving inner reef, play tennis, go mountain biking, take nature walks and scenic hikes, swim in the lap and lagoon swimming pool, or indulge in restorative treatments at the COMO Shambhala Retreat spa.
Or, the staff can create a personalized itinerary for you from a range of experiences such as world-class sailing and game fishing. Every stay includes all dining and beverages.
TripAdvisor Rating: 5
Google Rating: 4.8
Likuliku Lagoon Resort
"Likuliku" means "calm waters," and that's what you'll find at this idyllic adults-only Fiji resort nestled along a turquoise lagoon surrounded by a protected marine sanctuary with a fringed coral reef.
Likuliku Lagoon Resort's overwater bures were Fiji's first overwater bungalows. Covered with thatched roofs, they have private decks with loungers (and ladders to the sea so you can swim or snorkel right from your bure!), king-sized beds, sitting areas, a refrigerator, plunge coffee and tea, window screens, ceiling fans, and air conditioning.
They also feature separate bathing pavilions and soaking tubs with incredible views. Wrap yourself in your complimentary sarong and lounge on the deck as you enjoy on-the-house daily appetizers and freshly baked cookies.
If you can tear yourself away from the amazing view, you'll find plenty to do. Swim in the crystal clear waters and explore the incredible coral reef surrounding the lagoon; the resort offers complimentary snorkeling equipment, paddleboarding, kayaking, sailing, and windsurfing.
Or stay on land and relax on the beach, by the infinity pool, or at the serene spa. For more active pursuits, there are walking and hiking trails and a beachfront gym, or you can visit local villages, go on a fishing excursion, scuba dive, waterski or wakeboard, go island hopping, or enjoy a sunset cruise.
TripAdvisor Rating: 5
Google Rating: 4.6
Fiji Marriott Resort Momi Bay
The only overwater bungalows on Fiji's main island of Viti Levu are the bures at this gorgeous luxury resort. Located just south of Nadi International Airport, these are the easiest overwater bungalows to get to if you don't want to spend an extra minute of your time traveling to your destination.
For adults only, Fiji Marriott Resort's 22 overwater bures are designed in an A-frame style and feature a private deck with incredible views and steps descending into the dazzling aqua waters of Momi Bay. You can choose either an 800-square-foot Royal Lagoon Bure or a 645-square-foot Overwater Lagoon Bure.
Both types feature vaulted ceilings, king beds with deluxe bedding, sofa seating, cable TV, air conditioning, tea and coffee-making facilities, and a spacious bathroom with a freestanding tub and separate shower. Twenty-four-hour room service means you won't have to leave your private sanctuary if you don't want to!
But if you do venture out, you'll find plenty to enjoy, including three swimming pools (don't miss the adults-only infinity pool and whirlpool with sunset views!), two tennis courts, a beautiful beach, watersports, surfing, scuba diving, a serene day spa with plunge pools and beauty services, and a 24-hour fitness center.
You can also go on a variety of area excursions while staying at the Fiji Marriott Resort Momi Bay, including helicopter flights, day cruises, river safaris, and ziplining. Evening entertainment includes a Polynesian Fire Performance, the Village Choir, and a Fijian Meke.
Google Rating: 4.6
TripAdvisor Rating: 4.5
Como Maalifushi
The first luxury boutique hotel on Thaa Atoll, COMO Maalifushi s located in the southern part of the archipelago. The overwater bungalows here are built with local materials to reflect the peaceful environment of the island.
Each spacious overwater bungalow offers spectacular views of the Indian Ocean and the famous Maldivian sunrise. The bedroom has a separate dressing area; the bathroom features a sunken marble bathtub (large enough for two) and an outdoor shower.
There's also a spacious seating area. Wide French doors open to a sun terrace with loungers, a huge private plunge pool, and direct access to the turquoise lagoon.
For the ultimate in private luxury, book the Maalifushi Water Villa, which sits on its own secluded jetty.
Guests here enjoy not only the elegantly appointed overwater bungalows, but also the white sand beach, waterfront pool, soothing spa treatments, a variety of experiences and excursions, and all-day delicious cuisine at Madi Restaurant.
Booking.com Rating: 8.9
Google Rating: 4.9
Baros Maldives
One of the first resorts to open in the Maldives, Baros Maldives offers a luxurious natural paradise experience on a lush private island. Just a 25-minute speedboat ride from Male International Airport, this stunning resort welcomes you with turquoise waters, white-sand beaches, and towering palm trees.
Look forward to your private over-the-water bungalow, featuring rich teak floors, comfortable furniture, luxurious linens, and thoughtful touches everywhere. A wide private deck features a 4-poster-covered daybed, sun loungers, a bistro set, and stairs leading down to crystal clear waters. Enjoy your own personal retreat as you soak in the lagoon, explore the reef, or take a dip in your turquoise pool. Each villa comes with a dedicated 24-hour host.
Incredible stretches of beach shaded with palm trees, multiple dining options including romantic waterfront dining, a full-service spa, and a complete range of water and land activities as well as exotic excursions round out the perfect tropical vacation.
Booking.com Rating: 9.6
Google Rating: 4.8
The St. Regis Maldives Vommuli Resort
The St. Regis Maldives Vommuli Resort is located just 45 minutes by seaplane from Velana International Airport and offers world-class service and incredible amenities on a private island.
The 44 overwater bungalows here are beautifully designed and offer stunning water views. Choose from the Panoramic Ocean Overwater Villa or the Lagoon Overwater Villa, both with a private pool. Expansive outdoor terraces have direct access to the water as well as loungers, a plush daybed, and four overwater hammocks.
Gaze at the gorgeous view from your king-size bed or seating area. The marble bathroom is equipped with a freestanding bathtub, rainforest shower, and high-end amenities. All rooms open directly onto the deck.
A butler is always at your disposal to make your stay even more comfortable and memorable.
Want the ultimate luxury? The largest overwater villa in the Maldives, the John Jacob Astor Estate holds 12 and has a private gym, cinema, and spa suites in addition to 3 bedrooms and bathrooms, full kitchen, living room, dining room, infinity pool, jacuzzi, and two plunge pools. Rooms for staff are also included!
The St. Regis Maldives Vommuli offers something for everyone, including usual and unusual water and land activities, an incredible overwater spa with a hydrotherapy pool, yoga and meditation studio, and an infinity pool and whirlpool, and white coral sand beaches.
Booking.com Rating: 9.1 Google Rating: 4.8
Soneva Fushi
The spacious overwater villas at Soneva Fushi are perched atop the turquoise sea, and you can choose from the sunrise or sunset side of the island.
Each "water retreat" also comes with one or two bedrooms, a separate seating area, a dining area with a glass floor panel for viewing marine life, and an outdoor sunken bathtub and outdoor shower. Off the huge sun deck, you'll find comfy loungers, an overwater hammock, a private pool, and an incredible water slide that sends you right into the Indian Ocean.
Relax on the stunning sands or take advantage of an assortment of experiences like sunset dolphin cruises, eco-friendly surfing, glass blowing classes, castaway picnics, tree pod dining, or zip-lining, as well as world-class gastronomy with your choice of several incredible restaurants or destination dining (private dinner on a sandbar, anyone?).
Booking.com Rating: 9.1
Google Rating: 4.8
Vakkaru Maldives
Vakkaru Maldives is located on Baa Atoll, a secluded reef island, and offers sophisticated luxury combined with natural charm. After a 30-minute seaplane flight from Male International Airport, this unforgettable paradise will soothe your soul, calm your mind, and indulge your senses.
Perched above a turquoise lagoon, overwater villas here are elegantly designed. The master bedroom offers a king-size bed with ocean views and a daybed. The dreamy bathroom has a large bathtub overlooking the lagoon and an outdoor shower.
Soak up the sun on your spacious deck with a daybed, sun loungers, and access to the calm lagoon so you can swim or snorkel right from your villa. End the day admiring a magnificent sunset from your overwater hammock. To also enjoy a private infinity pool, choose an Over Water Pool Villa.
All sorts of activities are available at the resort. Laze on the white sand beach, enjoy water sports, or try one of Vakkaru's Bespoke Guest Experiences. The overwater spa offers a full range of restorative treatments plus a hair and nail salon. Indulge in five restaurants, two bars, a wine cellar, and private dining options like the Ultimate Sandbank Escape.
Booking.com Rating: 9.2
Google Rating: 4.8
Cayo Espanto
Off the coast of San Pedro, Belize
Cayo Espanto is a private island resort that features just one exclusive Caribbean over-the-water bungalow: Casa Ventanas. The 1000-square-foot one-bedroom villa is the most intimate accommodation on the island, with nothing but beautiful views from all around. Lounge on your private deck or slip into the warm Caribbean waters; you'll feel like you're the only couple for miles around.
Located at the end of a private dock, this incredibly romantic overwater bungalow comes with a butler, personalized meals, concierge services, and more. A glass insert in the floor gives you the unique experience of glimpsing sea life below, and a light lets you see what the fish are up to at night!
This hidden tropical resort, with its lush natural setting and just a handful of accommodations, is an ideal romantic escape for honeymooners—one that allows you to feel as though you have the whole island to yourselves.
At Cayo Espanto, your activities and meals are personalized based on your preferences. The world's second-largest barrier reef system is nearby if you like to dive or snorkel. You can also enjoy fishing, non-motorized water sports, or tours of Mayan ruins on the mainland. Or, try exclusive experiences like a day on the resort's private yacht with an afternoon picnic on a deserted beach or a helicopter tour over the Great Blue Hole.
Google Rating: 4.8
TripAdvisor Rating: 5
Palafitos Overwater Bungalows at El Dorado Maroma
Maroma Beach, Mexico
Check out the first overwater bungalows in Mexico at El Dorado Maroma set right over the turquoise waters of beautiful Maroma Beach. From your private deck, you can watch the sunrise or go for a swim in your private infinity pool. The overwater bungalows are a dream with glass bottom floor inserts, full butler service, a romantic outdoor shower, an indoor relaxing hot tub for two, and exclusive beach beds.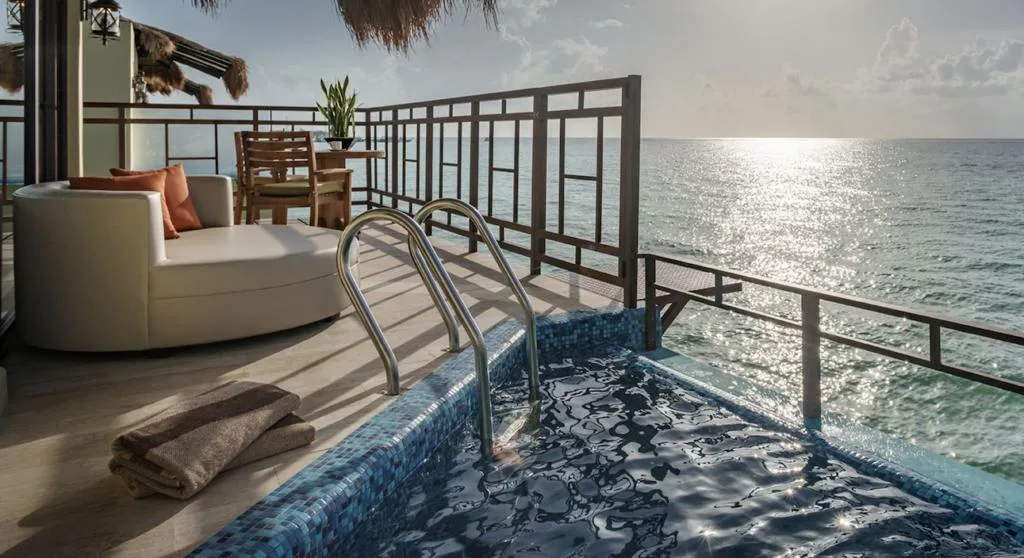 During your stay you can enjoy customizable beach picnics, daily breakfast served in your bungalow, pre-dinner drinks, and snacks from the comfort and privacy of your bungalow.
Stays at El Dorado Maroma Overwater Bungalows include gourmet dishes at the Overwater Grill & Wine Bar, which features two glass-floor dining rooms with spectacular views of the surrounding sea. At the overwater spa, you can also enjoy treatments using traditional Mayan herbal practices and antioxidant-rich Maroma Beach sea moss.
Google Rating: 4.6
TripAdvisor Rating: 4.5
Sandals South Coast
White House, Jamaica
Sandals South Coast offers overwater bungalows at an adult-only all-inclusive resort, making it a perfect spot for a romantic getaway.
The Over-the-Water Bungalows here give you direct access to turquoise waters from an expansive private deck that features Sandal's signature Tranquility Soaking Tub™ for two, an overwater hammock, outdoor shower, and a swim-up platform, while the interior boasts see-through glass floors that guarantee undersea views, a king-size bed, and a spa-style bathroom.
At night, you can enjoy bonfire areas and fire pits for even more memorable experiences. Along with all the water and land activities available at Sandals Resorts, you can dine at 9 onsite restaurants, offering a variety of cuisines including Italian, Asian, Mediterranean, Jamaican, and more.
Google Rating: 4.5
TripAdvisor Rating: 4.5
Coco Plum Island Resort Overwater Villa
Belize
The luxurious Belize Overwater Villa at Coco Plum Island Resort can accommodate 4 to 6 people with 3 bedrooms and 3 baths, making it perfect for several couples or a small group. The villa features exotic furnishings, top-of-the-line amenities, and a full kitchen, dining, and living area. Set in a secluded spot over the stunningly clear Caribbean, this overwater bungalow in Belize is surrounded by a private veranda and also offers an extended sunbathing deck.
Coco Plum Resort is a laidback adults-only all-inclusive resort encompassing a private island. You can easily swim, snorkel, kayak, paddleboard, or sail a Hobie Cat in the surrounding calm, clear waters. You can choose from several all-inclusive packages, such as the Snorkel Package, specially designed for the ultimate in relaxation and go-at-your-own-pace adventure and includes 3 meals a day, local drinks, and snorkeling trips. Additional activities can be added to each package.
Google Rating: 4.6
TripAdvisor Rating: 4.5
Chairman Overwater Bungalows Diamond Club™ at Royalton Antigua
Deep Bay, Antigua
Experience upscale adults-only luxury in the privacy of your very own Chairman's Overwater Bungalow. Located on the scenic shores of Deep Bay, every natural wooden bungalow offers a private and romantic ambiance and picture-perfect views of the Caribbean—perfect for tranquil evenings spent watching the sunset.
The adults-only Chairman's Overwater Bungalows Diamond Club™ features a king-size bed, a relaxing seating and dining area, a swim-out infinity plunge pool overlooking the sparkling waters, an over-water hammock, and glass floor inserts for you to admire the vibrant marine life below.
Royalton Antigua is all-inclusive, and you get many extras such as complimentary dinner served in your bungalow, butler service, an upgraded room service menu, twice daily refreshed in-bungalow minibar and more. There are plenty of activities to enjoy if you feel like venturing out of your oasis over the ocean, and delightful dining options.
Google Rating: 4.1
TripAdvisor Rating: 5
Are there overwater bungalows in the USA?
Yes, there are a few overwater bungalows in the USA. There are also a handful of overwater bungalows in Florida, and a few other states, but they are not nearly as common as they are in other parts of the world.
In general, the best overwater bungalows close to the US are the ones at Sandals Resorts in Jamaica.
Are overwater bungalows worth it?
This is a difficult question to answer, as it depends on what you are looking for in a vacation. If your accommodations are important to you, then yes, an overwater bungalow is definitely worth it.
Overwater bungalows are usually more expensive than other types of accommodation, so you will need to factor that into your decision. However, they do offer a unique and exclusive experience that you will not find anywhere else.
I think it really depends on the destination and what you expect from your stay. Some resorts have overwater bungalows that are not much more expensive than other suites, while others are priced much higher than the other rooms.
Find the Best Overwater Bungalows by Location