This post may contain affiliate links where we are compensated if bookings or purchases are made.
First, congratulations! If you are researching an all-inclusive honeymoon package, that means you are in a very exciting time of life. I remember when I planned our honeymoon and how exciting it was, but also how busy we were.
After that, we decided to start this website to help other people plan their honeymoon.
Below are several resorts that have all-inclusive honeymoon packages that can help you plan your trip, but I wanted to give you a few tips before you go on to those.
Check Out Our Latest All-Inclusive Resort Tour!
First, we can take on this task for you! You can learn about our all-inclusive honeymoon planning here.
But, if you do want to plan your honeymoon on your own, we have plenty of recommendations below!
After all the decisions you make when planning your wedding, the last thing you want is more planning when it comes to your honeymoon. That's why honeymoon packages are so popular. A vacation package or all-inclusive resort gives you the ultimate relaxing honeymoon, so all you have to do is enjoy each other.
Another reason many couples choose this option is that all-inclusive honeymoon packages can be less expensive than planning your honeymoon vacation a la carte.
Which honeymoon package is best? That depends on where you want to go and what you want to do. Here are some of the best honeymoon packages and romantic all-inclusive resorts we've found in the world.
Our Honeymoon Booking Tips
Sandals Resorts are some of the best-rated all-inclusive resorts for honeymoons. Check out their promotions and you can book online easily.
BeachBound.com has the best rates for booking several all-inclusive resort brands like Secrets, Rui, Dreams, Breathless and more.
Make planning easier and get the VIP perks that come with using a well-connected travel expert like resort credits, complimentary breakfast, a welcoming bottle of champagne, and more.
Top 25 All-Inclusive Honeymoon Resorts
They are all so great and different, that it feels impossible to rank them. But here are 25 all-inclusive resorts our clients rave about.
Sandals Royal Caribbean
Sandals Royal Caribbean offers a taste of British colonial style with its Georgian-style Great House, English high tea, and croquet.
Tucked away in a beautiful setting, pleasures such as an authentic Thai restaurant, nightly entertainment, and poolside and beachside luxury make this location perfect for those wanting a honeymoon to remember.
For the ultimate romance, stay at an incredible overwater bungalow on the resort's exclusive private island, just minutes away offshore.
As at other Sandals Resorts, your all-inclusive honeymoon package includes your room as well as unlimited dining at multiple restaurants, unlimited premium liquor at several bars, and a full range of water sports and land sports. Additionally, if you take your honeymoon at Sandals within 30 days of your wedding, you'll receive several special extras in your honeymoon package.
Emerald Maldives Resort & Spa
The Maldives
Emerald Maldives Resort & Spa is a 5-star deluxe all-inclusive resort located on the island of Fasmendhoo, in the southern part of the Raa Atoll. The resort consists of 20 acres of pristine land and 100 acres of a beautiful lagoon, pristine white beaches, a clear blue ocean, and lush nature.
Each of the 120 villas is designed in a contemporary style of tropical architecture and first-class interior design, blending harmoniously with the local environment. You'll enjoy an elegant yet cozy and relaxed ambiance with a modern and comfortable style.
All villas, including the overwater bungalow, have two flat-screen satellite TVs, a king-size bed or a connecting room for families or large groups, a walk-in shower and an outdoor shower "under the stars," a bathtub for two, a spacious dressing room with walk-in closet, room-controlled air conditioning and ceiling fans for a soothing and restful night's sleep, a desk, and high-speed Wi-Fi available throughout the resort if you still want to stay connected.
The all-inclusive honeymoon package includes a discount on your room, a complimentary couples massage, a bottle of champagne, a romantic beach dinner, and a complimentary upgrade when available. romantic dinner, all-inclusive formula, exclusive SPA treatment, and magical sunsets.
Sandals Grande St Lucian
St. Lucia
Perched over sparkling waters of the most vivid blue and turquoise, the 9 Over-the-Water Honeymoon Butler Bungalows at Sandals Grande St. Lucian deliver a true luxury all-inclusive experience, making it a perfect honeymoon suite. Not only do you get gorgeous accommodations, but you also get your own private butler who will handle everything from unpacking to making dinner reservations and arranging activities to drawing a rose-petal-filled bath to restocking your (complimentary) top-shelf minibar.
These overwater bungalows in St. Lucia have hardwood floors with glass floor panels so you can see exotic marine life without even having to get in the water. However, should you want to get in the water, you can easily do so from a short ladder off your private extended sun deck.
On the deck, you'll find a bistro set, comfortable lounge chairs, and a huge hammock suspended over the water for the ultimate in relaxation—not to mention the outdoor Tranquility Soaking Tub™ for two!
The comfy king-size bed comes with luxury linens and a pillow menu, and it's positioned directly in front of glass doors to give you gorgeous views the minute you wake up. These doors slide open to catch the breeze and provide easy access to the outdoors.
Sandals Resorts are adults-only and couples-only, so you won't find families and kids here, but you will find a ton of things to do. In fact, the Sandals Grande St. Lucian is the biggest and most active of the Sandals locations on the island. All sorts of resort activities are included in your stay, including a full range of water sports and land sports. You also get access to two other Sandals resorts on the island.
Your Sandals honeymoon package also includes unlimited dining at multiple restaurants and unlimited premium liquor at several bars. Additionally, if you take your honeymoon at Sandals within 30 days of your wedding, you'll receive several special extras in your honeymoon package.
Vista Verde Ranch
Colorado
A honeymoon in a romantic cabin in Colorado is a perfect way to spend time together after your marriage. Imagine dipping into a steaming outdoor hot tub right outside your honeymoon cabin or sitting next to a cozy fireplace roasting s'mores.
Vista Verde is an amazing luxury all-inclusive ranch located just outside of Steamboat Springs. We fell in love with the property and the amazing staff that make it special. All-inclusive packages start at $1,725/person for a 3-night stay in a cabin. We encourage 4 nights if possible as that allows for enough time to try many of the activities while still fitting in relaxation time.
You'll find the cabin stocked with snacks and drinks every day, and the staff will check in with you to see how things are going and get you prepared for the activities available. The meals are delicious and feature local influences.
In the winter, imagine snow gently falling outside of your luxury cabin while you're snuggled inside by the fire. Or soak in the outdoor hot tub—we found this especially helpful after a horseback riding session or a backcountry ski outing.
In the summer there are even more activities available during your honeymoon, including fly fishing, mountain biking, and more.
Vista Verde offers the perfect setting for a fun honeymoon. Meals with other guests enliven the conversation, and the dining room is always filled with laughter. Leisurely afternoon naps or late-night soaks in the hot tub give couples a chance to retreat from it all and focus on each other.
Sandals Royal Plantation
A mere 74 ocean-view suites are nestled along the beachside at the romantic couples-only Sandals Royal Plantation in Ocho Rios. Luxury abounds at this perfectly private resort, where butlers ensure you have the honeymoon of your dreams. Laze by the pool before heading off for a round of golf between the beautifully manicured lawns adorned with peacocks showing off their colors.
Original furnishings pair with innovative creations (such as the only champagne and caviar bar in Jamaica) harmoniously at this resort. Choose from a variety of Love Nest luxury suites, which blend tropical style and old-school elegance.
As at other Sandals Resorts, your all-inclusive honeymoon package includes your room as well as unlimited dining at multiple restaurants, unlimited premium liquor at several bars, and a full range of water sports and land sports. Additionally, if you take your honeymoon at Sandals within 30 days of your wedding, you'll receive several special extras in your honeymoon package.
The Caves
Set on solid rock caressed by the crystal blue of the Caribbean Sea, The Caves exudes coziness, class, and romance all at once. The world-famous all-inclusive resort in Negril gets its name from the chambers carved out under the rocks by the sea and has lots to offer the honeymooning couple. It is comprised of 12 cottages, all uniquely designed to take full advantage of the cliff the property is built on.
Private caves allow you to enjoy ultra-romantic candlelight dinners if you so desire. There is also a highly recommended spa, private hot tub, sauna, and Jacuzzi, as well as a saltwater swimming pool. The Caves is just minutes away from the famous Seven-Mile Beach, so there is plenty to enjoy on or off the property.
If you are looking for a honeymoon package, check their specials page. While they do not have a specific honeymoon package at the time of writing this, they do have a special that includes a discounted stay, a romantic candlelit cave dinner, spa treatments, and more.
Sandals Ochi
Ocho Rios, Jamaica
If you are looking for an affordable honeymoon option, Sandals Ochi is the cheapest Sandals Resort and is perfect for a honeymoon at Sandals on a budget. The Great House Luxury package provides easy access to the resort's restaurants, bars, and amenities. Green fees are included at Sandals Golf & Country Club, plus unlimited land and sea activities.
Each room has a private balcony and a well-appointed ensuite bathroom, plus a refrigerator stocked with bottled water, juice, soda, and local beer.
Sandals Ochi has 11 bars (including the Caribbean's first speakeasy), a popular beach club, and 16 restaurants. If you're looking to enjoy a good time, this is the resort for you. But don't worry, if you want privacy and relaxation during your honeymoon, there are plenty of serene areas to get that R&R in. Additionally, if you take your honeymoon at Sandals within 30 days of your wedding, you'll receive several special extras in your all-inclusive honeymoon package.
Couples Swept Away
Couples Swept Away is an all-inclusive resort that's perfect for an active honeymoon. Situated on 19 acres of lushly landscaped land right along world-famous Seven Mile Beach, it is a true paradise for outdoor lovers and sports enthusiasts.
The 10-acre fitness complex is the largest in Jamaica, setting it apart from other all-inclusive resorts in Jamaica. Sports activities you can try include 10 tennis courts, squash and racquetball, a fully-equipped fitness center, and more. You can also try kayaking, snorkeling, sailing, windsurfing, and scuba diving. There's never a dull moment during your stay.
Dine in the open-air restaurants, which exude a romantic atmosphere with candlelight, lanterns, and billowing curtains. Or enjoy afternoon tea in the café or take a dip in the tranquil pool.
All rooms exude a quiet elegance with island cedar furniture and pure white bedding and feature private verandas overlooking the garden and the azure sea. Couples Swept Away will definitely take your breath away.
Couples Swept Aways offers a complimentary honeymoon package that includes a bottle of sparkling wine and a 25-minute couples massage. There are additional honeymoon packages available with add-ons based on what you are looking for.
The St. Regis Maldives Vommuli Resort
The Maldives
The St. Regis Maldives Vommuli Resort is located just 45 minutes by seaplane from Velana International Airport and offers world-class service and incredible amenities on a private island.
For a fantasy honeymoon experience, stay at one of the 44 overwater bungalows, which are beautifully designed and offer stunning water views. Choose from the Panoramic Ocean Overwater Villa or the Lagoon Overwater Villa, both with a private pool. Expansive outdoor terraces have direct access to the water as well as loungers, a plush daybed, and four overwater hammocks.
A butler is always at your disposal to make your honeymoon even more comfortable and memorable.
The all-inclusive adults-only St. Regis Maldives Vommuli offers something for everyone, including usual and unusual water and land activities, an incredible overwater spa with hydrotherapy pool, yoga and meditation studio, an infinity pool and whirlpool, and white coral sand beaches.
Sandals Negril
Negril Jamaica
Unrivaled peace is what you'll find at Sandals Negril, particularly on the spectacular beach – the longest in Jamaica. Feel the cool breeze coming from the ocean as the white sand tickles your toes.
By day, have fun in the sun; by night, dance freely under a canopy of stars. This is a carefree resort, where the emphasis is on pure enjoyment. Sandals Negril is barefoot luxury at its finest.
Whichever room you choose as your honeymoon hideaway, you'll be just steps from the gleaming white shores of world-famous Seven-Mile Beach. Rich colors and clever use of glass allow the outside in, connecting you constantly to the magical surroundings of the Jamaican coast.
Sandals Negril is one of the least expensive Sandals resorts, so it's a great choice for a budget honeymoon. As at other Sandals Resorts, your all-inclusive honeymoon package includes your room as well as unlimited dining at multiple restaurants, unlimited premium liquor at several bars, and a full range of water sports and land sports. Additionally, if you take your honeymoon at Sandals within 30 days of your wedding, you'll receive several special extras in your honeymoon package.
Royalton Antigua
Antigua
Experience upscale adults-only luxury on your honeymoon in the privacy of your very own Chairman's Overwater Bungalow. Located on the scenic shores of Deep Bay, every natural wooden bungalow offers a private and romantic ambiance and picture-perfect views of the Caribbean—perfect for tranquil evenings spent watching the sunset.
The Chairman's Overwater Bungalows Diamond Club™ features a king-size bed, a relaxing seating and dining area, a swim-out infinity plunge pool overlooking the sparkling waters, an over-water hammock, and glass floor inserts for you to admire the vibrant marine life below.
Royalton Antigua is all-inclusive, and you get many extras such as complimentary dinner served in your bungalow, butler service, an upgraded room service menu, twice daily refreshed in-bungalow minibar, and more to make for a perfect honeymoon package. There are plenty of activities to enjoy if you feel like venturing out of your oasis over the ocean, and delightful dining options.
Sandals Grande Antigua
Antigua
Sandals Grande Antigua has won the award for the Caribbean's Most Romantic Resort by the World Travel Awards multiple times and even won the Most Romantic Resort in World in the past.
Located on Dickenson Bay, Antigua's most famous beach, Sandals Grande Antigua offers two unique vibes for honeymooners. On one side of the resort is the Caribbean Beachfront Village with calm crystal clear water, perfect for water sports, or offering romantic private day bed set-ups. Accommodations include beautiful suites with private plunge pools surrounded by tropical gardens.
On the other side is a 6-star all-suite ocean view village with amazing 180-degree views. Private villas are available with butler service.
Wherever you stay, enjoy 11 different restaurants and 7 bars, giving you plenty of variety during your honeymoon. As is usual with Sandals Resorts, all meals are included, as is unlimited premium liquor and a variety of water and land activities. Additionally, if you take your honeymoon at Sandals within 30 days of your wedding, you'll receive several special extras in your honeymoon package.
Soaring Eagle Lodge, Alaska
Alaska
How about an affordable adventure honeymoon in Alaska? The vacation package at Soaring Eagle Lodge (available May through September) includes airfare, lodging, and daily activities, and is customizable.
You'll stay in a private ocean-front cottage and receive roundtrip airfare to Anchorage, a rental car for 8 days, an exclusive adventure coordinator, and a personalized itinerary of up to six days of Alaskan adventures. Packages start at around $3000 per person depending on airfare.
Soaring Eagle Lodge offers one-of-a-kind all-inclusive honeymoon packages. "The Honeymooners" package costs $3000/person and includes a guided fishing trip, sled dog kennel tour and ride, kayak adventure, glacier hike, sightseeing, complimentary fish, processing, and packaging.
Sandals Grenada Resort & Spa
Grenada
Sandals Grenada Resort is a great place to go if you want to relax on your honeymoon, with the option of adding in plenty of water activities. Located in the heart of Grenada's exclusive Pink Gin Beach, here you will experience a truly romantic Caribbean retreat.
Personalized butler service is available in 69 suites, which include Swim Up Pool Suites, Rondoval Suites, and Skypool Suites (with private infinity-edge plunge pools!).
In the Italian Village (one of four villages available), you can enjoy romantic tranquility in soaking tubs for two. There are 10 restaurants to choose from, including a world-class steakhouse, and plenty of activities to try.
As at other Sandals Resorts, your all-inclusive honeymoon package includes your room as well as unlimited dining, unlimited premium liquor at several bars, and a full range of water sports and land sports. Additionally, if you take your honeymoon at Sandals within 30 days of your wedding, you'll receive several special extras in your honeymoon package.
Sandals Royal Barbados
Barbados
With three unique villages, this new adults-only resort in St. Lawrence Gap, Barbados offers a variety of luxurious and inventive honeymoon accommodations nestled along the white sands of Maxwell Beach.
How about snuggling up in an exotic Crystal Lagoon Swim-Up Suite, which has a private patio and offers zero entry into the largest and longest lagoon pool in Barbados?
For dining, you'll enjoy 11 world-class restaurants plus access to 9 more at the adjacent Sandals Barbados.
As at other Sandals Resorts, your all-inclusive honeymoon package includes your room as well as unlimited dining, unlimited premium liquor at several bars, and a full range of water sports and land sports. Additionally, if you take your honeymoon at Sandals within 30 days of your wedding, you'll receive several special extras in your honeymoon package.
Sandals Royal Bahamian
Bahamas
Sandals Royal Bahamian recently reopened after a $55 million renovation. The glamorous all-inclusive resort now features new Beachfront Swim-Up Butler and Club Level Suites just steps from the ocean plus all-new Crystal Lagoon Swim-up Suites with butler service, giving you plenty of luxurious options for your honeymoon hideaway.
Looking for something unique? Sail off on the Love Runner and experience a romantic adventure at the private offshore island.
For food, guests will enjoy 13 unique concepts including the all-new Coconut Grove which is a beachfront lounge shaded by coconut palms. You can also dine at any of the three new food trucks with traditional Bahamian fare at Coco Queen, Italian classics at Bahama Mamma Mia, and sweet treats and coffee at Sweets 'N' Tings.
As at other Sandals Resorts, your all-inclusive honeymoon package includes your room as well as unlimited dining, unlimited premium liquor at several bars, and a full range of water sports and land sports. Additionally, if you take your honeymoon at Sandals within 30 days of your wedding, you'll receive several special extras in your honeymoon package.
Sandals Emerald Bay
Great Exuma, Bahamas
Sandals Emerald Bay is an adult-only all-inclusive resort located on the sleepy Bahamian island of Great Exuma. This resort is the place to celebrate romance, with its 500 acres offering convenient access to mile-long, pristine Emerald Bay beach.
Couples celebrating anything from honeymoons to 50th anniversaries flock to Sandals Emerald Bay to rent premium beachfront villas. The vast selection of lodging ranges from one or two-story suites with your very own butler, to beach view rooms that are mere steps away from glittering turquoise water.
As at other Sandals Resorts, your all-inclusive honeymoon package includes your room as well as unlimited dining, unlimited premium liquor at several bars, and a full range of water sports and land sports. Additionally, if you take your honeymoon at Sandals within 30 days of your wedding, you'll receive several special extras in your honeymoon package.
Activities included in the price of your room include scuba diving, stand-up paddleboarding, and playing a round of golf on the resort's course, designed by Greg Norman. In addition, honeymooners can enhance their stay by choosing among various romance packages offered by Sandals.
Those looking to level up their vacation at Sandals Emerald Bay can book services at the Red Lane Spa right onsite or venture off the grounds on one of many exciting excursions. By far the most popular option is the half-day boat excursion exploring various Exuma cays and visiting the swimming pigs.
Likuliku Lagoon Resort
Fiji
"Likuliku" means "calm waters," and that's what you'll find at this idyllic adults-only Fiji resort nestled along a turquoise lagoon surrounded by a protected marine sanctuary with a fringed coral reef. This peaceful paradise is designed in the traditional style with respect for the land and the cultural heritage of Fiji.
Likuliku Lagoon Resort has ten overwater bungalows that are perfect for a private honeymoon retreat (called "bures" here, these were Fiji's first). They have private decks with loungers (and ladders to the sea so you can swim or snorkel right from your bure!), king-sized beds, sitting areas, a refrigerator, plunge coffee and tea, window screens, ceiling fans, and air conditioning.
They also feature separate bathing pavilions and soaking tubs with incredible views. Wrap yourself in your complimentary sarong and lounge on the deck as you enjoy on-the-house daily appetizers and freshly baked cookies.
If you can tear yourself away from the amazing view, you'll find plenty to do. Swim in the crystal clear waters and explore the incredible coral reef surrounding the lagoon; the resort offers complimentary snorkeling equipment, paddleboarding, kayaking, sailing, and windsurfing.
Or stay on land and relax on the beach, by the infinity pool, or at the serene spa. For more active pursuits, there are walking and hiking trails and a beachfront gym, or you can visit local villages, go on a fishing excursion, scuba dive, waterski or wakeboard, go island hopping, or enjoy a sunset cruise.
Dining at Fijiana Restaurant is an experience in itself, as it features stunning water views and an open-air terrace plus creative Fijian cuisine with fresh local seafood and produce. For the ultimate romantic ambiance, book one of their two private beachside dining decks. Likuliku also offers two bars—one on an island in the lagoon and one in the main resort area. On Friday nights the resort holds a traditional dance and feast.
Likuliku has several all-inclusive packages for honeymooners, including the Celebration Package for 5 nights or more which covers accommodations, fresh local cuisine, non-motorized watersports, welcome gifts including a bottle of sparkling wine, a couples massage, and guided nature activities.
Bolongo Bay Beach Resort
St. Thomas
If you want to experience the laid-back vibe of St. Thomas, an informal beachfront resort like charming Bolongo Bay is perfect for your honeymoon. This resort introduced all-inclusive packages to St. Thomas in 1989 and is known for its friendly hospitality and affordable pricing.
Many rooms have breathtaking sea views and direct beach access, as well as private patios or balconies. A beautiful beach lined with hammocks under coconut palms, a casual poolside restaurant with lovely water views, an outdoor pool with a swim-up bar, plenty of water sports activities, and regular entertainment is some of the amazing things waiting for you at Bolongo Bay. You can also choose to go sailing to offshore islands on the resort's custom-built catamaran or explore the area.
The all-inclusive plan has a huge surprise for foodies, as it offers delicious homemade dishes from local ingredients. You'll enjoy 100% dining a la carte, unlimited premium cocktail creations, a huge selection of beer, house wine, and champagne, a sunset harbor cocktail cruise, and live music several nights a week.
There are several options for all-inclusive honeymoon packages including the Island Bliss packages including champagne, chocolates, resort credit, and a half-day snorkel trip to swim with turtles. The Rose honeymoon package includes rose petals strewn in your room and if you are looking for something different you can customize your own package.
El Dorado Maroma
Mexico
For a fantastic honeymoon package in Mexico, stay in one of the first overwater bungalows in Mexico at El Dorado Maroma, set right over the turquoise waters of beautiful Maroma Beach. From your private deck, you can watch the sunrise or go for a swim in your private infinity pool.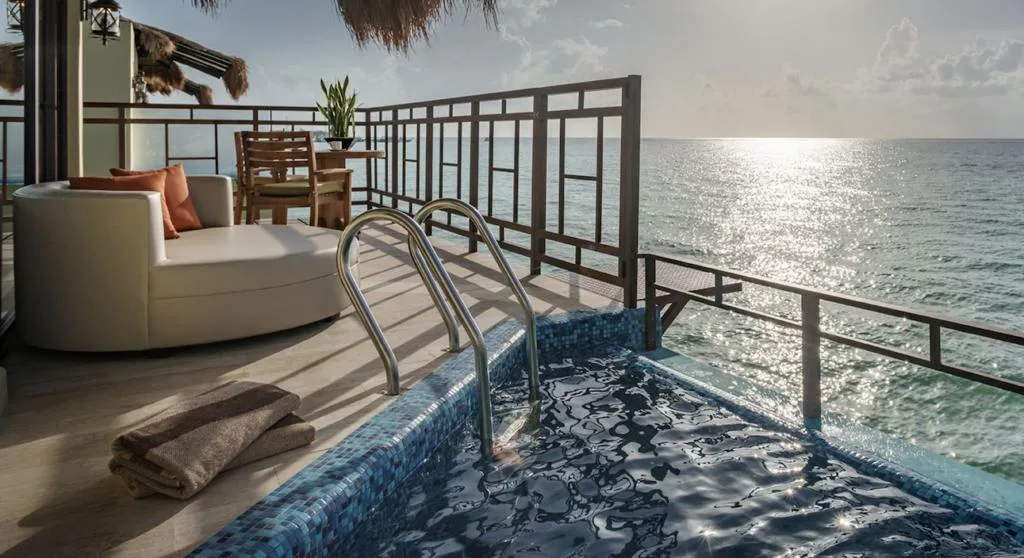 The overwater bungalows are a dream for honeymooners, with glass bottom floor inserts, full butler service, a romantic outdoor shower, an indoor relaxing hot tub for two, and exclusive beach beds.
During your stay you can enjoy customizable beach picnics, daily breakfast served in your bungalow, pre-dinner drinks, and snacks from the comfort and privacy of your bungalow.
Honeymoon packages at the all-inclusive, adults-only El Dorado Maroma include gourmet dishes at the Overwater Grill & Wine Bar, which features two glass-floor dining rooms with spectacular views of the surrounding sea.
Constance Moofushi Maldives
The Maldives
Constance Moofushi Maldives will make your dream of walking barefoot on brilliant white sand surrounded by the turquoise waters of the Indian Ocean come true. Located on a secluded private island, Constance Moofushi combines simplicity and luxury for the ultimate Maldives honeymoon.
Your all-inclusive honeymoon package includes fruit and a bottle of sparkling wine upon arrival, a special gift, exquisite cuisine, premium beverages, and romantic accommodations.
Choose from a beach villa or overwater villa; they're all built to harmonize with nature and decorated in soothing tones. Every villa has unobstructed views of the Indian Ocean and is outfitted with your comfort in mind.
You can be as active or relaxed as you want. If you like to dive, nearby South Ari Atoll is one of the best diving sites in the world. Or, indulge in a couples massage at the spa or a sunset cruise. Be sure to try breakfast at the lagoon and candlelight dinner under the stars!
Le Blanc Spa Resort Los Cabos
Cabo San Lucas, Mexico
Surrounded by serenity and tropical beauty, Le Blanc Spa Resort Los Cabos is a secluded haven on the Baja Peninsula in Cabo San Lucas. The all-inclusive resort is ideal for honeymooners who are seeking opulent treatments, comfort, and fun-filled beach activities. Couples are even given access to a private sun-kissed beach.
Featuring polished marble floors, refined decor, and excellent facilities, Le Blanc Spa Resort Los Cabos ensures a memorable honeymoon. There are beachfront swimming pools, a luxurious spa center, and a high-level concierge service.
When couples arrive at the resort, they are greeted with a refreshing drink and fresh blossoms. They are then taken to their luxurious sanctuary, the Royale Deluxe Honeymoon Suite. It offers a plush bed, Apple TV with Netflix and iTunes, ocean vistas, and a lavish bathroom appointed with high-end bath products, a pedestal tub, and a rainfall shower.
Velaa Private Island
The Maldives
Velaa Private Island provides an all-inclusive luxury honeymoon. Located on beautiful Noonu Atoll about 200 kilometers north of Male International Airport, this destination was designed as the ultimate island escape.
Choose from dreamy overwater Sunrise Water Pool Villas or Sunset Deluxe Water Pool Villas, with an outdoor dining area, a huge bathroom with rain shower and round tub, and a large private terrace with stairs leading to the sea. Catch the sun on your deck while lounging in a huge daybed full of pillows.
Or for incredible privacy and astonishing views, book the Romantic Residence, which is only accessible by boat. This overwater villa includes a spacious bedroom with a super-king-size bed, separate seating area, dining gazebo, a full kitchen (with a private chef if you desire), plus a personal gym and spa treatment room. The sundeck features daybeds, an outdoor jacuzzi, an infinity pool, a sunken outdoor bath, and steps leading into the lagoon.
Velaa offers "thrilling adventures and unlimited possibilities" such as hoverboarding in addition to a wide range of the usual water and land activities. Feast at 5 upscale restaurants with local delicacies and gourmet dishes prepared by a world-class chef, indulge yourself at the spa or enjoy lunch on a deserted island. Relax on the stunning white-sand beaches or explore numerous exotic dive sites just offshore.
What is included in an all-inclusive honeymoon package?
An all-inclusive honeymoon package typically includes accommodations, meals, drinks, activities, and entertainment. Some packages may also include airfare and ground transportation. Most all-inclusive packages are priced per person, so be sure to check with your travel agent or the hotel for pricing details.
How long a honeymoon should last?
There is no set amount of time for how long a honeymoon should last, but most couples choose to stay at their all-inclusive resort for a week. Some couples may even opt to add on a few extra days at the beginning or end of their trip to explore the local area.
How Much Does an all-inclusive honeymoon resort cost?
You can find all-inclusive honeymoon resorts that cater to every budget. Some of the most luxurious resorts can cost upwards of $5,000 per night, while more modestly priced options may be closer to $200 per night. It all depends on the location, amenities, and services offered by the resort.
Even within an all-inclusive honeymoon resort you will find a variety of price points depending on the room or suit you decide to stay in.
Upgrades to honeymoon suites or villas will obviously cost more than a standard room but often come with added perks like private plunge pools, butler service, or oceanfront views.