Jamaica is full of amazing all-inclusive resorts resorts. It can be overwhelming choosing between the dozens of all-inclusive resorts between well known brands and small independent hotels. We've rated our top 20 to help make your choice a little bit easier.
Sandals Royal Plantation
Ocho Rios Adult Only All-Inclusive
A mere 74 ocean-view suites are nestled along the beachside at Sandals Royal Plantation. Luxury hangs in the air in this perfectly private resort, where butlers are at every turn to ensure you have the getaway of your dreams. Laze by the pool before heading off for a round of golf between the beautifully manicured lawns adorned with peacocks showing off their colors. Original antique furnishings pair with innovative creations (such as the only champagne and caviar bar in Jamaica) harmoniously at Sandals Royal Plantation.
There are many different accommodation options at Sandals Royal Plantation, each tailored to make every individual holiday personal to the couple in question. Each of the room styles qualifies as a Love Nest luxury suite, with the balance of tropical Jamaica and old-school elegance forming the perfect home-away-from-home.
Google Rating: 4.6
TripAdvisor Rating: 4.5
Round Hill Hotel and Villas
Montego Bay All Inclusive
Round Hill Hotel and Villas is only all-inclusive if you want it to be. When reserving your room, you can choose what meals you want to be included in your booking. This is a great option if you do not drink alcohol or if you do not want to eat three meals a day at your resort as there are three different options.
You will find genuine Jamaican hospitality on the 110-acres with luxury villas, boutique oceanfront rooms, award-winning seaside dining, and an exquisite spa that lies nestled in a lush tropical hillside along a private bay of turquoise waters. Here, guests become family, paradise is found, and experiences become lasting memories.
Google Rating: 5
TripAdvisor Rating: 4.6
Sandals Negril
Negril Adult Only All-Inclusive
Unrivaled peace is what you'll find at Sandals Negril, particularly on the seven-mile beach – the longest in Jamaica. Feel the cool breeze coming from the ocean as you stand on the white sand, tickling your toes. By day, have fun in the sun, by night, dance freely in the sandy surroundings under a canopy of stars. This is a carefree resort, where the emphasis is on pure enjoyment of the natural surroundings and the exotic environment. Sandals Negril is barefoot luxury at its finest.
Whichever room you choose as your home-away-from-home, you'll be drenched in contemporary opulence, and be only steps from the snow-white shores of the seven-mile beach. Rich colors and clever use of glass allow the outside in, connecting you constantly to the magical surroundings of the Jamaican coast.
Google Rating: 4.5
TripAdvisor Rating: 4.5
Iberostar Grand Rose Hall
Montego Bay Adult Only All-Inclusive
If you are eager to have the ultimate luxury experience in wonderful Montego Bay, Iberostar Grand Rose Hall, with its lavish amenities and excellent butler service, might be your best answer.
The upscale adults-only hotel promises all kinds of couples the perfect setting to disconnect and enjoy each other's company. Pamper yourselves with relaxing spa treatments, indulge in mouthwatering local and international dishes at either of their five restaurants, and sample perfectly made cocktails at the four bars, including a cool swim-up bar.
Part of an all-inclusive stay includes dining at one of the 5 restaurants and bars, personalized butler services and live entertainment.
Google Rating: 4.8
TripAdvisor Rating: 4.5
Iberostar Selection Rose Hall Suites
Montego Bay All Inclusive
Iberostar offers travelers another great all-inclusive option. Set on a white-sand beach on the Caribbean coast, Iberostar Selection Rose Hall Suites is a chic resort with beautifully decorated rooms, lovely balconies, and terraces, some with mesmerizing sea views.
The 24/7 available room service makes you feel pampered during your whole stay. And so does the high-end spa, where you and your partner can enjoy relaxing massages and treatments.
The hotel welcomes foodies with five restaurants and bars, while the adrenaline seekers are surprised with thrilling water sports. The 5-star hotel also features three outdoor pools surrounded by comfortable sunbeds, making the outdoor areas perfect for long, lazy days in the sun.
Google Rating: 4.5
TripAdvisor Rating: 4.7
Couples Negril
Negril Adult Only All-Inclusive
The Couples Negril resort, located on the beautiful Negril Beach, has been a favorite couples escape destination since its opening in 1982. The resort has been completely renovated from the rooms to the lobby and entertainment areas while maintaining its classic Jamaican charm. Couples Negril is truly a vacation for couples who enjoy watching romantic sunsets on the world-famous 7 Mile beach, dancing under star-filled Jamaican skies, sipping cocktails with their toes in the sand, and enjoying the close-by attractions of Negril.
Today, Couples Negril is a world-class resort that offers its guests outstanding amenities including an enormous pool with a swim-up bar, a state-of-the-art fitness center, tennis courts, watersports activities, and much more.
Google Rating: 4.7
TripAdvisor Rating: 4.5
The Caves
Negril All Inclusive Resort
Set on solid rock caressed by the crystal blue of the Caribbean Sea, The Caves exudes coziness, class, and romance all at once. The world-famous spot in Negril gets its name from the chambers carved out under the rocks by the sea and has lots to offer the honeymooning couple. It is comprised of 12 cottages, all uniquely designed to take full advantage of the cliff the property is built on.
Private caves allow you to enjoy ultra-romantic candlelight dinners if you so desire. There is also a highly-recommended spa, private hot tub, sauna, and Jacuzzi, as well as a saltwater swimming pool. And of course, The Caves is just minutes away from the famous 7-mile beach in Negril, so there is plenty to enjoy on or off the property.
Google Rating: 4.5
TripAdvisor Rating: 5
Couples Swept Away
Negril Adult Only All-Inclusive
Couples Swept Away is a Trip Advisory Choice of 2021, an all-inclusive resort with unlimited luxury experiences. Couples Swept Away is one of the most desirable all-inclusive resorts in Negril. As soon as you set foot, you'll realize you have arrived in paradise. Exotic flowers bloom amidst a large expanse of greenery. Situated on 19 acres of land right on the world-famous Seven Mile Beach, it is a true paradise for sports enthusiasts.
The 10-acre fitness complex is the largest in Jamaica, setting it apart from the other all-inclusive resorts in Jamaica. Sports activities you can try include 10 tennis courts, squash and racquetball, a fully-equipped fitness center, and more. You can also try kayaking, snorkeling, sailing, windsurfing, and scuba diving. There's never a dull moment during your stay.
Dine in the airy open-air restaurants, which exude a romantic atmosphere with candlelight, lanterns, and billowing curtains. Or enjoy afternoon tea in the open-air cafes and take a dip in the small pool, which offers well-deserved tranquility. All rooms exude a quiet elegance, with island cedar furniture and pure white bedding, and feature private verandas overlooking the garden and azure sea. Couples Swept Away will definitely take your breath away.
Google Rating: 4.5
TripAdvisor Rating: 4.5
Jamaica Inn
Ocho Rios Resort (All-Inclusive Optional)
Ranked as one of the best boutique hotels in Jamaica, Jamaica Inn is a hotbed of private indulgence, relaxation, and romance for couples. Its old-world charm, unspoiled scenery, and pristine, soft sand beach allow for a totally stress-freeing experience. Also, the resort's setup, which includes 48 tastefully designed suites, encourages deep conversations and intimacy by eliminating distractions such as TVs and radios. Its outdoor showers, private plunge pools (with selected suites), and soaking tubs in some rooms also promote an aura of relaxation that ensures every second of your honeymoon is memorable.
Jamaica Inn also has a spa on the property where you and your special one can experience what it means to be pampered. If you're looking for water sports and other activities, there are a number of them as well, including kayaking and paddleboarding. Located in Ocho Rios as well, Jamaica Inn is near to attractions such as Dunn's River Falls and Dolphin's Cove.
Google Rating: 4.6
TripAdvisor Rating: 5
Hyatt Ziva Rose Hall
Set on a delightful beach in Montego Bay, Hyatt Ziva Rose Hall is another all-inclusive Jamaican retreat hotel that promises newlyweds their dream honeymoon.
Active couples can spend their vacation enjoying exciting activities, like snorkeling, beach volleyball, and yoga sessions, while honeymooners looking for an oasis of relaxation have the chance to unwind by the swimming pool, indulge in tasty cocktails at the swim-up bar, take advantage of the two heated whirlpools, and pamper themselves with luxurious massages and salt exfoliation at the hotel's Zen Spa.
Foodies are spoiled with local flavors and unlimited international food and beverages, and those looking for intimacy can enjoy a spa treatment in the privacy of their rooms.
The gorgeous rooms at Hyatt Ziva Rose Hall welcome you with a spectacular design and lovely terraces overlooking the pool, garden, or ocean. For an enhanced experience, you can choose a swim-up room for direct access to the pool.
Google Rating: 4.5
TripAdvisor Rating: 4.5
Sandals Royal Caribbean
Montego Bay Adult Only All-Inclusive
This is a great retreat for a couple who can't decide where to go; Sandals Royal Caribbean blends the best of two wonderful worlds – Britain and the Orient. The Great House, is beautifully adorned in Georgian-style furnishings and complementing solid English traditions such as high tea and croquet. Only minutes away on the exclusive private offshore island, over-the-water bungalows await. Tucked away in a luscious setting, welcome pleasures such as an authentic Thai restaurant, castaway island nighttime entertainment, and poolside and beachside luxury make this location perfect for those wanting a holiday to remember.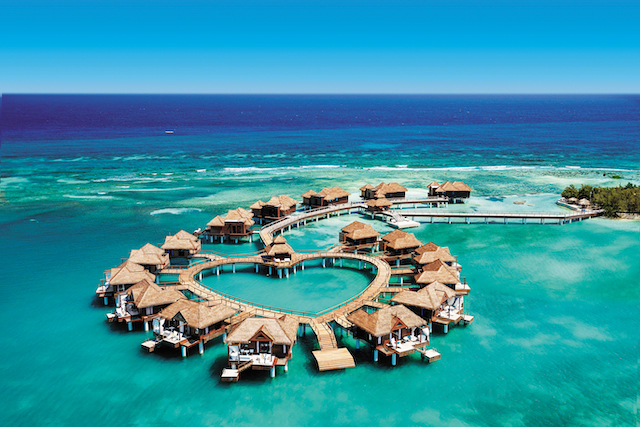 From the Over the Water Private Island Butler Villa with Infinity Pool – where you'll find floating water hammocks and a personal butler – to the Caribbean Deluxe, situated on the second floor of the Carisbrooke building, you can expect opulence and attention to detail at every luxurious corner.
Google Rating: 4.4
TripAdvisor Rating: 4.5
Hyatt Zilara Rose Hall
Montego Bay Adult Only All-Inclusive
Hyatt Zilara Rose Hall is a romantic, adults-only retreat in Montego Bay. The hotel includes a large secluded pool for adults only, including the IslandZ Bar with swim-up seating. On the beach, guests have access to comfortable chaise lounges and umbrellas attended by beach butlers, and of course the warm, crystal clear waters.
The fitness center at Hyatt Zilara Rose Hall has cardio and strength training equipment along with spectacular ocean views, located in the main building behind the Zen Spa. Fitness classes—including yoga, Pilates, boot camp, and cardio mix classes—are available daily.
While meals are included you there are a few add ons available including a candlelight dinner for two served in a private beachfront gazebo, an in-room romance package with sparkling wine, chocolate-dipped strawberries, and a sensual bubble bath, personalized flowers, and spa treatments.
Google Rating: 4.6
TripAdvisor Rating: 4.5
Breathless Montego Bay
Montego Bay Adult Only All-Inclusive
Breathless Montego Bay is an adults-only resort and for good reason. Those wanting to make the most of every moment in life with insane parties, themed events and close links to nightlife outside the resort definitely don't want to miss out on staying here.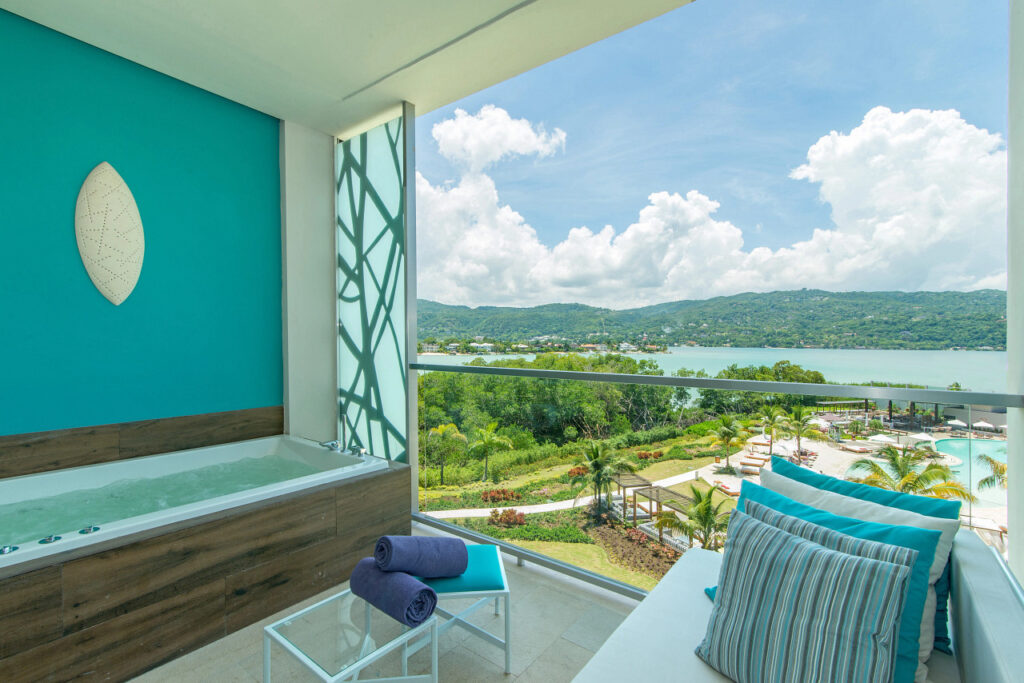 Don't be fooled however, this place is still an incredibly luxurious stay, boasting a rich and lavish interior, complimenting architecture that makes the jaw-dropping natural landscape the centerpiece of your view. With a range of lavish amenities on offer here for when you're recovering from last night's hangover, there's a lot to gently enjoy until you're ready to go again. This place is very friendly and accommodating for all including singles, couples, and friends.
Google Rating: 4.5
TripAdvisor Rating: 4.5
Jewel Grande Montego Bay Resort & Spa
Montego Bay All Inclusive
Perfectly combining exotic attractions with deluxe accommodation, Jewel Grande Montego Bay Resort & Spa promises romantic couples the tropical island paradise they need to have a memorable honeymoon.
Elegant rooms and cabanas, breathtaking beaches, a multitude of dining options, a variety of water sports, and a world-class full-service spa are some of the things you will find at this high-end all-inclusive resort.
Just imagine yourselves relaxing by one of the two swimming pools available, sipping delicious cocktails, and letting the Jamaican sun caress your skin. Whether you choose to stay in one of the superb private beachside cabanas or the gorgeous Montego Bay accommodations, the lavish amenities at Jewel Grande will make you fall in love with this place.
Google Rating: 4.6
TripAdvisor Rating: 4.5
Couples Sans Souci
Ocho Rios Adult Only All Inclusive
The name says it all, really (Sans Souci is French for "without a care"). Couples Sans Souci is part of the world-class Couples chain of hotels and is located in Ocho Rios. Almost any Couples resort could have made the list for ideal honeymoon spots but the Sans Souci location probably has a slight edge over its counterparts due to its preserved natural setting.
Like its sister properties, it is designed especially for lovers but it excels in areas such as lush, tropical scenery, uncrowded beaches, and cushy suites with private balconies. One of its perks, especially for those with risqué intentions, is its clothing-prohibited beach and pool, where you and your partner can merge with nature. As one of the few truly all-inclusive resorts, you get access to premium food and drinks, as well as added benefits such as free Wi-Fi, planned trips, watersports, and other activities, all covered in the cost. The property is also close to some world-class attractions, including Dunn's River Falls and Dolphin Cove, just in case, you might want to get out and explore a little.
Google Rating: 4.6
TripAdvisor Rating: 4.5
Sandals Ochi
Ocho Rios Adult Only All-Inclusive
At Sandals Ochi, you really do get the best of both worlds. On one side, you'll find a buzzing beach club, bars, and the excellent Sandals Golf & Country Club. To the other side, tranquillity echoes through the air in the serene retreat that is the luscious resort's peaceful side. The Sandals Golf & Country Club is recognized to be one of Jamaica's finest, with tumbling fairways creating an 18-hole course over 700 feet above sea level. Private golfing lessons are available should you want to improve your technique.
Designed to blend into the lush surroundings, the hillside villas at Sandals Ochi will mesmerize you with their blend of classic and contemporary. Featuring private pools and personal butler services, you won't have to think about a thing while you unwind in this luxurious resort.
Google Rating: 4.4
TripAdvisor Rating: 4.5
Couples Tower Isle
Ocho Rios Adult Only All-Inclusive
Couples Tower Isle is an all-inclusive resort with only 24 rooms and can accommodate a maximum of 50 guests. The resort is the only all-inclusive to have been built on its own private island and has a port for cruise ships to dock at as well as its very own marina.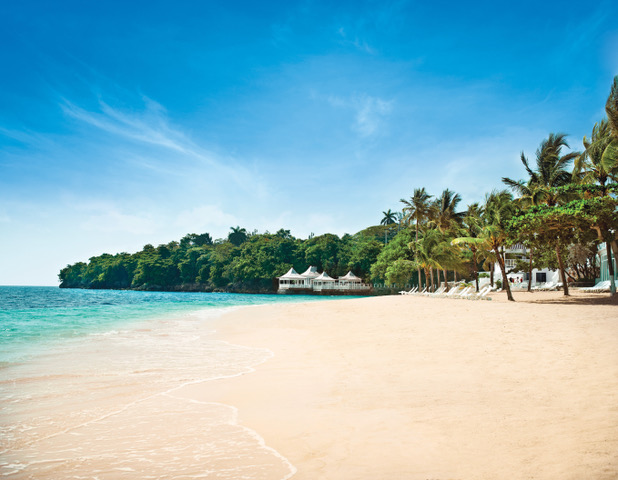 The nude beach is on a separate island accessible by boat. It includes a tower you can climb, has a small pool and sun lounges. The nude beach is not clothing optional. You must be nude to be on the beach unless you go in the early morning before the nude hours begin.
Google Rating: 4.6
TripAdvisor Rating: 4.5
Hermosa Cove
Hermosa Cove can offer a unique experience that none have yet matched. Starting with the aesthetic of the place, there's plenty of hand-crafted furniture and structures to really give that island getaway vibe that's irreplicable to this day. When it comes to food, the hardest decision is whether you're looking for international standard cuisine using fresh, local ingredients or a Jamaican-style jerk shack.
By the time you've smelled the aroma emanating from each place, you'll know the struggle of picking. The staff here are renowned for their friendliness and hospitality from front-desk to back-office, so you can rest assured your stay is in good hands here.
Google Rating: 4.5
TripAdvisor Rating: 4.5
Grand Lido Negril Au Naturel Resort
Negril Adult Only All-Inclusive Nude Resort
Grand Lido Negril Au Naturel is a nude resort and has great facilities making it worth looking into. Keep in mind that it is not clothing optional. In the pools, laying out in the sun, or even in your balcony pool, you are required to be nude.
Enjoy Butler service and bar service along with the pool and access to amenities throughout the nearby resort. Guests can book any of the 26 suites that look into the private alcoves on the bay.
Google Rating: 4.5
TripAdvisor Rating: 4.5