This post may contain affiliate links where we are compensated if bookings or purchases are made.
The Maldives and Bora Bora may have made Overwater Bungalows famous, but that doesn't mean you have to go that far to experience them. With their increased popularity, they are popping up more in the Caribbean. From Belize to the Bahamas, here are the best overwater bungalows in the Caribbean.
5 Top Rated Overwater Bungalows
Palafitos Overwater Bungalows at El Dorado Maroma
Check out the first overwater bungalows in Mexico at El Dorado Maroma set on right over the turquoise waters of Maroma Beach. From your private deck, you can watch the sunrise or go for a swim in your private infinity pool. The overwater bungalows are a dream with glass bottom floors, full butler service, a romantic outdoor shower, an indoor relaxing hot tub for two, and exclusive beach beds.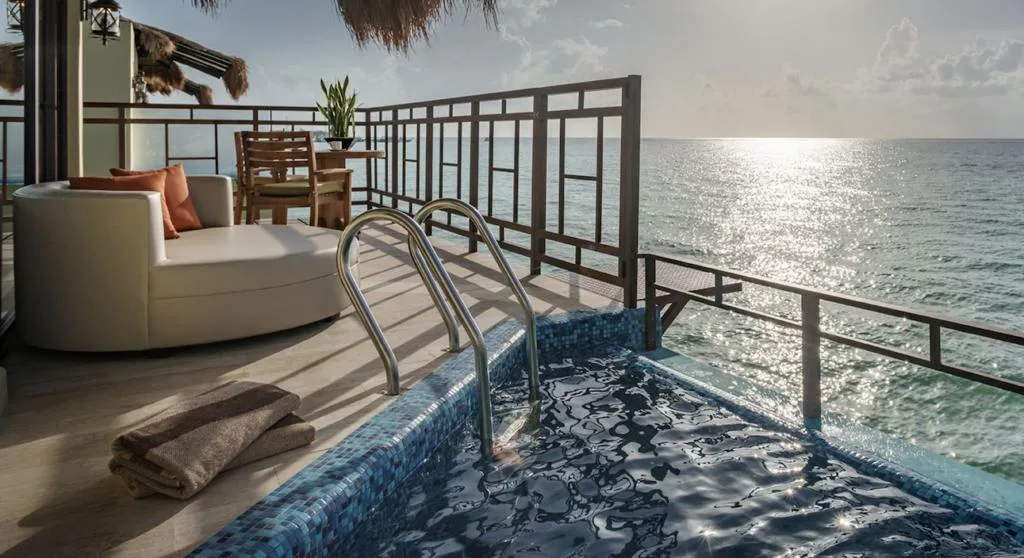 During your stay you can enjoy customizable beach picnics, daily breakfast served in your bungalow, pre-dinner drinks, and snacks from the comfort and privacy of your bungalow.
Stays at El Dorado Maroma Overwater Bungalows include gourmet dishes at the Overwater Grill & Wine Bar, which features two glass-floor dining rooms with spectacular views of the surrounding sea. At the overwater Náay Spa, you can also enjoy treatments utilizing traditional Mayan herbal practices and the antioxidant-rich Maroma Beach sea moss.
Google Rating: 4.6
TripAdvisor Rating: 4.5
Price: Starting at $2,009 a night
Cayo Espanto
Casa Ventanas is Cayo Espanto's exclusive over-the-water bungalow, and the one-bedroom villa is the most intimate accommodation on the island – a private dock, butler, personalized meals, concierge services and more don't hurt either. As a bonus, a glass floor section of the villa provides couples with the unique experience of taking a glimpse at the Caribbean sea life below, the glass window to the ocean below also features a light that can be turned on in different colors to provide additional filters to the vast waters.
The hidden tropical gem personalizes the activities, meals, and overall experience throughout each guest's stay based on preferences expressed – including private yacht, helicopter, and boat tours. Pairs can enjoy a yacht day with an afternoon picnic on an exclusive beach and a helicopter tour over the Great Blue Hole the next as well as enjoy fishing, non-motorized water activities, and a movie night under the stars right there on the island. The resort's personal yacht and helicopter launch pad right there on the property allow couples to enjoy such activities with ease and convenience. The natural setting and nearby largest living coral reef in the world sets the tone for the ideal romantic escape for honeymooners – one that allows them to feel as though they have a private island to themselves.
Google Rating: 4.8
TripAdvisor Rating: 5
Price: Starting at $1,795 per night for the Casa Vertanas
Thatch Caye Resort, Belize
Thatch Caye, a Muy'Ono Resort, is an All-Inclusive Private Island Resort in Belize offering overwater bungalows and island cabanas. The resort sits on its own private island off the coast of Dangriga, Belize. Perched high above the sea, the overwater bungalows
Thatch Caye is a perfect place to relax by sunbathing on a hammock, swimming in the natural saltwater pool or receiving a seaside massage. With the all-inclusive rate, you can take full advantage of the local drinks and Belizean cuisine at the overwater bar, lounge, or The Grove without having to plan where you will be eating.
The accommodations are breathtaking with a rustic Belizean fee. They include the necessities unlike your typical luxury hotel suite, but allow you to enjoy an all-inclusive bungalow vacation at a more affordable price.
"We stayed in Cabana 6. Although they are close together you don't feel crowded. Sitting on the porch looking at the water you could be the only person on the island. From early morning coffee and fish spotting to pre-dinner cocktails and the sunset. You can't go wrong. The sound of the birds at dusk settling in for the night can't be described! We were lucky enough to witness a lightning storm over the mainland one night. The light streaking from one side to the other. Simply gorgeous! The inside is cozy and clean. The bed was comfortable. A/c worked great. If you are on this island you want to be outside! There are so many beautiful spots to sit and relax!" –Maryellen
Google Rating: 4.5
TripAdvisor Rating: 4.5
Price: Starting at $784 + per night, all-inclusive
Deluxe Overwater Lagoon Suite at Rosewood Mayakoba, Mexico
Ideal for honeymooners and couples, the Deluxe Overwater Lagoon Suite floats above the emerald lagoon. This one-of-a-kind Playa del Carmen accommodation provides an inviting lounge terrace with a plunge pool, a luxurious bathroom with an outdoor garden shower, a walk-in closet, a king bed, and spectacular views of the lagoon and mangroves.
Rosewood Mayakoba is known for its elaborate network of canals carved through limestone, linking its natural lagoons and mangrove forests where you take a boat to arrive at your overwater suite making you feel fully immersed in a tropical setting.
During your stay, you can go to the beach, enjoy treatments at the Rosewood Spa or enjoy the adults-only seaside retreat, Aquí Me Quedo, with three tranquil infinity-edge pools, and La Cantina, a Mexican-street-food-inspired restaurant.
Google Rating: 4.8
TripAdvisor Rating: 5
Overwater Bungalows at Sandals Grande St Lucia
If you're dreaming of over-the-water bungalows in St Lucia, Sandals Grande St. Lucian has your name on it. These gorgeous over-the-water bungalows convey an intimate connection to the Caribbean Sea and deliver complete immersion of the fine turquoise waters and rich marine life below. Glass floor panels and lit water ensure you can enjoy undersea views at any time. Couples can also admire the beauty of the ocean from their private outdoor Tranquility Soaking Tub for two or over-water hammocks.
Outside the private patio is also equipped with an extended sun deck, outdoor shower, sun loungers, and a bistro set for two. Butler Elite service, which handles every detail of your vacation with unobtrusive grace, and 24 hour room service are included to complete your over-water vacation.
This resort is often described as "the closest vacation to a picture-perfect postcard." With 12 restaurants at this resort and 15 at a nearby Sandals resort, you'll never run out of dishes to try. You also have access to 2 golf courses, The Sandals Regency La Toc Golf Club and Sandals St. Lucia Golf & Country Club at Cap Estate, with complimentary transfer and green fees included. You can extend your diving experiences to exotic underwater playgrounds at both Sandals Regency La Toc and Sandals Halcyon Beach.
Google Rating: 4.6
TripAdvisor Rating: 4.5
Price: $1,364 per person, all-inclusive
Luxury Overwater Bungalows
Sandals South Coast
White House, Jamaica
Sandals South Coast is an all-beachfront, all-oceanview resort. The over-the-water bungalows in Jamaica are gorgeous, and the perfect spot for a romantic getaway.
The Over-the-Water Bungalows at Sandals allow you direct access to the Caribbean's finest turquoise waters with an expansive patio that features Sandal's signature Tranquility Soaking Tub™ for two, an over-the-water hammock, outdoor shower, and a suspended patio with a swim-up platform, while the interior boasts see-through glass floors that guarantee undersea views, a king-size bed, and a spacious, spa-style bathroom.
At night, you can enjoy bonfire areas and fire pits for even more memorable experiences. Along with all the water and land activities available at Sandals Resorts, you can dine at 9 on-site restaurants, from Italian cuisine, to Asian and Mediterranean, to Caribbean, Jamaica, and more.
Google Rating: 4.5
TripAdvisor Rating: 4.5
Price: Starting at $1237 per person, all-inclusive
Sandals Royal Caribbean Resort
Montego Bay, Jamaica
Just a few minutes offshore from Sandals Royal Caribbean Resort is a private island, you'll find luxurious over-the-water bungalows.
The main Gregorian-style Great House displays this resort's decidedly British heritage, which is also noted in unique traditions you'll find here such as afternoon tea and a rousing game of croquette. Enjoy global gourmet at one of nine on-site restaurants, or explore one of the 12 restaurants you will also have access to at a nearby Sandals resort. One experience you won't want to miss is riding to one of the offshore restaurants called Royal Thai by hopping aboard an authentic dragon boat.
Google Rating: 4.4
TripAdvisor Rating: 4.5
Price: Starting at $1282 per person, all-inclusive
Coco Plum Island Resort Overwater Villa
The luxurious Belize Overwater Villa Coco Plum Island is a 3-bedroom 3-bath all-inclusive bungalow that can accommodate from four to six persons, perfect for a small family or group of friends. The villa features exotic furnishings, top of the line amenities, along with a full kitchen, dining, and living room area. This stunning overwater is complete with a private veranda and extended sunbathing deck surrounded by crystal clear swimming grounds.
At the laid-back resort, you can snorkel through pure, clear waters, kayak, Kayak, stand-up paddleboard, or Hobie Cat in the calm, clear waters surrounding the island. The resort offers several all-inclusive vacation packages to cater to each guest's preferences. For example, the All-Inclusive Snorkel Package is specially designed for the ultimate in relaxation and go-at-your-own-pace adventure, including 3 meals a day, local drinks, and snorkeling trips. Additional activities can be added to the all-inclusive package.
Google Rating: 4.6
TripAdvisor Rating: 4.5
Price: Contact for pricing
Lina Point Overwater Bungalows
Located on the island of Ambergris Caye in the town of San Pedro resides a unique overwater experience to go along with world-class fishing and diving at your back door. Lina Point includes overwater hotel suites with aquariums underneath as well as private overwater cabanas for the whole family.
Located on the island of Ambergris Caye in the town of San Pedro resides a unique overwater experience to go along with world-class fishing and diving at your back door. The overwater cabanas are equipped with glass-bottom sections in the living room and every bedroom. Below the glass bottom floor, we have underwater lights and coral attracting reef fish, crabs, and a variety of marine life. Every cabana also has a full-length deck equipped with a private plunge pool to enjoy the true overwater experience or sit back and watch incredible sunsets & sunrises. Every cabana also has a full kitchen equipped with a small stove, microwave, refrigerator ready to make a romantic dinner.
There are suites available in the overwater hotel or 1 and 2 bedroom overwater bungalows.
Google Rating: 4.4
TripAdvisor Rating: 4.5
Price: Starting at $1237 per person, all-inclusive
Chairman Overwater Bungalows Diamond Club™ at Royalton Antigua
Experience upscale adults-only luxury in the privacy of your very own Chairman's Overwater Bungalow. Located on the scenic shores of Deep Bay, every natural wooden bungalow offers a private and romantic ambiance and picture-perfect views of the Caribbean Sea – perfect for tranquil evenings spent watching the sunset.
The adults-only Chairman's Overwater Bungalows Diamond Club™ includes one master bedroom with a king-size bed, a relaxing seating area with a dining room, a swim-out infinity plunge pool overlooking the sparkling waters, an over-water hammock, and glass floors for you to admire the vibrant marine life below.
The All-Inclusive Royalton Antigua in the bungalow includes complimentary dinner served in your room, butler service, an upgraded room service menu, twice daily refreshed in-bungalow minibar, and more.
Google Rating: 4.1
TripAdvisor Rating: 5
Price: Starting around $2,640 per night, all-inclusive for 2
Overwater Bungalows at St. George's Caye
St. George's Caye Resort has 12 beautiful overwater bungalows offering an intimate private island experience where you can relax and indulge in rustic elegance and unparalleled service.
Located on the east side of the island, each of our four oceanfront cabanas has its own private porch from which you can take in the panoramic views of the ocean from your personal hammock. Wake up to greet the sunrise, or sleep in and enjoy the tranquility of your island experience. Each cabana features a gorgeous open thatch roof with natural flow-through ventilation and includes a private bath with hot and cold running water, air conditioning, and ceiling/floor fans.
Guests at St. George's enjoy a farm-to-table experience with everything from traditional Belizean, Caribbean, and Latin cuisine to European and American favorites. The meal plan includes made-to-order breakfast each morning and expertly selected set menus for lunch and dinner daily.
Google Rating: 4.4
TripAdvisor Rating: 4.5
Price: Starting at $498 per person, includes Room Rate & Meal Plan
Affordable Overwater Bungalows
Sol Bungalows
Sol Bungalows is a laid-back overwater bungalow hotel on Isla Solarte in Bocas del Toro, Panama located on the edge of an indigenous fishing village called Solarte Uno. The hotel features only two overwater bungalows with glass floors and deck hammocks, breathtaking views, and the warm Caribbean sea below. Having only two bungalows makes for a very relaxed and friendly environment.
At Sol Bungalows, breakfast is included in your stay and dinner is available for an additional cost with a mix of fish and chicken with ceviches, curries, soups, and salads with vegetarian and vegan options available.
Google Rating: 5
TripAdvisor Rating: 5
Price: $258 per night
Anthony's Key Resort, Roatan, Honduras
Located on the northwest coast of Roatan Island and overlooking the Caribbean Sea, Anthony's Key Resort is the perfect option for travelers who love all-inclusive resorts and dream of staying in an overwater bungalow but also want affordable vacations.

Roatan is a top destination for Caribbean lovers, and it is renowned for its turquoise waters and beautiful beaches. The beachfront family-run resort has bungalows on a jungle-covered hillside and an offshore key reached by taxi boat, welcoming couples, families, and honeymooners with rates that start at around $570 per night for two adults.

Low-key bungalows with shared or private decks, louvered or floor-to-ceiling windows, an open-air restaurant with sea views, an amazing spa, one outdoor pool, and a dive center are some of the high-end amenities you can enjoy.
Besides, there are various packages and activities like snorkeling, ziplining, and dolphin experiences, making it a great choice for couples who want to relax but also for adventurers.
Google Rating: 4.1
TripAdvisor Rating: 5
Price: Starting around $221 per night per person
Tobacco Caye Paradise
Tobacco Caye Paradise is a tropical island getaway located along the Belize Barrier Reef. The over-the-water bungalows here are a bit more rustic and off the beaten path than many others in the Caribbean. The island is part of the South Water Caye Marine Reserve, a 17,878-acre offshore wonderland for divers, snorkelers, and kayakers.
The small island is completely off-the-grid, (but with wifi) with overwater bungalows of different sizes. Each has its own deck looking over the reef where you will be able to see marine life in the reef. Unwind, relax and enjoy the amazing surroundings. This private island is a perfect place for someone looking to scuba dive, but anyone can also enjoy snorkeling and kayaking.
Accommodations at Tobacco Caye are extremely affordable. Meals are available for $40 a night, including 3 meals. This is a perfect place for adventurous travelers where you can spend a lot of time without breaking the bank.
Google Rating: 4.6
TripAdvisor Rating: 4.5
Price: $80 per night for double occupancy
Punta Caracol Acqua Lodge, Panama
Enjoy one of the overwater bungalows in Panama at Punta Caracol Acqua Lodge. These exclusive cabins give you access to crystal clear waters from your private terrace where you can get glimpses of marine life of an amazing view of the sunset. The bungalows are two stories with the king-size bed positioned upstairs, providing a view of the bay through a window in the palm roof.
The Lodge is situated on a reef that is home to a variety of fish and other marine life. Take advantage of the location and the snorkeling gear provided to swim among the fish. You can also see them from your glass-bottom sections of tour bungalow. At night, the restaurant's impressive palm leaf roof creates the perfect surrounding for a candlelight dinner that offers a variety of Caribbean and International dishes.
Google Rating: 4.5
TripAdvisor Rating: 4
Price: Starting at $225 per night
Aruba Ocean Villas
The overwater bungalows at Aruba Ocean Villas provide amazing views and privacy directly above the Caribbean ocean. The eco-friendly villas are nestled in front of lush mangroves. Indonesian design is infused throughout, including the deck, living room, open-air shower, and lounge. You'll enjoy the wrap-around entertaining deck that includes a covered jacuzzi, a lounge, a dining setup, tanning beds, and a staircase to the ocean.
All rooms include complimentary breakfast. Aruba Ocean Villas is the only hotel in Aruba with overwater villas and authentic beach bungalows. You'll find a quiet, adult-only resort with plenty of activities and unique experiences like overwater dining, complimentary kayaks, snorkeling gear, a paddleboard, and a paddleboat to explore the Caribbean sea.
Google Rating: 4.6
TripAdvisor Rating: 4.5
Price: Starting at $889
Eclypse de Mar Acqua Lodge
Eclypse de Mar Acqua Lodge is an Eco-Resort with seven overwater bungalows, each featuring a private deck perfect for jumping directly into the sea to explore the reef and marine life that call it home.
Eclypse de Mar has an exclusive restaurant for guests only, located on a terrace overlooking the sea, with a spectacular view of one of the most stunning sunsets over the Caribbean Sea, and sights of the picturesque village of Bastimentos (Old Bank) across the bay, while enjoying a Caribbean breeze, and a delicious meal made with fresh local produce.
When you aren't relaxing in your bungalow or snorkeling in the area you can enjoy more adventure nearby with activities like surfing or exploring beaches on uninhabited islands.
Google Rating: 4.1
TripAdvisor Rating: 5
Price: Starting around $259 per night, breakfast included
Overwater Bungalows Under Construction
Banyan Tree Ilha Bahamas
Coming very soon are the first overwater bungalow accommodations in the Bahamas! Opening mid-2022, illa Bahamas is located just 48 nautical miles and a 20-minute seaplane ride from Miami. All of the hotel suites will come with private terraces and plunge pools, with hotel amenities including a signature Banyan Tree Spa and a series of curated events like music series and oceanside meditation gatherings. More to come on this luxury overwater bungalow experience!