Jamaica is a top romantic travel destination, offering beautiful beaches, plenty to do, and affordable luxury all-inclusive resorts. One of these is Sandals Negril, located on what many people think is the best beach in Jamaica. Seven Mile Beach in Negril has everything you'd want in a Caribbean beach: sugar white sands, good snorkeling in clear waters, and a great sunset view.
Sandals Negril is one of six Sandals resorts in Jamaica and provides a laid-back experience perfect for a honeymoon or romantic retreat. Located on the longest and best stretch of Seven Mile Beach, Sandals Negril offers all sorts of ways to relax, spend quality time together, and have fun.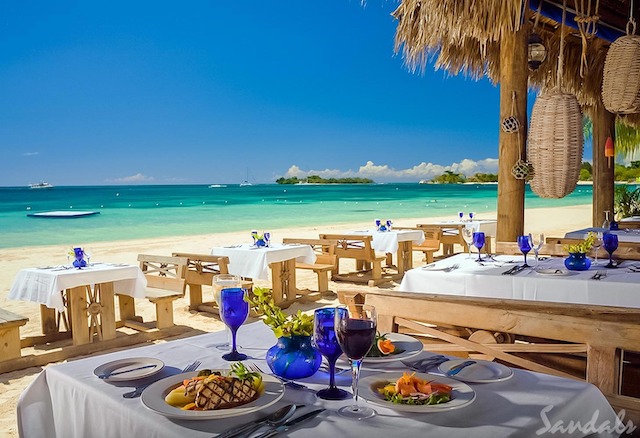 With its incredible setting, all-inclusive amenities and gourmet cuisine, unlimited premium liquor, amazing service, spacious and luxurious rooms, and lush landscaping, Sandals Negril is a perfect choice for your Jamaican honeymoon or romantic escape.
The Beach at Sandals Negril
Sandals Negril is located on Jamaica's famous Seven Mile Beach, a beautiful stretch of powder-soft white sand along with the vivid colors of the Caribbean. The water here is calm and crystal clear, perfect for swimming and watersports like wakeboarding, kayaking, and stand-up paddleboarding. You can snorkel right off the beach at Sandals Negril and see colorful reefs and abundant marine life.
Amenities and Activities at Sandals Negril
Sandals Negril takes advantage of its location on stunning Seven Mile Beach by offering a wide array of complimentary watersports. Even scuba diving is included; certified divers can dive up to twice a day. There's also snorkeling, waterskiing, wakeboarding, kneeboarding, aqua trikes, windsurfing, Hobie Cat sailing, paddleboarding, and kayaking; all equipment and professional instruction is included.
On land you can lounge on the beach or play beach volleyball, bocce ball, pool, or tennis—all land sports are also complimentary. You can also take advantage of the state-of-the-art fitness center and exercise classes.
Nightly activities at Sandals Negril include theme nights, cocktail parties, beach parties, and live music.
For extra fees, you can go on more than 30 area excursions, including rum tours, ziplining, snorkeling cruises, dolphin encounters, deep-sea fishing, and ATV adventures.
The Spa at Sandals Negril
Indulge at the tranquil Red Lane Spa, which offers full-service spa treatments (not included in your stay, but worth the splurge!). The tranquil spa features treatment rooms, a beauty salon, a Yoga-Pilates studio, a steam room, plunge pools, and relaxation areas in secluded gardens.
Pools at Sandals Negril
Sandals Negril has three beautiful pools and three whirlpools. The lively main pool has a swim-up bar and activities such as bingo and music. The other two pools tend to be quieter. The Crystal Lagoon pool features a hot tub with a waterfall. All three pools have stunning ocean views.
Food and Drink at Sandals Negril
Since it's a Sandals Resort, you can enjoy unlimited fine dining, including breakfast, lunch, dinner, and snacks, with seven restaurants to choose from. Feast on fresh seafood like Lobster Bisque, Herb-Crusted Mahi Mahi, and Coconut-Fried Tiger Shrimp; Caribbean cuisine; authentic Jamaican dishes like ackee and saltfish; Italian; Asian; international; French; pizza; and casual fares like burgers and nachos.
Several of the restaurants at Sandals Negril are beachfront, including the open-air Cucina Romana, Bayside, the Beach Bistro, and Barefoot by the Sea.
There's also in-room dining if you can't bear to leave your luxury suite. If you book a room at Sandals Negril that includes butler service, room service is available 24 hours a day. For Club Sandals accommodations, room service is available between 7 am-10 pm. You can also book private dining on the beach at Sandals Negril for an extra fee.
There are 5 bars at Sandals Negril, including swim-up bars, a piano bar, and a traditional British pub. As part of the 5-Star Luxury Included® experience, Sandals only serves premium brand liquors. You can order whatever you like, including specialties you would expect at a tropical resort, like a Pina Colada, Margarita, Blue Lagoon, or a Bahama Mama.
In all rooms, there is a mini-fridge stocked and refreshed daily with water, juice, soda, Robert Mondavi Twin Oaks Wine, and local beer. Additionally, every room includes a coffeemaker with delicious Jamaican Blue Mountain Blend coffee.
Sandals Negril Rooms and Suites
Sandals Negril has 226 rooms and suites in 16 categories over four villages: Caribbean Beachfront Village, Honeymoon Beachfront Village, Paradise Beachfront Village, and Crystal Lagoon Beachfront Village, plus the Millionaire Suites. All are just steps from that gorgeous beach. Here are some of the luxurious accommodations at Sandals Negril, which include beachfront walkout suites, penthouse suites, and swim-up suites (some with the services of a personal butler):
Millionaire Honeymoon One Bedroom Butler Suite with Private Pool Sanctuary
This suite features a romantic bedroom with a four-poster mahogany king-size bed and an en-suite bathroom with double vanities, a walk-in shower, and a whirlpool tub.
You will have plenty of space here with a separate living room that opens to your private pool sanctuary—a charming patio with a lush garden, a private plunge pool, and a miniature waterfall, as well as an outdoor shower with a wall to ensure privacy. You'll feel like a millionaire in this suite with the included personal butler service.
Swim-up Crystal Lagoon Beachfront 1 Bedroom Butler Suite
Do you always hate to leave the pool? Stay here and you won't have to! Crystal Lagoon swim-up suites feature a private patio with direct access to the winding pool plus a view of the breathtaking Caribbean Sea beyond. These 1-bedroom suites have a separate living room and a whirlpool tub, and offer butler service as well.
Caribbean Honeymoon Beachfront Two Story Butler Loft Suite
This two-story Love Nest Suite with butler service offers an ideal island lovers' retreat. The first floor features a spacious living area with a fully stocked wet bar. A floating staircase leads to the second floor with a bedroom and lavish bathroom.
There is also a private patio surrounded by lush gardens and featuring coral stone floors, a dining area, and a Tranquility Soaking Tub™ for Two.
Crystal Lagoon Honeymoon Beachfront Penthouse 1 Bedroom Butler Suite
These extravagant penthouse suites feature an expansive living room, a luxurious bedroom, and a bathroom with a whirlpool tub plus a large balcony with enchanting views of the ocean. These suites also come with private butler service.
Caribbean Beachfront Walkout Grande Luxe Club Level Room w/ Tranquility Soaking Tub
These spacious beachfront suites at Sandals Negril offer beach lovers the best of the Caribbean. The contemporary-style bedroom opens to a large patio featuring coral stone floors, a dining area, and Tranquility Soaking Tub for Two where you can relax and admire the tropical views, or walk directly onto the beach.
What is included at Sandals Negril?
Sandals Resorts claim to offer "more quality inclusions than any other resort in the world." These include gourmet dining (all meals and snacks) at multiple restaurants and cafés; unlimited non-alcoholic and alcoholic beverages including unlimited premium liquors and unlimited Robert Mondavi Twin Oaks wines.
You will find a minibar in your room that is refreshed daily, stocked with juice, water, soft drinks, wine, and beer; a coffee maker with Jamaican Blue Mountain Blend coffee.
Around the resort, you can enjoy water sports like snorkeling, paddleboarding, and kayaking, including equipment and professional instruction; scuba diving (including equipment).
One unexpected inclusive is all tips, taxes, and gratuities.
Plus, stay a minimum of 3 nights at a Sandals resort and get a free wedding! This is a wonderful way to make a destination wedding in Jamaica affordable.
If you honeymoon at Sandals Negril within 30 days of your wedding date, you'll get a complimentary honeymoon package that includes a bottle of chilled sparkling wine, special turndown service with flower petals on your bed the first evening of your honeymoon, fresh flowers, and a decadent breakfast in bed one morning of your choice.
How far is Sandals Negril from the airport?
Sandals Negril is about an hour from the airport. A 60-minute air-conditioned roundtrip bus transfer from Montego Bay International Airport is also included in your stay at Sandals Negril.
For a truly relaxing arrival and departure on your Jamaican vacation, consider adding Club Mobay services to your trip. This service offers an expedited arrival process and exclusive airport lounges to help you sink into that vacation feeling right away.
Other Sandals Resorts Near Sandals Negril
There are 5 other Sandals resorts in Jamaica, but none are close to Sandals Negril. However, Sandals' "Stay at One Play at All" exchange program means you can enjoy the facilities and activities at all other Sandals locations, with complimentary transfers between some resorts.
Golfers who stay at Sandals Negril have the option of playing at the Sandals Golf & Country Club in Ocho Rios, with complimentary greens fees.
The other Sandals in Jamaica are Sandals Ochi in Ocho Rios, Sandals Royal Caribbean in Montego Bay, Sandals Royal Plantation in Ocho Rios, Sandals South Coast, and Sandals Montego Bay.
What to Pack for Sandals Negril
You can pack light when you stay at a Sandals Resort since so much is provided for you. For example, you don't need to pack a hairdryer or beach towel. You'll want to pack beach essentials like a sun hat and sunscreen, but a gift shop is available onsite in case you forget any necessities.
In terms of clothes, the dress code is casual during the day and resort elegant at night, which means a mix of shorts, t-shirts and tanks, sundresses, casual slacks, and swimsuits, plus dressier outfits for dining in the nicer restaurants.
Tipping at Sandals Negril
At Sandals resorts, even tips, taxes, and gratuities are included! There is no need to worry about tipping the bartender, the bellman, or your server at one of the specialty restaurants.
However, if you have butler service your butler can and will accept tips. We recommend tipping a butler $20 a day, depending on how much you use their services.
Spa therapists and airport transport drivers should also be tipped.
TripAdvisor Rating: 4.5
Google Rating: 4.5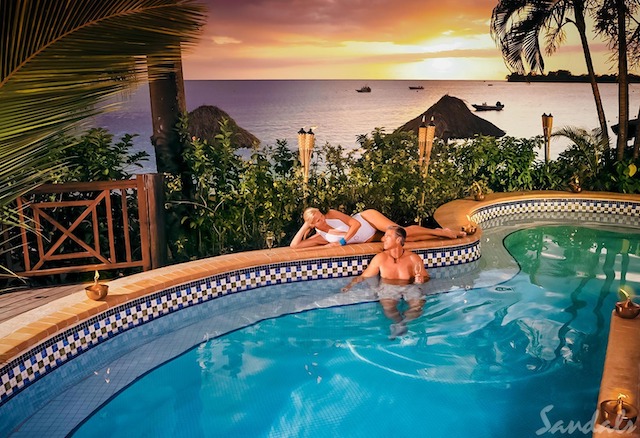 Now that you know all about Sandals Negril, are you ready to plan your honeymoon or couples' vacation at this luxury all-inclusive resort in Jamaica?