The top overwater bungalows in Antigua and Barbuda are also the only overwater bungalows in Antigua and Barbuda! The Chairman Overwater Bungalows at Royalton Antigua is perched above the crystal clear waters of Deep Bay and are the perfect setting for a dreamy Caribbean honeymoon or romantic escape.
For adults only, these elegant over-the-water bungalows in Antigua are spacious, with a master bedroom with a king-size bed, two full bathrooms, a jacuzzi tub, a separate seating area and dining room, infinity plunge pools, a hammock that is suspended over the ocean, and glass floor panels so you can see exotic marine life up close. But there is so much more to these amazing bungalows.
Chairman Overwater Bungalows Diamond Club™ at Royalton Antigua
Deep Bay, Antigua
Enjoy open views of the Caribbean and toast the sunset from the comfy lounge chairs on your private deck, which has direct water access so you can swim and snorkel with ease. The ultra-luxurious experience starts with front-of-the-line check-in; then a butler whisks you directly to your bungalow, where a welcome gift and champagne await.
When you book a Chairman Overwater Bungalow at Royalton Antigua, you also receive snorkeling gear, top-shelf spirits, an on-call butler and concierge service with golf cart shuttle, personal yoga and fitness instructor, laundry service, plush bathrobes, and Bvlgari bath amenities, fresh fruit daily upon request, biodegradable sunscreen, upgraded room service menu, and a romantic dinner with wine served in your overwater bungalow (minimum 3-night stay required). In-room massages are available for an extra fee.
The all-inclusive Royalton Antigua Resort is located on a private beach along the stunning shores of Deep Bay and has a full array of water sports available, as well as tennis, beach volleyball, cooking classes, dance classes, and more. There are two swimming pools, and a casino is in the works.
The resort offers 8 dining options, including gourmet cuisine, casual choices, and the Caribbean Restaurant and Grill, which serves authentic local dishes in a gorgeous oceanfront setting. You can also take advantage of 24-hour room service.
When you're ready for a refreshing drink, you can choose from Chill Pool Bar, Martini Mix, Score Brewhouse, or the Diamond Club Lounge.
Treat yourself at the Royal Spa, which features a hydrotherapy circuit as well as a complete menu of soothing spa services, or try out the fitness center or one of the resort's exercise classes.
The Royalton Antigua is located just 30 minutes from V.C. Bird International Airport in St. John's, and private luxury transfers are included in your stay.
Google Rating: 4.1
TripAdvisor Rating: 5
Price: Starting around $2,640 per night, all-inclusive for 2
Other Caribbean Overwater Bungalows
Because Royalton Antigua is the only place in Antigua to offer overwater bungalows, they are in high demand. If these bungalows are fully booked when you want to visit (there are just a few), don't lose heart. There are other great overwater bungalows options situation in and around the Caribbean sea.
Here are some other Caribbean overwater bungalows to check out:
Sandals South Coast
White House, Jamaica
Sandals South Coast is an all-beachfront, all-oceanview resort. The over-the-water bungalows here are gorgeous, and the perfect spot for a romantic getaway.
Sandals South Coast's Over-the-Water Bungalows allow you direct access to the Caribbean's finest turquoise waters with an expansive deck that features Sandal's signature Tranquility Soaking Tub™ for two, an over-the-water hammock, outdoor shower, and a swim-up platform, while the interior boasts see-through glass floors that guarantee undersea views, a king-size bed, and a spacious, spa-style bathroom.
At night, you can enjoy bonfire areas and fire pits for even more memorable experiences. Along with all the water and land activities available at Sandals Resorts, you can dine at 9 on-site restaurants, from Italian cuisine to Asian and Mediterranean, to Caribbean, Jamaica, and more.
Google Rating: 4.5
TripAdvisor Rating: 4.5
Price: Starting at $1237 per person, all-inclusive
Sandals Royal Caribbean Resort
Montego Bay, Jamaica
Just a few minutes offshore from Sandals Royal Caribbean Resort in Jamaica is a private island where you'll find luxurious over-the-water bungalows.
The main Great House displays this resort's decidedly British heritage, which is also noted in unique traditions you'll find here such as afternoon tea and a rousing game of croquet. Enjoy global gourmet at one of nine on-site restaurants, or explore one of the 12 restaurants you will also have access to at a nearby Sandals resort.
One experience you won't want to miss is cruising to an offshore restaurant called Royal Thai by hopping aboard an authentic dragon boat.
Google Rating: 4.4
TripAdvisor Rating: 4.5
Price: Starting at $1282 per person, all-inclusive
Aruba Ocean Villas
Savaneta, Aruba
The overwater bungalows at Aruba Ocean Villas provide amazing views and privacy directly above the Caribbean ocean. The eco-friendly villas are nestled in front of lush mangroves. Indonesian design is infused throughout, including the deck, living room, open-air shower, and lounge. You'll enjoy the wrap-around deck that includes a covered jacuzzi, a lounge, a dining setup, sunbeds, and a staircase to the ocean.
All rooms include complimentary breakfast. Aruba Ocean Villas is the only hotel in Aruba with overwater villas and authentic beach bungalows. You'll find a quiet, adult-only resort with plenty of activities and unique experiences like overwater dining, complimentary kayaks, snorkeling gear, a paddleboard, and a paddleboat to explore the Caribbean.
Google Rating: 4.6
TripAdvisor Rating: 4.5
Price: Starting at $889
Palafitos Overwater Bungalows at El Dorado Maroma
Maroma Beach, Mexico
The first overwater bungalows in Mexico at El Dorado Maroma are set right over the turquoise waters of Maroma Beach. From your private deck, you can watch the sunrise or go for a swim in your private infinity pool. The overwater bungalows are a dream with glass bottom floors, full butler service, a romantic outdoor shower, an indoor relaxing hot tub for two, and exclusive beach beds.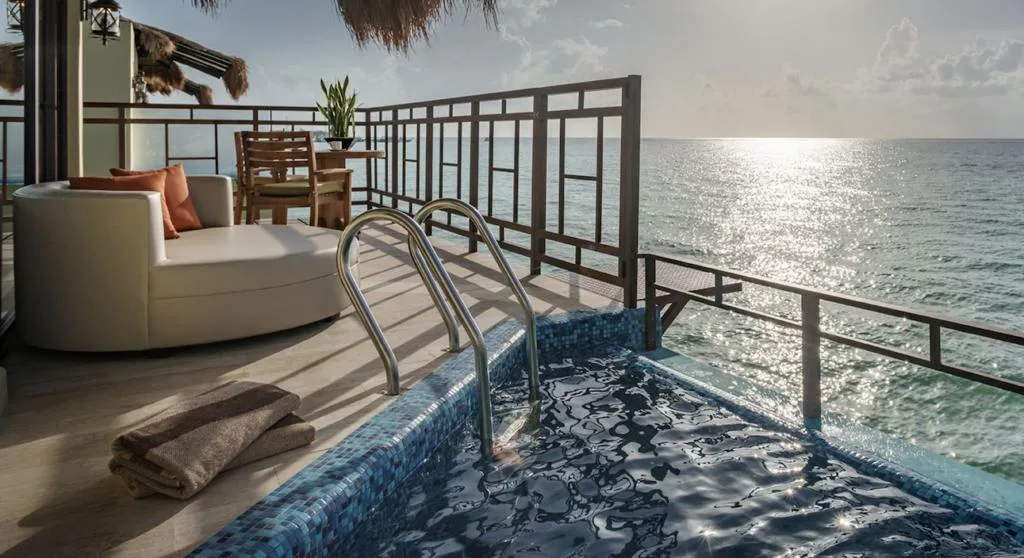 During your stay you can enjoy customizable beach picnics, daily breakfast served in your over-the-water bungalow, pre-dinner drinks, and snacks in the comfort and privacy of your bungalow.
Stays at El Dorado Maroma Overwater Bungalows include gourmet dishes at the Overwater Grill & Wine Bar, which features two glass-floor dining rooms with spectacular views of the surrounding sea.
At the overwater Náay Spa, you can also enjoy treatments utilizing traditional Mayan herbal practices and the antioxidant-rich Maroma Beach sea moss.
Google Rating: 4.6
TripAdvisor Rating: 4.5
Price: Starting at $2,009 a night
Sol Bungalows
Bocas del Toro, Panama
Sol Bungalows is a laid-back, affordable overwater bungalow hotel on Isla Solarte in Bocas del Toro, Panama on the edge of an indigenous fishing village called Solarte Uno. The hotel features only two overwater bungalows; these have glass floors, deck hammocks, breathtaking views, and the warm Caribbean sea below.
Since the resort has just two bungalows, this makes for a very relaxed and friendly environment. At Sol Bungalows, breakfast is included in your stay. Dinner is available for an additional cost and includes a mix of fish and chicken with ceviches, curries, soups, and salads, with vegetarian and vegan options available.
Google Rating: 5
TripAdvisor Rating: 5
Price: $258 per night
Anthony's Key Resort
Roatan, Honduras
Anthony's Key Resort is the perfect option for travelers who love all-inclusive resorts and dream of staying in an overwater bungalow but also want affordable vacations.
Roatan is a top destination for Caribbean lovers, and it is renowned for its turquoise waters and beautiful beaches. This beachfront family-run resort has bungalows on a jungle-covered hillside and an offshore key reached by taxi boat. It welcomes couples, families, and honeymooners with rates that start at around $570 per night for two adults.
Low-key bungalows have shared or private decks and louvered or floor-to-ceiling windows. Guests enjoy an open-air restaurant with sea views, an amazing spa, an outdoor pool, and a dive center.
There are various packages and activities like snorkeling, ziplining, and dolphin experiences, making it a great choice for couples who want to relax but also enjoy the adventure.
Google Rating: 4.1
TripAdvisor Rating: 5
Price: Starting around $221 per night per person
Ashley has always loved to explore new places and indulges her passion for travel whenever she can. She has been to 12 countries and 32 states so far.
Ashley has worked as a freelance writer for more than 20 years, specializing in the areas of travel, marketing, personal development, and the pursuit of happiness.
Favorite destinations include Sorrento and Capri, Italy; Haarlem, Netherlands; Paris; Sydney and K'gari, Australia; Rotorua and Waiheke Island, New Zealand; the American West; Palm Beach; the Florida Keys; and her hometown of New Orleans. Ashley has a goal of visiting every state plus many more international destinations.