If you're trying to choose which Sandals in Jamaica is best for your honeymoon, you may want to look at Sandals Royal Caribbean.
We recently visited the resort on a trip where we visited all the Sandals Resorts in Jamaica and what sets Sandals Royal Caribbean apart is the private offshore island with its own beach, amenities, Over-the-Water bungalows, exchange privileges with Sandals Montego Bay, and the unique honeymoon suites in Jamaica (see details below).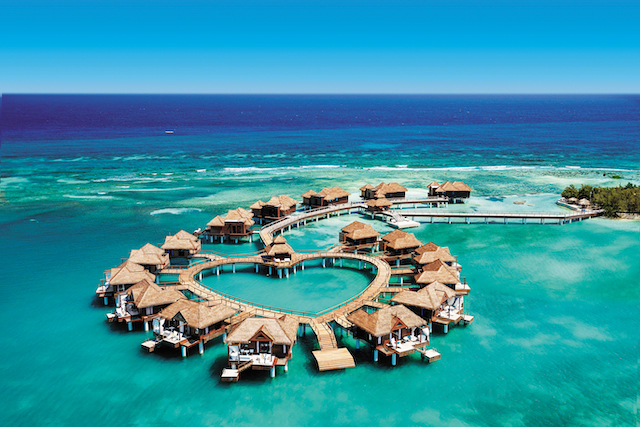 Sandals Royal Caribbean is a beautiful, recently renovated resort with a private feel, nestled on a stunning private beach in Montego Bay. This resort showcases Jamaica's British heritage with a Georgian-style Great House, a manicured lawn, and activities such as afternoon tea and croquet. You can even spot peacocks strutting around.
An extra perk of honeymoons at Sandals Royal Caribbean is that you also get access to all the facilities and amenities of Sandals Montego Bay (plus free transportation back and forth). Read on to learn all about Sandals Royal Caribbean and see if it's the perfect resort for your Jamaican honeymoon.
Deals at Sandals Royal Caribbean
If you are looking to find the best price, check the latest deals before you go.
If you are booking last minute you can get a free night when you book 4 nights.
Here is a video of our lastest video if you prefer…
Sandals Royal Caribbean Beach
You'll have several beach options at Sandals Royal Caribbean. The main resort is nestled on a gorgeous sugar white stretch of sand along Montego Bay, and the private island that lies just offshore has 2 beautiful white sand beaches as well. Both offer shaded loungers and private spots to hang out, including overwater hammocks, as well as firepits for romantic evenings.
The main resort beach is where all the water sports activities are located.
One of the beaches on the private island is clothing optional if that is something you are interested in.
Sandals Royal Caribbean Pools
There are 7 pools at Sandals Royal Caribbean, two with swim-up bars, and multiple whirlpools.
The pool on the private island was our favorite. It was smaller and usually quiet with a swim-up bar, what more can you ask for?
The resort has a main pool overlooking the beach with a whirlpool. There are 5 other freshwater pools located throughout the property at the different villages, including a long lagoon pool in Crystal Lagoon Village (with swim-up rooms along it).
Sandals Royal Caribbean Rooms & Suites
One of the things we love about Sandals resorts is the different rooms and suites.
Luxury vs Club vs Butler Suites
When you are choosing your room, you will see them called luxury, club level, or butler level rooms.
Luxury-level is entry-level; the thing to know about these rooms is there is no room service.
Club-level rooms get room service and have more alcohol at the in-room bar. You also have a club concierge and room that has snacks and drinks, but we rarely use this when we are there.
Butler-level rooms mean you have a butler to take care of anything you need.
At Sandals Royal Caribbean there are several different villages offering a variety of rooms and suites in these 3 levels. The areas are Crystal Lagoon Village, Royal Sanctuary Village, Beachfront Village, Kensington Cove Village, and Caribbean Village, as well as the private offshore island.
Over-the-Water Private Island Butler Honeymoon Bungalow
We'll start with the most unique honeymoon suites at Sandals Royal Caribbean, the Over-the-Water Bungalows. These romantic hideaways are located on the private offshore island, set around a heart-shaped walkway, and perched over the stunning turquoise waters of the Caribbean.
The Over-the-Water Bungalows give you direct access to those gorgeous waters from a large private deck that features a Tranquility Soaking Tub™ for two, an overwater hammock, loungers, outdoor shower, and swim-up platform, while the interior has a see-through glass floor insert, a king-size bed, and a spa-like bathroom with rain shower.
There are 5 overwater villas at Sandals Royal Caribbean that even offer private infinity pools.
When you stay at an overwater bungalow at a Sandals resort, it includes personalized butler service. Your butler will greet you with lemongrass-scented hand towels to refresh you from your flight, cocktails, and culinary treats before escorting you to your suite. Check-in is completed at your villa where the butler can even unpack your luggage for you.
Throughout your stay, your butler can make all the reservations you need for dinner, activities, or spa treatments. They can bring you drinks or food on the beach or at the pool, or serve you a romantic candlelit dinner on your private deck.
The main resort area at Sandals Royal Caribbean features plenty of romantic room options that provide butler service as well. Here are a few of those:
Beachfront Honeymoon One-Bedroom Walkout Butler Suites
Set just steps from the sand, these Love Nest Butler Suites have large private patios overlooking the ocean that feature a Tranquility Soaking Tub for two and a bistro set for romantic al fresco meals. The separate bedroom has a king bed, and the living room features a fully stocked wet bar. The spacious bathroom has a dual-control walk-in rain shower.
Royal Beachfront Butler Corner Suites
These beautiful suites are beachfront and have fully retractable glass walls that open onto private balconies overlooking the ocean and the private island. On the balcony you'll find a Tranquility Soaking Tub for two plus seating and a bistro dining set. Inside there's a king bed and a fully stocked bar. The bathroom has a walk-in rain shower.
Crystal Lagoon Honeymoon Penthouse Oceanview One Bedroom Butler Suites
These swanky penthouse suites feature fabulous views over the lagoon pool to the ocean and have large private balconies with seating, king-sized beds, separate living area, fully stocked bars, and spa-like bathrooms with oversized whirlpool tubs and walk-in showers.
Swim-up Crystal Lagoon Honeymoon One Bedroom Butler Suites
These luxurious honeymoon suites allow you to walk right out and slip into the huge lagoon pool from your spacious patio that is set into the pool, where you can relax on private loungers or even have dinner served. There's a separate bedroom with king bed and the living room has a fully stocked bar. The spa-like bathroom includes a large whirlpool tub and walk-in shower.
There are also luxury room options that don't include a butler but do include incredible views and amenities, such as the Beachfront Club Elite Suite with a private balcony and Tranquility Soaking Tub, or the Crystal Lagoon Hideaway Swim-Up Club Level Junior Suite that offers a private patio with direct access to a beautiful pool plus a Tranquility Soaking Tub for two.
Rates at Sandals Royal Caribbean start at $280 per person per night.
The Food at Sandals Royal Caribbean
Sandals Royal Caribbean has 9 restaurants offering a range of world-class dining options. incredible views, and romantic atmospheres.
This really is one of the best Sandals resorts for the food. Royal Thai is located on the private island and features authentic Thai food. Unless you are staying in the overwater bungalows, you will be taking a thai inspired boat to dinner and can enjoy a signature cocktail and all the delicious appetizers and entrees you would like.
The Mariner is a seaside bar and grill with tables right on the water where we loved the quesadillas and great service. Le Jardinier offers French haute cuisine, Spices serves Caribbean cuisine and breakfast a la carte. The Bombay Club offers authentic Indian dishes and give you an opportunity to try a lot of different appetizers. La Tavola offers Italian cuisine and made-to-order pasta, Bella Napoli is a casual pizzeria, there's a Caribbean jerk shack on the beach, and The Cricketers Pub offers English pub-style food.
You also have access to all the dining options at Sandals Montego Bay (and easy transportation back and forth via free shuttle), which includes 12 restaurants, many of which overlook the beautiful beach.
These include an elegant Old Jamaican restaurant, a seaside bar and grill, Italian, Japanese, a steakhouse, a waterfront restaurant serving international dishes, a sushi bar, a Caribbean jerk shack, a British pub, a casual pizzeria, a Parisian café, and a toes-in-the-sand open-air restaurant serving fresh seafood and local dishes.
Is Sandals Royal Caribbean a couples-only resort?
Yes, Sandals Royal Caribbean is a couples-only resort, as are all Sandals all-inclusive resorts in the Caribbean. In their own words, Sandals states, "Because we wanted to make your vacation as romantic and relaxing as possible, only couples may stay at Sandals. But we open our arms to welcome singles, friends, and families to our fabulous Beaches Resorts."
Is Sandals Royal Caribbean a party resort?
There are a lot of entertainment options at Royal Caribbean, but I wouldn't consider it a party resort.
Sandals Royal Caribbean offers daily and nightly entertainment including live shows, beach parties, talent nights, live bands, and chocolate buffets.
The nighttime beach bonfires and entertainment on the private island are pretty spectacular. There are 6 bars at Sandals Royal Caribbean, including a piano bar and an English pub, as well.
You can also head to Sandals Montego Bay for more entertainment options. Plus, Sandals Royal Caribbean is close to the active nightlife scene in Montego Bay, if you want to go out to local clubs.
How far is Sandals Royal Caribbean from the airport?
Since it's in Montego Bay, Sandals Royal Caribbean is located very close to the airport there. Roundtrip airport transfers are included in your stay, and it takes about 10 minutes to get to the resort from Sangster International Airport. Just go to the Sandals lounge at the airport when you arrive.
Does Sandals all-inclusive include alcohol?
All drinks are included and unlimited at Sandals Resorts. This includes premium spirits and top-rated Robert Mondavi Twin Oaks wines.
What is included at Sandals Royal Caribbean?
At Sandals resorts, when they say all-inclusive, they really mean you can arrive at the resort without having to worry about what is included and what is not.
Unlimited Fine Dining
Sandals Royal Caribbean offers 9 restaurants that cover all sorts of cuisines, from Caribbean favorites to Italian, French, Thai, and seafood. Breakfasts, lunches, dinners, snacks, and drinks are all included in your stay. You also have access to the 12 restaurants at Sandals Montego Bay.
Unlimited All-Inclusive Drinks
For drinks, Sandals only serves premium brand liquors that are always included and unlimited. As part of the 5-Star Luxury Included® experience, Sandals only serves premium brand liquors that are always included and unlimited. You can order whatever you would like, including specialties you would expect at a tropical resort, like a Pina Colada, Margarita, Blue Lagoon, or a Bahama Mama.
In all rooms, there is a mini-fridge stocked with water, juice, soda, Robert Mondavi Twin Oaks Wine, and local beer.
Additionally, every room includes a coffeemaker with Jamaican Blue Mountain Blend coffee.
Tips
At Sandals resorts, even tips, taxes, and gratuities are included for most services you would usually tip for! There is no need to worry about tipping the bartender, the bellman, or your server at one of the specialty restaurants.
Your butler can and will accept tips. We recommend tipping a butler $20 a day, depending on how much you use their services.
Spa therapists and airport transport drivers should also be tipped.
Roundtrip Airport Transfers
Sandals provides complimentary transportation to and from Sangster International Airport in Montego Bay.
Included Activities
At Sandals Royal Caribbean you have access to unlimited water sports, including snorkeling, paddleboarding, kayaking, and Hobie Cat sailing.
Additionally, scuba diving is included! For certified divers, you can dive up to twice a day with two tanks a day! Scuba courses are not included but start at $120.
If you want to go waterskiing, tubing, or wakeboarding, or play tennis, you can do so at Sandals Montego Bay.
Enjoy many other unlimited on-site activities, including beach volleyball, bocce ball, pool tables, croquet, and more. If you are looking for a workout, there's a fitness center and complimentary exercise classes.
The private offshore island at Sandals Royal Caribbean is a unique amenity that is available for all guests, even if you're not staying in one of the overwater bungalows. Just a few minutes by boat from the main resort, the island features a beautiful beach lined with thatch-roofed cabanas, a pool with a swim-up bar, a Jacuzzi, and two dining experiences including an authentic Thai restaurant.
Entertainment
Along with these amazing activities, this resort also knows how to throw a party. There's an onsite piano bar, chocolate buffet, talent night, Caribbean night, live bands, karaoke, dancing on the sand, and even bonfires and a beach party with fire dancers on the private island. Sandals Royal Caribbean has 6 bars, and you also have access to the 6 bars at Sandals Montego Bay.
A Free Wedding at Sandals
Stay 3 nights or longer at a Sandals resort and your wedding is free!
Room Service
If you book a room that includes butler service, room service is available 24 hours a day. For Club Sandals accommodations, room service is available between 7am-10pm.
What is not included at Sandals Royal Caribbean?
You can come to Sandals without spending an additional penny, but there are a few opportunities to spend a little bit more.
Spa treatments at the Red Lane Spa are available at an additional cost. Could you imagine how many therapists and spa rooms they would need if they were included in the price?
Additionally, the spa staff are some of the few employees that can accept tips, along with butlers, the staff from off-property tours, and the transfer drivers, since they are not employed by Sandals.
While scuba diving is included in your stay, the courses are not. Be prepared to pay for them—or even better, get scuba certified before you come.
Around the pool, you can rent private cabanas at an additional cost. There are also over 30 tours available to book through Sandals include a Jamaica swamp safari village tour, ziplines, snorkeling cruises, dolphin encounters, deep-sea fishing, and ATV adventures.