Take a beautiful, tropical destination like Jamaica and all-inclusive accommodations at one of the best Sandals Resorts and you are almost guaranteed an amazing honeymoon. Now when you do your research, you are going to notice there are seven different Sandals resorts on the Island. We are going to share with you some highlights of each resort to help you choose which resort to visit. The good thing is, you don't have to pick just one. You can split your time between different resorts or even split your time between two islands.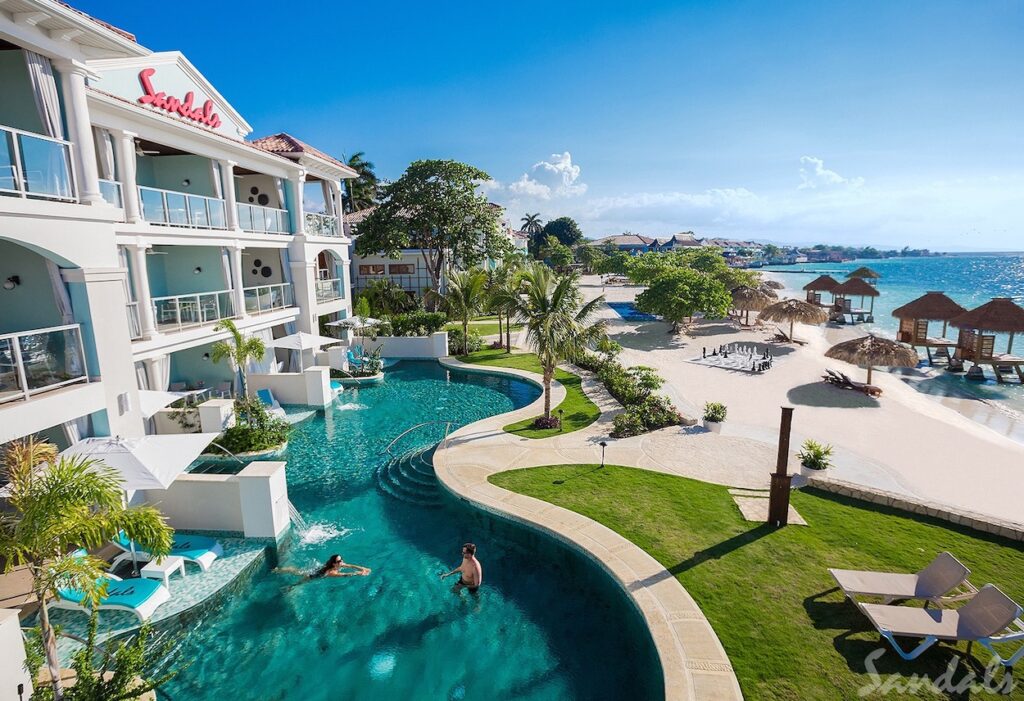 Regardless of which Sandals Resort in Jamaica, you choose the all-inclusive package that will include gourmet dining at up to 16 restaurants per resort as well as all meals and snacks, premium liquors, and wines with up to 11 bars at each resort and a stocked bar in every room. You can even visit the other Sandals resorts to dine, guaranteeing you should not get bored with the food.
There's no shortage of thrills to be had either, with PADI-certified scuba diving, water sports, golf courses, day and night time entertainment, and beach sports to engage in – will you team up or play against your partner? Everything is taken care of for you; there are even personal butler services for most of the top tier suites. With every resort being adults-only, you can bathe in the romance of tranquillity.
The magic of Jamaica is difficult to put into words. White-sand beaches line the shores of an island shaded by luscious tropical plants, while crystal-clear rivers and plummeting waterfalls navigate the mountainous backdrop. There are seven luxury Sandals resorts awaiting the happy couple on the magnificent island, each with its own specialties to choose from. Of course, the "Stay at One, Play at All Sandals" program means you can explore the other resorts regardless of which one you call home.
While it is hard to say which Sandals resort in Jamaica is best, we can help you decide which is best for you.
Sandals Royal Plantation – Ocho Rios, Jamaica
Best for couples looking for a smaller resort feel.
A mere 74 ocean-view suites are nestled along the beachside at Sandals Royal Plantation. Luxury hangs in the air in this perfectly private resort, where butlers are at every turn to ensure you have the getaway of your dreams. Laze by the pool before heading off for a round of golf between the beautifully manicured lawns adorned with peacocks showing off their colors. Original antique furnishings pair with innovative creations (such as the only champagne and caviar bar in Jamaica) harmoniously at Sandals Royal Plantation.
There are many different accommodation options at Sandals Royal Plantation, each tailored to make every individual holiday personal to the couple in question. Each of the room styles qualifies as a Love Nest luxury suite, with the balance of tropical Jamaica and old-school elegance forming the perfect home-away-from-home.
Sandals Royal Caribbean – Montego Bay, Jamaica
Our choice for the breathtaking over the water bungalows
This is a great retreat for a couple who can't decide where to go; Sandals Royal Caribbean blends the best of two wonderful worlds – Britain and the Orient. The Great House is beautifully adorned in Georgian-style furnishings and complementing solid English traditions such as high tea and croquet. Only minutes away on the exclusive private offshore island, over-the-water bungalows await. Tucked away in a luscious setting, welcome pleasures such as an authentic Thai restaurant, castaway island nighttime entertainment, and poolside and beachside luxury make this location perfect for those wanting a holiday to remember.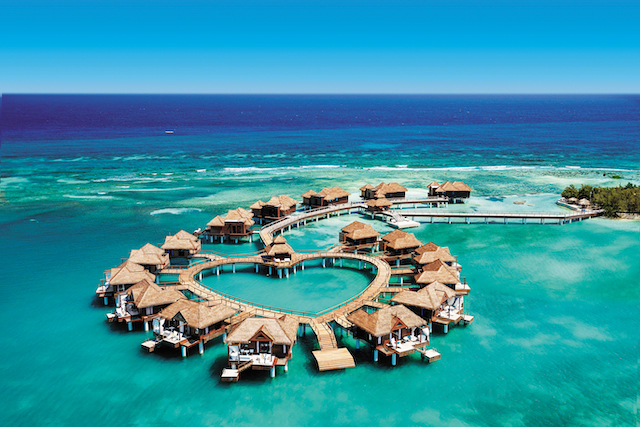 From the Over the Water Private Island Butler Villa with Infinity Pool – where you'll find floating water hammocks and a personal butler – to the Caribbean Deluxe, situated on the second floor of the Carisbrooke building, you can expect opulence and attention to detail at every luxurious corner.
Sandals South Coast – Whitehouse, Jamaica
Enjoy Jamaica's largest pool and over the water bungalows
After taking a dip in the Caribbean's longest 17,000-square-foot river pool, glide over to the bar for a cooling drink – or reserve a cabana and have your butler bring your drink to you. Sandals South Coast is set within a huge nature reserve and stretches across two miles of white-sand beach. The resort is so romantic that there is even an over-the-water chapel for that perfect special day. Three European Villages make up the all-inclusive resort; Dutch, Italian, and French. This blend of cultures brings a special touch to South Coast – particularly evident in the cuisine.
Wherever you choose to rest your head at Sandals South Coast, you are guaranteed a good night's sleep in the peace and tranquillity that comes with being surrounded by the ocean. Over-water bungalows offer an air of opulence that pairs with a connection to the natural world. Take some time out and recline in the private outdoor Tranquillity Soaking Tub or in an over-water hammock. 24-hour room service ensures you'll never want for anything thanks to the Butler Elite Service.
First-of-a-kind Rondoval Butler Suites with Private Pool Sanctuary hide in the tropical gardens with effortless access to a large pool – even directly from the bedroom.
Sandals Ochi – Ocho Rios, Jamaica
Best for golf lovers
At Sandals Ochi, you really do get the best of both worlds. On one side, you'll find a buzzing beach club, bars, and the excellent Sandals Golf & Country Club. To the other side, tranquillity echoes through the air in the serene retreat that is the luscious resort's peaceful side. The Sandals Golf & Country Club is recognized to be one of Jamaica's finest, with tumbling fairways creating an 18-hole course over 700 feet above sea level. Private golfing lessons are available should you want to improve your technique.
Designed to blend into the lush surroundings, the hillside villas at Sandals Ochi will mesmerize you with their blend of classic and contemporary. Featuring private pools and personal butler services, you won't have to think about a thing while you unwind in this luxurious resort.
Sandals Montego Bay – Montego Bay, Jamaica
Best for destination weddings
This is where it all started. Sandals Montego Bay is cleverly designed and completely luxurious, tucked along the beachfront with reefs to be explored. Visit the new Over-the-Water Bar for a cooling drink in the sunshine, or spend some time in your personal Tranquillity Soaking Tub. Why not make this the holiday of a lifetime, and make your vows under the Over-the-Water Chapel, where serenity will welcome you into married life in one of the most beautiful settings imaginable. Round trip transportation is available between the different Sandals Resorts nearby.
Swim right up to your suite with a Love Nest Butler Suite, where you can spend your perfect getaway with a loved one with everything is taken care of for you. Wall-to-wall glass doors open onto a large patio with a Tranquillity Soaking Tub with vistas over the Caribbean Sea ahead. Any room you find yourself in guarantees a perfect stay.
Sandals Negril – Negril, Jamaica
Largest beach area
Unrivaled peace is what you'll find at Sandals Negril, particularly on the seven-mile beach – the longest in Jamaica. Feel the cool breeze coming from the ocean as you stand on the white sand, tickling your toes. By day, have fun in the sun, by night, dance freely in the sandy surroundings under a canopy of stars. This is a carefree resort, where the emphasis is on pure enjoyment of the natural surroundings and the exotic environment. Sandals Negril is barefoot luxury at its finest.
Whichever room you choose as your home-away-from-home, you'll be drenched in contemporary opulence, and be only steps from the snow-white shores of the seven-mile beach. Rich colors and clever use of glass allow the outside in, connecting you constantly to the magical surroundings of the Jamaican coast.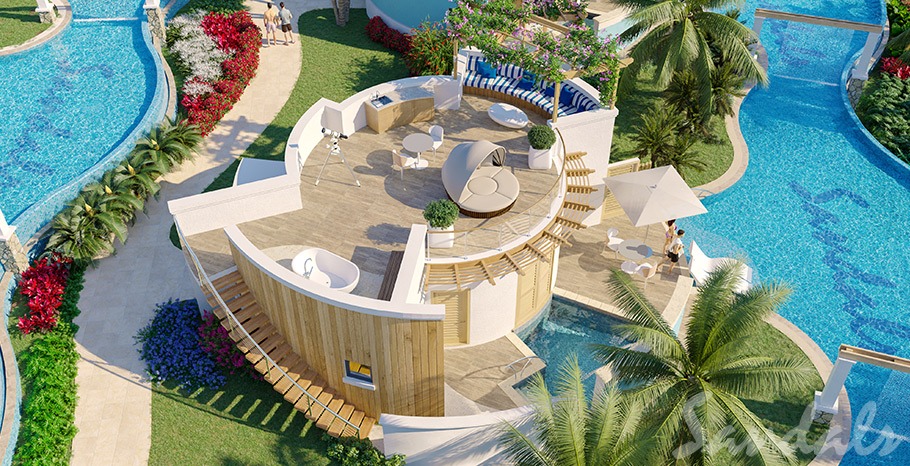 Sandals Dunn's River – Ocho Rios, Jamaica *opens May 2023*
Best for foodies and those seeking ultra-luxurious suites
While the Sandal's Dunn's River property has been part of Sandals since the 1990s, it has been completely reimagined to "embrace the essence of Jamaica's natural wonders" and now takes full advantage of its stunning location on the northern coast of the island.
The lush landscaping, jaw-dropping design, and amazing amenities of the all-new Sandals Dunn's River make it a new contender for best honeymoon resort in Jamaica.
The rooms and suites at Sandals Dunn's River are truly incredible and include Jamaica's first Skypool Suites. These luxurious accommodations, which debuted at Sandals Grenada, offer an elevated infinity edge pool that runs the full length of your balcony and overlooks the beach. You also get a Tranquility Soaking Tub™ for two on your balcony.
Also here are Sandals' first-ever Coyaba Sky Rondovals. These private, round villas have access to the river pool plus an oversized private swim-up pool plus a terrace that takes up the entire roof. On the terrace, you'll find plush seating, a bistro dining set, a telescope, and a Tranquility Soaking Tub for two.
Sandals Dunn's River features 12 restaurants, many of which are new concepts. These include Edessa, a Greek restaurant; the Asian fusion Banyu; L'Amande, serving Jamaican and French cuisines; and Zuka, which features South and Central American dishes.