Both Sandals and Secrets Resorts are luxury adult only all-inclusive resort brands perfect for honeymoons and romantic getaways. But it can be a little difficult to know the main differences between the two.
Both Sandals and Secrets resorts are wonderful for honeymooners or any couple looking to escape every day and enjoy a luxurious romantic vacation. Secrets and Sandals resorts have some similarities, but they also have differences. Let's take a detailed look at them so you can decide whether Sandals or Secrets is best for you.
Main Differences Between Sandals & Secrets Resorts
In this article we will go into depth of everything, but to keep it short here are the main differences.
Sandals Resorts have more included. When you pay for your vacation tips, transfers from the airport and even scuba diving is included in the price. With Secrets you still need to pay to get to the resort and most notably is the constant obligation to tip during your stay.
Sandals is in the Caribbean while Secrets has locations in both the Caribbean and Central America.
Sandals is very couples and romance-focused. Groups and single people might feel more at home at a Secrets resort.
Sandals has the most unique accommodations with overwater bungalows, rondoval suites, and more luxurious suites with private pools or swim-up suites.
First, we'll answer a couple of frequently asked questions about Sandals and Secrets.
Is Sandals or Secrets better?
Both Sandals and Secrets resorts offer luxurious settings, beautiful beaches, plenty of activities, delicious cuisine, a romantic atmosphere, lovely rooms, nightly entertainment, and great service. Sandals offer more inclusions than Secrets, including scuba diving and airport transfers, but Secrets still provides good value for your money.
The answer to the question of which is better, Sandals or Secrets, will depend on what you're looking for.
If you want to be at a couples-only resort, then Sandals is better for you than Secrets, since Secrets also caters to singles and groups.
If you want to go to a certain location, you may only have one choice. For example, only Secrets has resorts in Mexico, Costa Rica, the Dominican Republic, St. Martin, and Spain, while only Sandals has resorts in St. Lucia, Grenada, the Bahamas, Antigua, Barbados, and Curacao. You can find both Secrets and Sandals resorts in Jamaica.
If you're looking for something in particular, such as a type of activity or a certain kind of room, read on to learn more about Secrets and Sandals and what they offer.
Secrets Location vs. Sandals Locations
While both Secrets and Sandals have resorts in the Caribbean, Secrets Resorts has more locations than Sandals, and several of them are along the Mediterranean.
Secrets has 21 beachfront settings: 12 in Mexico, 1 in Costa Rica, 2 in the Dominican Republic, 2 in Jamaica, 1 in St. Martin, and 3 in Spain.
There are 16 Sandals resorts in the Caribbean: 6 in Jamaica, 3 in St. Lucia, 1 in Grenada, 2 in the Bahamas, 1 in Antigua, 2 in Barbados, and 1 in Curacao.
All Sandals and Secrets resorts are located on a beautiful beach.
Accommodations
The types of rooms and suites at Secrets Resorts vary among the different locations, but they are all modern and luxurious. All rooms at Secrets Resorts come with 24-hour room service and concierge service, a private furnished terrace or balcony, and a soaking tub for two. Each room also includes a minibar stocked with beer, soft drinks, and water and refreshed daily.
Depending on which Secrets resort you select, you can choose from a variety of room types including Junior Suites with the ocean, pool, or tropical views plus private balconies with oversized soaking tubs and full bathrooms with two rain showers; swim-out suites, including ocean-front swim-out bungalow suites; Honeymoon Suites with separate living rooms and a private terrace with outdoor hot tub for two or swim-out access; and Presidential Suites featuring spacious living rooms and separate dining areas with kitchenette and bar plus full bathroom with his and her showers and whirlpool for two, as well as a private, furnished balcony with plunge pool.
At every Secrets resort, you can upgrade to the Preferred Club, which gives you access to additional room types and special amenities including top-shelf liquor in the minibar, a private lounge, enhanced concierge service, and an exclusive pool (at some locations).
Sandals resorts offer an extremely wide range of room and suite types, including some truly stunning luxury suites. These include the Millionaire Butler Villa at Sandals Regency La Toc; Over-the-Water Bungalows (with and without private plunge pools, but all featuring outdoor soaking tubs for two); Skypool Suites with elevated infinity-edge plunge pools overlooking the ocean; Beachfront Rondoval Suites with private plunge pools; Oceanview Penthouses (some two-story); One-Bedroom Villas with Private Pool Sanctuaries; Swim-Up Suites; and Beachfront Walk-Out Suites.
Many suites at Sandals include oversized soaking tubs for two, either in the bathroom or on a private balcony or patio, as well as the services of a private butler for some serious indulgence.
Food and Drink
Foodies will be happy at both Secrets and Sandals resorts, as they all feature a range of gourmet dining options and types of cuisine. There are also plenty of bars at Sandals and Secrets Resorts.
Bars at Sandals include swim-up bars, British pubs, piano bars, nightclubs, martini bars, beach bars, and restaurant bars. Sandals resorts offer some fun dining and bar options, such as Over-the-Water Bars, overwater restaurants, and poolside food trucks.
The cuisine at Sandals ranges from resort to resort but includes Jamaican, Italian, Japanese, steakhouse, international, sushi, Caribbean jerk, pizza, French coffee and pastries, fresh local seafood, local dishes, Thai, French haute cuisine, Indian, and Pan-Asian. There are open-air, beachfront, and waterfront restaurants, and in-room dining is available.
At Secrets Resorts you can enjoy gourmet dining at a wide range of restaurants, and you never have to make a reservation. You can also get room service 24 hours a day, with food delivered to a "secret box" in your room so you don't even have to see a staff person if you don't want to.
Restaurant types at Secrets Resorts include seafood, Italian, Mediterranean, Mexican, Pan-Asian, contemporary French, Jamaican, healthy fare, grilled specialties, and international. Most Secrets locations also have a coffee shop. One location, Secrets the Vine in Cancun, also has an extensive wine cellar. There are open-air, waterfront, and beachfront restaurants, and in-room dining is available.
Bars at Secrets Resorts include beach bars, swim-up bars, pool bars, sports bars, piano bars, theater bars, Sky Bars, and music lounges with dancing.
Both Sandals and Secrets offer private candlelight dinners on the beach for an extra fee.
Activities and Amenities
Secrets and Sandals resorts are all located on beautiful beaches and have multiple pools and hot tubs to enjoy. Sandals puts a lot of thought into their swimming pools, and each location offers several different types including free-form lagoon pools, elegant zero-entry pools, and infinity pools.
Sandals resorts offer a wide range of activities and entertainment. Exact options vary depending on the location, but every Sandals offers a full range of complimentary water sports such as snorkeling, paddleboarding, kayaking, Hobie Cat sailing, and scuba diving. Some locations add activities like wakeboarding, tubing, and waterskiing.
A wide variety of land sports is available at Sandals Resorts as well, including beach volleyball, basketball, bocce ball, pool tables, and a state-of-the-art fitness center with exercise classes. Many Sandals locations offer complimentary golf plus day and night tennis. All Sandals resorts have full-service Red Lane Spas plus area excursions and adventure tours; these options are extra.
At Secrets Resorts you can choose from a wide range of activities including non-motorized water sports like snorkeling and paddleboarding; dancing lessons; land sports like tennis, archery, beach volleyball, and more; yoga classes; and Spanish lessons. Some locations have special options like mountain biking; rum, wine, or tequila tastings; cooking classes; mixology classes; water aerobics; water polo; and minigolf. There is also a full fitness center at every Secrets location. Secrets Resorts also has a variety of swimming pool designs, including infinity edge and river pools.
Many Secrets locations offer golf with complimentary greens fees. For extra, you can go scuba diving or deep sea fishing, or take an area excursion. Secrets Resorts also features full-service spas (which cost extra).
Nightlife
Nighttime activities at Secrets Resorts include shows, dancing, live music, theme nights, beach parties, and movies under the stars.
Entertainment at Sandals Resorts includes live shows, theme nights, local music, beach parties, piano singalongs, karaoke, and talent nights which guests participate.
Inclusions
Both Sandals and Secrets include a ton of complimentary items and services in their rates. Here are the details of what Sandal and Secrets include:
What Is Included in a Stay at Sandals?
Sandals Resorts claim to offer "more quality inclusions than any other resort in the world." These include gourmet dining (all meals and snacks) at multiple restaurants and cafés; unlimited non-alcoholic and alcoholic beverages including unlimited premium liquors and unlimited Robert Mondavi Twin Oaks wines; a minibar in your room that is refreshed daily, stocked with juice, water, soft drinks, wine and beer; a coffee maker with Jamaican Blue Mountain Blend coffee.
Water sports like snorkeling, paddleboarding, and kayaking, including equipment and professional instruction; scuba diving (including equipment) are all included.
You'll find daily and nightly entertainment; WiFi; unlimited land sports including golf and tennis (at most resorts), beach volleyball, etc.; a fitness center with state-of-the-art equipment; roundtrip airport transfers; private airport arrival lounges at some locations; roundtrip shuttles to other resorts and access to their facilities (at some locations).
You won't have to worry about tips, taxes, and gratuities because they are all included in the all-inclusive rate. Plus, stay a minimum of 3 nights at a Sandals resort and get a free wedding.
What Is Included in a Stay at Secrets?
Inclusions at Secrets Resorts include unlimited gourmet dining (all meals and snacks) at multiple restaurants; unlimited nonalcoholic and premium brand alcoholic drinks; 24-hour room service; a mini-bar stocked with beer, soft drinks, and water and refreshed daily; free WiFi; pool and beach service; "endless entertainment" including daily and nightly activities; non-motorized watersports; a full fitness center and classes; golf and tennis where available; and tips and taxes. You can also get a free wedding at Secrets Resorts with a 7-night minimum stay in certain room categories.
Is Secrets Resorts the same as Sandals?
Secrets is not the same company as Sandals, but it does offer a similar luxurious adults-only atmosphere.
Tip: Secrets is now part of World of Hyatt, so you can earn Hyatt rewards points for stays at Secrets resorts, as well as use them to book stays there.
Is Secrets Resorts clothing optional?
Secrets Resorts are not clothing optional. Neither is Sandals Resorts. You can find clothing-optional beaches at Couples resorts in Jamaica.
Are Sandals resorts for couples only?
Yes, Sandals resorts are for couples only. They are designed to deliver a romantic luxury experience for honeymooners and other couples in love.
Are Secrets Resorts for Couples Only?
No, Secrets Resorts is not just for couples. While they are adults-only, singles, friends, groups, and families with adult children are all welcome here.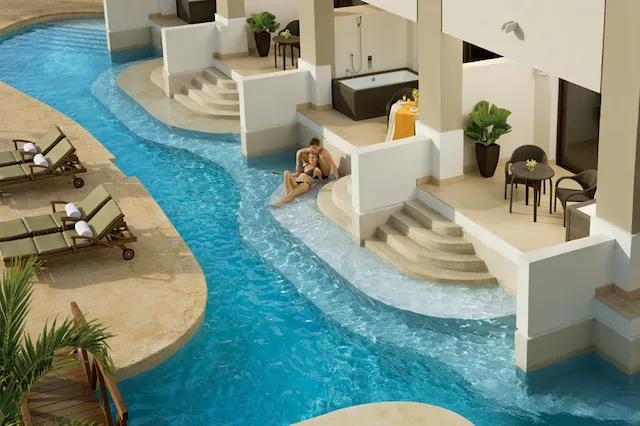 Is Sandals for older couples?
No, Sandals resorts are not just for older couples. They are perfect for any adult couple, and you will find a range of age groups at each resort. However, there are some Sandals locations that attract couples of particular age groups, depending on the time of year.
Older couples tend to enjoy Sandals Grande Antigua, Sandals Royal Plantation, and Sandals Halcyon Beach. Sandals Grande St. Lucian, Sandals Ochi, and Sandals Royal Bahamian tend to attract younger guests. But you will generally find a mix of ages at each Sandals resort.
Both Sandals and Secrets Resorts have a minimum guest age of 18. Secrets Resorts also draw a mix of age groups at their locations, so they are not just for older or younger people.
Now that you have read our comparison of Secrets vs. Sandals, what do you think? Which luxury adults-only resort will you choose for your next romantic escape?
Check out our other Sandals Resort Reviews:
He is an expert travel advisor and enthusiast. He has traveled extensively in the USA, Central American, South America and Europe. He has visited every Sandals Resort and is one of a select few Diamond Elite members of the Sandals Chairman's Royal Club.
Dan graduated from Johnson & Wales University with an associate degree in Culinary Arts. Later he graduated from the University of Utah with a bachelor's degree in International Studies with a focus on people and culture.