When it comes to adults-only all-inclusive resorts in tropical settings, Secrets and Breathless resorts are popular choices. Both are part of the World of Hyatt collection, and you will find similarities in what they have to offer. However, they tend to cater to different types of guests.
In order to choose between Breathless vs. Secrets for your honeymoon or romantic escape, ask yourself what you are looking for. Do you want a party atmosphere? Or do you want a more intimate, peaceful experience?
In this article, we will compare Secrets vs. Breathless resorts side-by-side to help you decide which is better, Breathless or Secrets.
Secrets vs. Breathless Resorts: Overview
As mentioned, all the Secrets and Breathless resorts are part of the World of Hyatt collection. As such, they offer a similar level of amenities and service, but they each have their own unique style and atmosphere.
Both Secrets and Breathless are all adult-only resorts, and you can rest assured that you will get unlimited luxury. Since they are also all-inclusive resorts, you will have food, alcoholic beverages, 24-hour room service, and a wide range of entertainment and activities included in your stay.
The biggest difference between Secrets vs. Breathless is the crowd they cater to. If you are looking for a romantic getaway for a honeymoon or anniversary, then Secrets is right for you. Here, you and your loved one will be able to sit back, relax, and enjoy each other's company.
For young couples or single travelers who want to party and socialize, then Breathless is your resort. You will find high-energy events here, including poolside DJs, pool parties, and live performances. This would be the perfect brand for bachelor and bachelorette parties.
Another difference between Secrets vs. Breathless resorts is their number of locations. In total, Secrets has 21 resorts across 7 Caribbean and Mediterranean countries. These include 12 in Mexico, 1 in Costa Rica, 2 in the Dominican Republic, 2 in Jamaica, 1 in St. Martin, and 3 in Spain.
If you want to know the best ones from the list, we have an article covering the 10 Best Secrets Resorts in 2023.
If you want to go to a Breathless resort, then you will have fewer options. In total, there are 5 locations, including 2 in Cancun, 1 in Cabo San Lucas, 1 in Punta Cana, Dominican Republic, and 1 in Montego Bay, Jamaica.
Now, let's dive into the specifics of Breathless vs. Secrets resorts.
Secrets vs. Breathless: Accommodations
There is no doubt that both Secrets and Breathless will offer luxurious accommodations to keep you comfortable during your stay. Each resort features rooms and high-end suites with private balconies, ocean views, private hot tubs, and even swim-up suites.
Past guests note that Secrets is more upscale than Breathless. The rooms and suites are typically bigger with higher-end furniture.
Secrets vs. Breathless: Dining
When it comes to dining, you will be happy to know there are plenty of options at both Breathless and Secrets. Guests can enjoy buffets for breakfast, lunch, and dinner, or go to a variety of fine-dining a la carte restaurants.
One plus is that the restaurants don't require reservations or have limitations on what you order.
Guests at both resorts can also take advantage of beach and poolside service. Don't worry about getting out of your chair; you can have drinks, meals, and snacks brought to you.
If you need a lazy day or want a romantic breakfast in bed, take advantage of the 24-hour room service. You can order anything from the menu and have it brought to your room. Yes, that means if you are having a late-night craving for pizza or dessert, you can place an order no matter the hour.
So, does one resort have better food than the other? Well, it's tough to say, as it can vary depending on the particular location. However, past guests have made comments that the cuisine at Secrets is of higher quality.
Secrets vs. Breathless: Atmosphere
Both Secrets and Breathless are for adults only, so you will not find children at any of the locations.
Breathless resorts are notorious for being party resorts. During the day, you can expect poolside DJs, live music, and parties. When the sun goes down, the party continues with live performers, themed events, and of course dancing.
It's safe to say that this is the better option for younger couples, couples looking for a lively vibe, and solo travelers who want to mingle with fellow guests.
Secrets, on the other hand, is the opposite in terms of atmosphere. At Secrets resorts you will find a quiet and relaxing vibe. Secrets is the best choice of the two for destination weddings, honeymooners, and couples who want quiet time alone.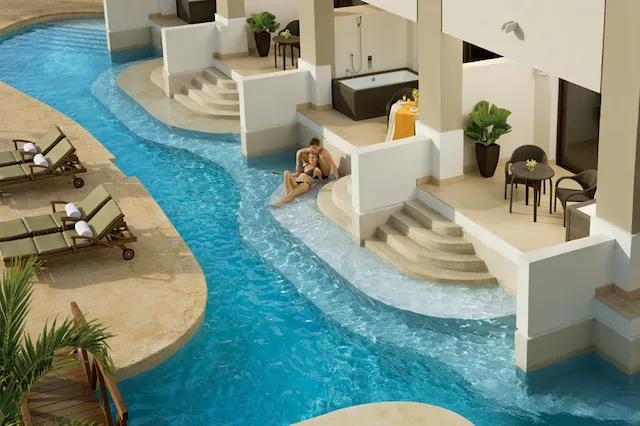 Secrets vs. Breathless: Spas
Both Breathless and Secrets resorts have world-class spas for you to unwind and rejuvenate. You will find massages, facial treatments, and even full-service hair salons.
However, past guests who have been to both resorts have said that Secrets spas are better. This could be due to them being aimed at honeymooners and couples who want to be pampered.
This may not be a deal breaker for some travelers. Most guests who go to Breathless resorts are more interested in partying by the pool than going to the spa.
Secrets vs. Breathless: Special Events
If you are looking to plan a destination wedding, honeymoon, or anniversary celebration, then Secrets is the best choice for you. While Breathless also has packages for these types of occasions, as we've discussed, the vibe there is more of a party vibe.
Secrets resorts have planners to help you coordinate your special day. They can also help you put together a group event for friends, coworkers, and family get-togethers (assuming everyone is over 18).
Breathless would be the perfect place to plan bachelor or bachelorette parties, birthdays, and other types of social celebrations. It would be fun to grab your best friends and have an unforgettable time.
There isn't a clear winner when it comes to planning an event at either resort. Ultimately, it comes down to what you are looking for and your desired atmosphere.
Secrets vs. Breathless: Activities
Every Secrets and Breathless resort has tons of activities to take part in. Most of the locations offer similar types, and many of them are complimentary. However, they will vary by resort, and some activities will cost extra.
In order to find out which activities are available and included at the Secrets or Breathless resort you're visiting, you can check the website. You can also talk to the concierge when you arrive about what activities are offered and the costs.
At Secrets resorts you can choose from a wide range of activities including non-motorized water sports like snorkeling and paddleboarding; dancing lessons; land sports like tennis, archery, beach volleyball, and more; yoga classes; and Spanish lessons. Some locations have special options like mountain biking; rum, wine, or tequila tastings; cooking classes; mixology classes; water aerobics; water polo; and minigolf.
There is also a full fitness center at every Secrets location. Secrets resorts also have a variety of swimming pool designs, including infinity edge and river pools.
Many Secrets locations offer golf with complimentary greens fees. For extra, you can go scuba diving or deep sea fishing, or take an area excursion.
Nighttime activities at Secrets resorts include shows, dancing, live music, theme nights, beach parties, and movies under the stars.
While Breathless resorts are known more for their party atmosphere and offer a more vibrant social scene, including different types of parties during the day and night, they are similar to Secrets resorts in that they also offer plenty of included activities like water and land sports.
Complimentary activities at Breathless resorts vary depending on the location, but can include snorkeling, sailing, kayaking, windsurfing, paddleboarding, tennis, beach volleyball, pool, yoga, fitness classes, and more. You can also take a variety of classes like Spanish, dancing, and cooking.
Activities that cost extra at Breathless resorts include scuba diving, fishing, golf, and horseback riding. Breathless resorts also have multiple pools and hot tubs. Nightlife is very active, with multiple types of parties, dancing, live music, shows, movies under the stars, and more. Some locations have casinos.
If a particular activity is important for you, we recommend contacting the resort beforehand. Every resort offers different activities, and what is included will vary, as will costs for extras. Getting the information ahead of time will help you budget and plan your trip.
Secrets vs. Breathless: Final Verdict
Overall, it's hard to say that there is a clear winner between the two resorts. Since Secrets and Breathless resorts have different atmospheres, it really comes down to what type of trip you want.
If you're not sure whether Secrets or Breathless resorts are best for you, you may want to check out our article Secrets vs. Sandals, or browse our site for articles on all-inclusive resorts throughout the world.