The Caribbean is a haven for sun-seekers, beach lovers, and even naturalists looking to enjoy some time in the buff. There are several resorts that cater to vacationers looking to shed their trunks during their stay. Most are just like any other all-inclusive resort, just with a clothing-optional area for guests to enjoy, and a few require full nudity whenever you are at a swimming area. Here are 8 resorts in Jamaica with nude beaches and pools.
Current Clothing Optional Deals:
Use code FJGREAT22 for an Extra $250 off all-inclusive vacation packages with 3+ nights to Mexico, the Caribbean, or Central America on FunJet.com
Sandals Royal Caribbean
Located on 745 acres in the northern mountains of Jamaica, Sandals Royal Caribbean Resort and Spa is an adults-only resort that sits high atop a ridge overlooking tranquil seas and picturesque white-sand coves. From its perch at the edge of a nature reserve and surrounded by lush tropical gardens, the resort offers guests stunning views of the Caribbean Sea.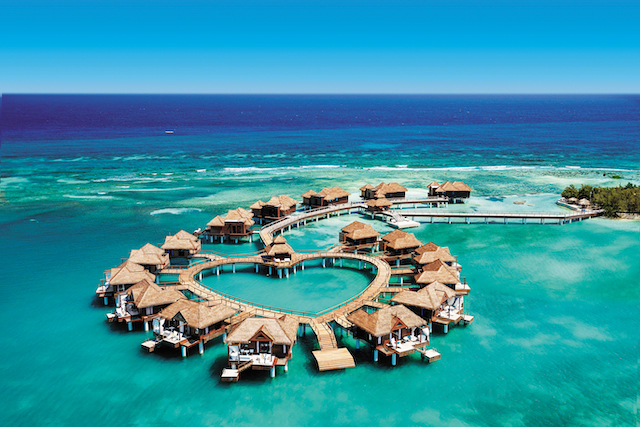 The resort itself is expansive – guests have access to seven pools, six restaurants, five bars/lounges, four tennis courts, two full-service spas with massages overlooking the sea, two private white-sand beaches, and state-of-the-art fitness center. The resort features 12 bars, lounges, and nightclubs to enjoy – including two nightclubs with dance floors on the sand.
The clothing-optional section of Sandals Royal Caribbean has a clear sign saying it is a clothing-optional section of the pool. The Sandals resorts are not known to be a nudist haven so you will see a mix of fully clothed guests, topless and some fully nude.
Keep in mind that the clothing-optional beach is on the open sea, so be cautious. The entire island is exclusively for Sandals guests and uniformed security keeps others away and off the island from a privacy standpoint. Local vegetation and fencing separate the clothing-optional area from the rest of the island.
Hedonism II
Located in Negril along Jamaica's famous seven-mile beach, this all-inclusive resort embraces nudism. The resort pool and beach areas are divided into a nude and a prude site. The nude side includes a beach and pool, where you are required to be nude.
If you are only looking to be topless or even wear a full bathing suit, you can go to the "Prude" pool and beaches where it is clothing optional.
The all-inclusive Hedonism II is a popular upper-middle-range nudist resort tucked in a peaceful, remote part of Negril's Seven Mile Beach in Jamaica. This adults-only resort encourages guests to let their wild side out and indulges themselves with a wide range of activities and entertainment. You can expect a variety of theme parties, restaurants, and bars.
Couples Negril
The Couples Negril resort is considered one of the most luxurious resorts in all of Jamaica. The clothing-optional section has a private beach and a bar where you can swim, tan, drink, and socialize without clothes on.
The clothing-optional area is located at the far southern end of the beach on the last 40 yards. It's separated from the rest of the beach on three sides by a hedgerow. You wouldn't even know it was there unless you were told ahead of time.
The Couples Negril resort, located on the beautiful Negril Beach, has been a favorite couples escape destination since its opening in 1982. The resort has been completely renovated from the rooms to the lobby and entertainment areas while maintaining its classic Jamaican charm. Couples Negril is truly a vacation for couples who enjoy watching romantic sunsets on the world-famous 7 Mile beach, dancing under star-filled Jamaican skies, sipping cocktails with their toes in the sand, and enjoying the close-by attractions of Negril.
Today, Couples Negril is a world-class resort that offers its guests outstanding amenities including an enormous pool with a swim-up bar, a state-of-the-art fitness center, tennis courts, watersports activities, and much more.
Grand Lido Negril Au Naturel Resort
Grand Lido Negril Au Naturel is a nude resort and has great facilities making it worth looking into. Keep in mind that it is not clothing optional. In the pools, laying out in the sun, or even in your balcony pool, you are required to be nude.
Enjoy Butler service and bar service along with the pool and access to amenities throughout the nearby resort. Guests can book any of the 26 suites that look into the private alcoves on the bay.
Grand Bahia Principe & Luxury Bahia Principe
The Grand Bahia Principe Jamaica is located in Runaway Bay, approximately 40 minutes from Montego Bay Airport. The resort is spread over 20 acres of lushly landscaped gardens with spectacular views of the blue Caribbean Sea and surrounding mountains. The resort was built in the traditional Caribbean style, with white-washed buildings and green shutters.
Next door is the adult-only Bahia Principe Luxury Runaway Bay. When you stay at either resort, you have access to the amenities at the other.
The clothing-optional beach is at the far end of the Grand side beach.
Couples Tower Isle
Couples Tower Isle is an all-inclusive resort with only 24 rooms and can accommodate a maximum of 50 guests. The resort is the only all-inclusive to have been built on its own private island and has a port for cruise ships to dock at as well as its very own marina.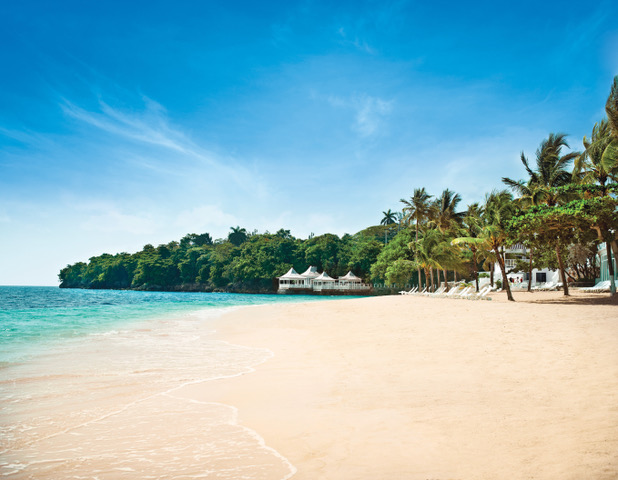 The nude beach is on a separate island accessible by boat. It includes a tower you can climb, has a small pool and sun lounges. The nude beach is not clothing optional. You must be nude to be on the beach unless you go in the early morning before the nude hours begin.
Couples Sans Souci
For guest at the all Inclusive Couples Sans Souci, the Au Naturel beach is not clothing optional, no clothing is permitted in the area.
The beach is located on the resort's eastern end. A swimming pool with a swim-up bar, a jacuzzi, a beach barbecue, and volleyball and bocci ball courts are available. It is a completely separate beach and there are no room blocks with visibility of the beach.
Grand Palladium Lady Hamilton Resort & Spa
For guests going to the Grand Palladium Lady Hamilton Resort & Spa, there is a nude beach (cove) and a topless pool on the lady hamilton side. Anyone is welcome in this area and you do not have to be nude or topless.
Grand Palladium Lady Hamilton Resort & Spa is a top-ranked resort in Jamaica. Grand Palladium offers numerous amenities to make every guest's stay as convenient as possible including a waterpark, an impressive main pool with a swim-up bar and two Jacuzzis, a state-of-the-art fitness center, five tennis courts including one lit for night play, and much more.
The resort offers a number of great restaurants including the famous Japanese restaurant Shogun and upscale French restaurant New Orleans offering delicious cuisines from all over the world. The resort also provides an Italian snack bar and a free coffee shop for snacks and desserts throughout the day. Spacious rooms provide guests with comfortable accommodations including beautiful views of the Caribbean Sea.