Australia is an amazing destination for a honeymoon, but with such a large country and so many amazing locations on the island nation it can be hard to narrow down where you should go on your trip.
To help you plan your trip, I've asked travel bloggers with much more experience traveling in Australia than me where they would go on a honeymoon in Australia. Here were the top places they recommended.
The NSW Central Coast
Australia is renowned for their pristine beaches and breathtaking coastlines. It's no wonder Australia is a dream honeymoon destination! The NSW Central Coast is a lovers paradise, with many romantic things to see and do. From whale watching at Crackneck lookout in Bateau Bay to swimming with wild Dolphins at the beach in Copacabana. You'll find something here on the Central Coast to suit every honeymoon style and budget.

If you're into nature like us, check out the incredible Wyrrabalong National Park. Take on the incredible Coast Walking Track. You've got vast bushland on one side and breathtaking views of the Pacific Ocean on the other. If you're around in winter, during Whale watching season, It's one of the best places to spot migrating humpback whales and their young.

Check out the infamous Snapper point and spot many rare birds. Watch fisherman brave the ambiguous waves in an attempt to catch the fish of the day. Frolic in the sea at Frasers Beach or strip down and embrace your natural body at nudist Birdy Beach. If you're a nature lover your bound to have the most incredible honeymoon on the NSW Central Coast!

Monique MacPhail – Honeymoon Backpackers

Christmas Island
Christmas Island is a small, tropical island which lies just 500 kilometres south of Jakarta, in the beautiful, blue waters of the Indian Ocean. Christmas Island became an Australian Territory in 1958 and is a three and half hour flight from Perth, Western Australia. The Island is a true tropical island, with palm trees and warm, tropical weather which feels like a hug from a loved one when stepping off of the plane.
Honeymooners to Christmas Island will be treated to a harmonious, multi-cultural community of 1500 hundred welcoming locals of Chinese, Malay and European descent. Visiting Christmas Island will allow you to participate in Buddhist ceremonies, Taoist festivals and Islamic traditions. The island boasts some of the worlds most spectacular diving, with a large diversity of sea life, including Whale Sharks! Back on the land, 65% of Christmas Island is national park, teeming with endemic creatures from reptiles to birds.
Dining options range from traditional Chinese and Malay cuisine to typical Aussie eats at the cliff edge pub. Honeymooners can choose to stay in hotel style rooms or venture out to the exclusive cliff top ecolodge. Christmas Island's unique culture, landscape and weather make the island the perfect getaway for a romantic or adventurous honeymoon.

Chantelle Powell – Over Yonda Adventures

Margaret River Region
Deep in my heart I feel I shouldn't be espousing the secrets of the marvellous Margaret River Region in Western Australia as it's one of those places that really you'd like to keep just for the locals!

Having said that, it's a wonderful region; diverse in nature and beautiful in scenery, and ideal as a honeymoon destination.

With around 50 beaches and surf spots, over 100 restaurants and cafes and about 150 wineries and breweries, honeymooners need not be short of a thing or two to do.

They could sip champagne and watch one of our renowned WA sunsets at any number of glorious beaches such as Gnarabup which houses the White Elephant Beach Cafe, or try surfing at Redgate Beach, spot Stingrays at Hamelin Bay, or head underground if they're feeling a bit too hot-hot-hot and visit a cave or two. (Margaret River sits on top of around150 highly decorated limestone caves that lie beneath the surface of the Leeuwin Naturaliste Ridge.)

Honeymooners will love the wineries with beautiful restaurants serving top notch gourmet food and cellar doors where they are assured some of the very best wines the region has to offer.

All in all, there are sensational places to visit in Margaret River.

Johanna Castro – ZigaZag

Yarra Valley, Victoria
If you are a couple of good wine fans, you should really consider some honeymoon days in the Yarra Valley, Victoria.
The sweet and colorful slopes can remind some Chianti Heels in Italy (just to give an iconic idea of how romantic the landscape can be here) and the very vast choice of tasting activities will add a joyful and unique touch to your love trip.
Open air walks in the rows of vines, changing colors' shade in every season, will give you a very special setting for your photos (I highly recommend to have this walk at sunset, it's breathtaking!).
The Yarra Valley can also be an ideal stop for a road trip, if you are a particularly active and adventurous couple, like Brad and Julia in "The Mexican". For sure, in the Yarra Valley one or two night stays are highly recommended not just because of the beauty of the place and the amazing hospitality of local wineries, where you can also overnight, but also because the wine here is too good not to be tasted.

Gibb River Road
Western Australia's Gibb River Road might not be what first springs to mind as a honeymoon destination in Australia, but for adventure lovers and outdoor fanatics, there's nowhere more romantic.
Picture driving the 660 km with your new husband or wife by your side, pulling in to see waterfalls which you have completely to yourself, hiking through gorges that look like they're enchanted and picnicking underneath a boab tree.
The Gibb River Road is one of the most beautiful places in Australia – if not, one of the most beautiful places in the world – and the adventure of exploring 'Australia's last frontier' just beckons romance. Start in the beautiful town of Broome, enjoying a legendary Cable Beach sunset, then start the road at Derby, visiting all of the gorges and waterfalls en route.
The road isn't for the faint hearted, and you'll have to camp most of the way – the most comfortable way of doing so is with a 4WD vehicle with a roof tent. But as you find somewhere new to pitch up after a day's worth of exploring, you'll feel like the two of you are in a world of your own.
At the end of the road, you could stop at the wonderful Lake Argyle, Australia's second largest freshwater lake; and if you have the time, you could continue your road trip in Australia to Darwin and beyond.
Claire – ClairesFootsteps.com

Cradle Mountain
Cradle Mountian is one of Tasmania's top destinations for honeymoons. This naturally beautiful area certainly brings couples of very different life styles close together, with many ending up at Cradle Mountain Lodge. One of Tasmania's most romantic lodges, with a stunning secluded spa, a restaurant producing some of Tasmania's most infamous produce and generally an amazing place to hide from the world. There's very little cell phone reception and no tv's in the rooms.
At the lodge you will find couples who are living the life of luxury alongside other couples who have completed the 7 day overland trek, taking some much needed time to relax and recover. Which is great if you need someone else, other then your dearly beloved to have a chat to.

Couples flock to Cradle Mountain for the serenity, the raw beauty of the mountain and the wonderful food & wine on offer.

Jeanette Cheney – TravelingHoneyBird.com
Noosa, Queensland
If you're after a picturesque, friendly honeymoon location with plenty to see and do, whilst also having the option of being laid back, then look no further than Queensland's Noosa.
Noosa keeps a more low-key, relaxing vibe compared to places such as the Gold Coast, allowing you to unwind from all the stress of that perfect wedding and instead focus on the reason you're there; your partner. But when you do decide to venture outside of the bedroom, Noosa has a wide variety of activities available; from swimming and kayaking, to cycling and tennis.
Noosa prides itself on it's stunning, natural beauty, making it easy to find little spots of paradise to relax with your new spouse; within the National Park you may even be able to find your own deserted beach. There are plenty of romantic places to catch a beautiful sunrise and Noosa sports multiple sandy beaches for those oh-so-romantic walks. The best part of all? You won't break the bank with a honeymoon here.
Melissa – ThrifyFamilyTravels.com
The Great Barrier Reef
If you're honeymooning in Australia, you're going to want to check out Cairns to visit The Great Barrier Reef. And what better way to experience this beautiful reef than to stay on the ocean on a ship! Cairns has lots of options for live aboard ships where you can stay on the ship for a few days and they take you out snorkeling or scuba diving in The Great Barrier Reef.
If you've never been scuba diving before, no worries, the companies will actually train you and take you right out to start scuba diving. It was actually my first experience, and they were so great teaching us, that it made it really easy to dive in the water and get going. It's a perfect activity for a honeymoon in Australia, and you'll get to sleep on a boat on the reef, go diving or snorkeling a couple times a day, and your food is included. Definitely an awesome bucket list check!
Sara – Ourkindofcrazy.com

Whitsundays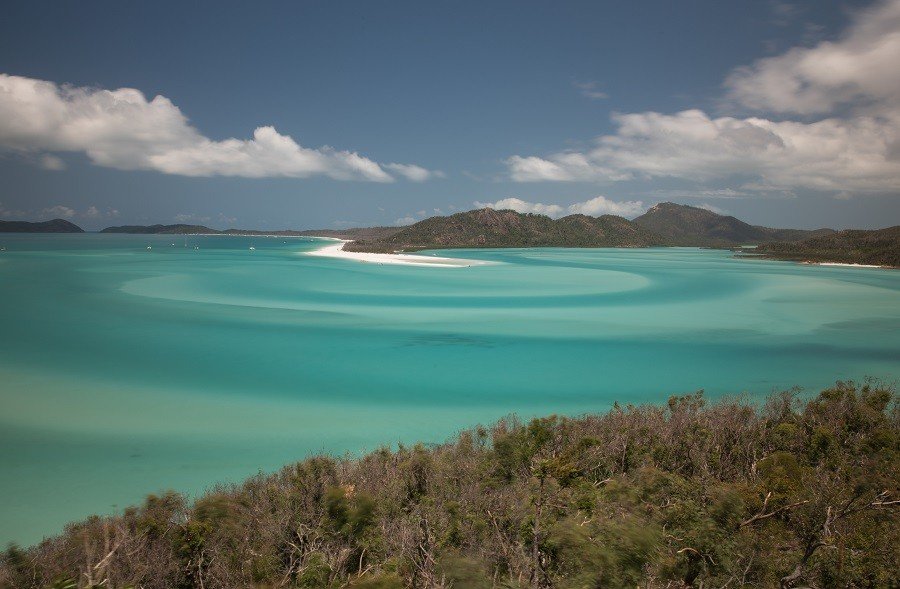 The Whitsunday islands are one of the most beautiful places in Australia. Located in Queensland, the easiest place to arrange a tour is from Arlie Beach. Don't miss Whitehaven beach where the sand is some of the finest and whitest in the world. The beaches throughout the islands are pristine and the water is an incredible shade of blue. It's the perfect place to relax and have a romantic getaway.
Hill Inlet is a short hike and worth the effort. The view from the top is incredible! There are multiple ways to see the Whitsundays Islands: by plane, day boat tour, overnight sailing trip, or camping. Although going on a day tour is nice, I would recommend spending at least one night on the islands. If fit a great option is to rent a kayak and explore the different islands. Be aware that during May through October is jellyfish season and it is best to wear a stinger suit.
Yana – BeardandCurly.com

Great Ocean Road
Take a leisurely drive along the Great Ocean Road for a honeymoon to remember. This iconic coastal route has all the ingredients for a romantic start to married life – incredible scenery and nature experiences, food and wine stops and windswept beaches.

Start your journey by visiting the lighthouse at Airey's Inlet for views down the coast. From here you pass through the Great Ocean Road sign on your way through to Lorne where you can dine on the tastiest tapas at Movida. This area is the place to take walks through the bush in search of waterfalls or more beautiful views of the winding road.

Travel onwards past the pretty townships of Wye River and Apollo Bay to the famous 12 Apostles and drama of the Shipwreck Coast. Here you will also find empty beaches perfect for long walks and fossicking. If you are lucky, you might even spot the seal colony at Marengo Bay.

All these nature experiences are bound to make you hungry. For the ultimate honeymoon treat, make a reservation for degustation dining at acclaimed Brae restaurant near Cape Otway.
Katy Clarke – Untold Morsels
The Bellarine Peninsula
As locals living in Geelong, we've long known the delights of the Bellarine Peninsula. An area that is becoming more and more popular with honeymooners. Even so, it's still a relatively unknown part of Australia that's perfect for couples wanting time alone together.
The Peninsula is a beautiful dreamy place speckled with historical seaside towns and tiny fishing villages where you can stay in grand old hotels, quaint B&Bs or heritage listed inns. Honeymooners can spend their days wandering along empty beaches and cliff top paths, picking luscious fruits at farm gates or exploring antique shops and art galleries.
Water lovers will enjoy swimming with dolphins or diving old shipwrecks and reefs teeming with marine life. The area is famous for its spectacular wineries where you can relax with gourmet food and fine wine with panoramic views across the bay. The Bellarine has everything honeymooners could want.
Audrey Chalmers – SeeGeelong.com.au
Pumphouse Point, Tasmania
Looking for luxury in the wilderness for your honeymoon? Pumphouse Point ticks all the boxes for one of the most memorable places you'll ever rest your head for the night. Located in the world-heritage listed Cradle Mountain, Lake St Clair National Park, you are flown in by helicopter to a magical hotel on a lake with everything set up for relaxation, adventure and leaving the world as you know it behind.
Staying in a beautifully restored 1940s Pump station at the end of a 250-metre pier you'll be surrounded by the icy waters of Lake St Clair, Australia's deepest lake. Keeping cosy by the crackling log fire and enjoy a one of the freely available wines or whiskey's on offer while watching the ever-changing scenery play out on the lake.
Hiking, biking or boating are available if you can peel yourself away from the fire where you'll see countless birdlife native animals including an elusive local platypus. Communal dining and an honesty bar add a unique and welcome twist to one of the most sought-after destinations in Tasmania if not the whole of Australia.
Warren Dobe – SlingAdventures.com
Watsons Bay, Sydney
Sydney has plenty of things to offer to its honeymoon guests. Tucked away from the hustle bustle of city center, Watsons Bay is just 15 minutes ferry ride from Sydney. Blessed with stunning beaches, awesome stretch of white sand and fantastic hiking trails, Watsons Bay has everything for having a perfect honeymoon.
Take a romantic stroll along the beaches. Indulge in snorkeling and swimming with your significant other. Have a romantic picnic in the park. Go for hiking and enjoy panoramic views of the ocean, cliffs and stunning lighthouse from Watsons Bay hiking tracks.
Don't miss out relishing the legendary seafood menu from the local restaurants in the wharf. If you are up for a game, then try out some stand up paddling lessons at the beachfront.
This place is ideal for couples who like to have some adventure and encounter with nature. Watsons Bay is a romantic yet simple place where you can create memories for a lifetime.
Nitha – TheTrailingMom.com
Hunter Valley
Just 2 hours north of Sydney is one of Australia's best wine regions and the perfect honeymoon spot, Hunter Valley. With its rolling hills, vineyard views and charming country villages, Hunter Valley offers honeymooning couples a unique romantic getaway.
Take your pick from the 140 wineries offering tours and tastings. Sample rare vintage wine paired with gourmet cuisine or the finest cheese. You don't need to be a wine connoisseur to enjoy Hunter Valley and there is so much more to the area than just wineries!
Start your Hunter Valley honeymoon with a romantic hot air balloon ride at sunrise with a champagne breakfast or enjoy a couple's massage at one of the many day spas in the region.
We definitely recommend exploring the beautiful Hunter Valley countryside. There are picturesque villages dotted throughout the valley where you can wine and dine in some of the best restaurants in all of NSW. Whether you're a couple who enjoy the finer things in life, or are in need of some R+ R after the wedding, you'll have a honeymoon to remember in Hunter Valley!
Oksana & Max – DrinkTeaTravel.com

Blue Mountains Region, New South Wales
The UNESCO World Heritage listed Blue Mountains region in New South Wales, Australia, is a wonderful place to start married life on your honeymoon. Filled with rugged cliffs, waterfalls, and bushwalks, this is truly an area of Australia where nature is at its finest.
Personally, I'd recommend a visit in Autumn as when the colors of the trees start to change, the scenery is extra special. The Fairmont Resort in Leura is a perfect accommodation for a little bit of luxury, and Katoomba is full of cute little B&Bs to get your mountain vibes on. Katoomba is also home to the most famous sight in the Blue Mountains, the three sandstone peaks of the Three Sisters.
My other favourite lookouts in the Blue Mountains include Govett's Leap, which is especially spectacular at sunrise, and Hassans Walls which is the highest lookout in the region and offers beautiful views of the Hartley Valley. If you're feeling a little more adventurous, I'd recommend adding on a trip to the Jenolan Caves to explore one of the world's oldest cave systems.

Emma – EmmaJaneExplores.com

Wilsons Promontory National Park
Wilsons Promontory National Park is most famous for being the southernmost point on mainland Australia, but is much more than just a check on your superlatives bucket list. It is also the perfect place for a honeymoon.
If you are an adventurous couple who loves to hike, there are plenty of options, from short easy hikes t multi-day treks, including an overnight hike to the Wilsons Promontory Lightstation near the southernmost point of the mainland. There are three cottages you can stay in right next to the lighthouse, as well as camping options. There are also shorter walks through the bush and down to pristine beaches that you will often have completely to yourself. It doesn't get much more romantic than that!
If you are a nature loving couple, head to the airstrip in late afternoon. This is one of the best places in Australia to see wombats, wallabies and kangaroos, as they come out to feed on the short grass of the airstrip at dusk. With pink galas and white cockatiels and cockatoos flying overhead, this is magical.
If you prefer to relax, you can curl up together with a glass of wine and enjoy the bucolic countryside views. This is the perfect honeymoon destination in Australia.
James Ian at Travel Collecting
Lord Howe Island
You'll think you're in paradise when you get your first glimpse of Lord Howe Island's twin peaks set in a semicircle of impossibly blue sea as the plane heads down towards the short (ish!) runway bisecting the sub-tropical island at its narrowest point. And when you're on the ground, surrounded by magnificent (world-heritage-listed) scenery, pristine forests, semi-deserted beaches, soaring peaks, and a laid-back island vibe you'll KNOW it!
Explore, eat and experience your way around the wilderness, wildlife and world-exclusive wonders of Lord Howe and its off-shore islets and you'll get a honeymoon camera roll so awesome it'll make your friends and family wish they'd come with you. There's the world's southernmost large reef and highest volcanic rock stack. The Lord Howe Woodhen and Phasmid both saved from extinction during your lifetime (well … mine!) that you won't find anywhere else on earth. Soaring sea cliffs plunging into crystal-clear waters and hiking trails through landscapes so picturesque it's like they were invented for Insta.
It's easy to find somewhere secluded away from the 380 residents and up to 400 tourists on the island at any one time; and with accommodation choices ranging from cosy to super-deluxe, you can retreat to a happy place when you need to. And when you're soaking up a sensational seaside sunset with your loved one by your side and a glass of something cold in hand, you'll be creating honeymoon memories so magical you'll want to come back each year to celebrate all over again.
Marion Halliday (aka Red Nomad OZ) – RedzAustralia.com
Freycinet National Park, Tasmania
If you are planning your honeymoon in Australia, I think Tasmania is one of the best destinations you can have. Its pristine nature coupled with unique landmarks and peacefulness makes it to a once in a lifetime experience. One of the places that stand out is the Freycinet National Park on the Eastern coast.
Besides the short to long hiking trails that skirt the beautiful coastline offering breathtaking views over inlets and bays, you can also walk along the spectacular Wineglass Bay, for 45 minutes or take a romantic cruise on its calming waters. If you like me are a sucker for sunsets, then head to the Lighthouse for a romantic walk down the path to watch the sun go down. And if you are a bit adventurous, I would go on a road trip of the East Coast of Tasmania to uncover more hidden gems of Australia's largest island.
Michela Fantinel – RockyTravel.net
Port Douglas
Port Douglas is a very popular honeymoon destination in Australia, its located about an hours drive north of Cairns in Far North Queensland. The weather is tropical meaning the basically experience a wet and dry season. So when the rest of the country is experiencing winter in the south, Port Douglas is in the dry season making it the perfect winter escape.

There are resorts and hotels to suit every budget in Port Douglas however we chose to stay at the Sheraton Grand Mirage Resort. The resort was recently renovated and it now definitely fits the luxury hotel market. The resort is beach front but the pool with the swim up bar is also a great option. The resort provides a shuttle bus into the main street where there are plenty of restaurants and bars to choose from if you decide to leave the resort for a while. I highly recommend the Nautilus Restaurant, an upmarket modern Australian fusion restaurant set in the tropical outdoor setting.

Sally Lucas – Our3KidsVtheWorld.com

Monkey Mia at Shark Bay World Heritage Area
For animal and adventure lovers, Monkey Mia is the perfect honeymoon retreat. Situated in the Shark Bay World Heritage Area, this region of Western Australia is regarded as one of the greatest wildernesses on the continent; where wildlife, scenery and flora bloom like no other.

The Monkey Mia resort beachfront villas enjoy unspoild views of the Indian Ocean and direct beach where the infamous wild dolphins visit the shores each morning. Being up close with these beautiful creatures is a once in a lifetime experience you can't get anywhere else.

There's plenty for newlyweds to explore around the resort. Book a romantic catamaran cruise and meet some magnificent local wildlife including dolphins, dugongs, whales and turtles. Take a sunset stroll on the Wulyibidi Yaninyina trail across the red sand dunes followed by a candlelit dinner overlooking the ocean at the Boughshed restaurant.

Add some exhilarating adventure your honeymoon by kite surfing, sea kayaking, quad biking, 4WD off-roading and diving at the most westerly point of Australia. Nearby you can relax on Australia's only Shell Beach, visit the worlds oldest living fossils or take an immersive indigenous tour.

Kylie – Our World of Adventure
Ningaloo Reef

All the beauty of the Great Barrier Reef, but without the coral bleaching and crowds, Ningaloo Reef off the coast of Western Australia is the ultimate honeymoon destination. There are miles of white sand beaches right along the coast, and in many areas the reef is accessible right off the beach.
If you're in the area between March and August, Exmouth and Coral Bay each have tour operators running trips to swim with the migrating whale sharks, and with strict environmental controls ensuring that the giant fish aren't stressed or harmed, you can be sure you're having an ethical animal encounter. Even without the whale sharks, the reef is home to manta rays, turtles, dolphins, and other tropical fish, as well as more than 250 species of coral – an undersea paradise.
With accommodation that ranges from coastal campsites to exclusive eco resort luxury (Pippa Middleton honeymooned at Sal Salis resort), there's something to suit all tastes and budgets. The weather is always beautiful, the ocean is crystal clear and balmy warm, and the seafood is as fresh as you'll get. There's really no reason not to go!
Perth
Perth has come of age and is a fascinating and romantic place to spend a honeymoon. Start off by booking a 6-star hotel set on the Swan River or a world-class hotel in the heart of the city. The city offers an amazing choice of dining experiences, lush rooftop and waterfront bars, even a rooftop cinema.
You can head down to Elizabeth Quay to the Bell Tower and seal your love with a love lock at the Bell Tower and then take a 45-minute cruise to the exquisite Claisebrook Cove for coffee, lunch and some dolphin spotting or take a stroll across the Matagarup Bridge to the new Perth Stadium. Elizabeth Quay also offers romantic Venetian vibes of a ride on a hand-painted Venetian Carousel and an enchanting sunset gondola ride on the river. Or take a romantic twilight cruise on the Swan River and enjoy the city lights having sundowner drinks. Of course, nothing beats the romance of the view overlooking the city lights from Kings' Park at night with the stars twinkling above.
If you want to experience something exclusive to Perth, head to Cottesloe beach to watch the sunset on the Indian Ocean or take the ferry across to Rottnest where you can cycle together and take a quokka selfie to remember the unique experience. Another fun day in the sun with your significant other can be spent touring Penguin Island in a glass bottom boat where you will see the smallest penguins in the world. Finally nothing says romance like wine, cheese and chocolate and you can enjoy these as you and your love escape the hustle and bustle on a horse drawn wagon tour of Western Australia's oldest wine region, the magnificent Swan Valley.
Lyn & Steve Baker – Aholeinmyshoe.com