The best way to have a romantic experience around the Great Smoky Mountains National Park is by staying in one of the many cabins surrounding the area. You'll find secluded cabins with hot tubs and amazing views of the surrounding mountains and forest. Here are 15 top-reviewed Smoky Mountain romantic cabins perfect for honeymoons in Gatlinburg, Pigeon Forge, and surrounding areas.
Honeymoon Cabins in Gatlinburg
Please Note: As an Airbnb Associate, I may earn a fee when you book the Airbnb rentals mentioned here.
"Just the Two of Us" Cabin with Spectacular View
With an unbeatable view of the surrounding forest and mountains, you may not want your honeymoon to end when you choose the "Just the Two of Us" Cabin. This secluded log cabin is located only 3 miles from Gatlinburg but provides all of the peace and privacy you could want. Fire up the grill and cook a delicious meal for two, then enjoy the waterfall hot tub.
The master bedroom includes a massive king-sized bed, a stone gas log fireplace, and to top it all off, a special heart-shaped spa bath with room enough for two and a gorgeous view of the mountains. You also have access to a full kitchen, open floor plan dining and living area, two comfy reclining rocking chairs, and all the amenities you could need. Don't miss out on the chance for a truly wonderful experience with your loved one.
"Bear Dance" Secluded Romantic Cabin With Hot Tub
The "Bear Dance" cabin is definitely a top pick for couples and honeymooners. It is well located between Gatlinburg and Pigeon Forge, making it easy to get around. Additionally, it is secluded with no direct neighbors. cabin secluded cabin.
From the cabin, you'll have a gorgeous view of the Smoky Mountains. Watch the sunset behind the mountains as you relax in the outdoor hot tub, or see the morning mists with a nice cup of coffee.
On the main level, you will find an open concept with a bedroom, bathroom, and fully equipt kitchen, and bistro table. Downstairs is an additional bathroom and a game room with a pool table. Outside there is a firepit and indoors is a gas fireplace, both areas with views.

Romantic, Honeymoon Cabin in the Smokies
Experience the best of both worlds in this classy-yet-rustic log cabin. Situated in the village of Cobbly Nob, you'll find a spacious, open floor plan, with classic wood and stone aesthetic.
You'll have a luxurious king-sized bed to sink into, a cozy sitting area complete with fireplace, a jacuzzi, and a fully stocked kitchen. A spiral staircase leads up to the second-floor sitting area and pool table. Outside, you'll find a hot tub, deck with grill and seating, and a fantastic view of the wooded mountains. This cabin is the perfect choice for any and all romantic occasions.
Secluded Sevierville Cabin, Hidden Gem in the Mountains
The beautiful cabin offers a massive spacious living area, equipped with a cozy living area and perfect kitchen. This cabin is fantastic for couples. The kitchen comes with full facilities and is situated next to the living room, which gives the place an enormously spacious feeling. The cabin includes a peaceful and hidden hot tub that offers fantastic privacy and sheer relaxation.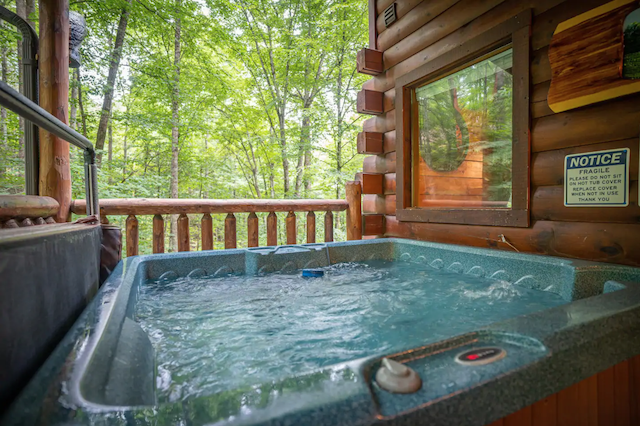 The design of this cabin from the outside is what some might call architectural beauty. The cabin ticks every box for its incredible design inside and out, and the excellent living amenities only match this. The views from around the cabin are secluded, surrounded by green trees. This place is very private and you can tell the owners put a lot of love into it.
Honeymoon "I DO" Cabin with Private Hot Tub
The Honeymoon I Do Cabin is tucked away on a secluded ridgetop in the Great Smoky Mountains. It provides a fantastic romantic retreat for you and your partner. The surrounding woods make for a quiet and intimate setting. You can make full use of the outdoor grill, enjoy the clean air on the covered deck (complete with rocking chairs), or relax in the large hot tub. Inside, you'll find all the amenities you could ask for.
The open concept living room features a gas fireplace, comfy couch, flat screen TV and large cathedral windows to allow for natural light and a splendid view. You also have access to a full kitchen, game room with pool table, two-person spa bath and more. If you're looking for the perfect honeymoon suite, then look no further; this cabin has it all.
LOVE IS ALL AROUND cabin, A Romantic Gatlinburg RETREAT
The "Love is All Around" cabin is wonderful couples retreat in the wilderness equipped with a wide array of perfect amenities from a steam shower, a whirl tub, and a fireplace in the bedroom to make for a perfect romantic getaway in Gatlinburg. The cabin boasts widespread outdoor space, perfect for relaxing.
Thick green trees surround the cabin giving it a very secluded atmosphere. But you have plenty of things to keep you entertained; the place even includes a games room with over 500 games and a Nintendo games console, the outdoor seating area even consists of a TV to enjoy your favorite.
Pigeon Forge Honeymoon Cabins
Romantic Cabin Minutes Away From Pigeon Forge Attractions
"Retreat on Silver Stone" is located at the Great Smoky Mountains only a mile and a half from pigeon forge attractions. It has a porch swing for two on the balcony and a hot tub where you get to enjoy a romantic date under the stars.
Among other features of the cozy cabins include ling bed, hot tub, queen sofa bed, washer & dryer, fireplace, gas grill, WIFI, and 50" TV. The cabin makes a great getaway destination for honeymoon or anniversary, even for small families.
The Romantic "Buck Wild" Cabin
"Buck Wild" is a perfect honeymoon cabin located in a wooden cabin community within pigeon forge. The party deck includes a gas grill and a hot tub perfect for a romantic evening together. Among other features, the cabin has smart TV for both seating area and bedroom, hairdryer, washer/dryer, 50+ games in the arcade game, fireplace, and cable subscription. This guarantees that you and your loved one can have tailor-made happiness in a romantic setting.
Affordable Studio Cabin
This studio cabin is located a few meters from the little pigeon river and a few minutes away from the outlet malls, shows, Dollywood, and restaurants. Therefore, you will experience a convenient stay with all the necessary essentials in your reach. Additionally, the cabin has a Jacuzzi tub inside and an outdoor hot tub
Snuggle Up Cabin With Loft
Start every day at "Snuggle Up" Cabin at the view of a smoky mountain national park. The cabin is located less than 5-miles from the parkway in pigeon forge. The roads are convenient, with no scary steep hills. It is a great place for hiking and fishing when you want to enjoy the outdoors and other features, including a sofa sleeper, king bed, fireplace, Jacuzzi, hot tub, and DVD library for having a romantic evening indoors.
The "Snuggle Up" cabin is located at a strategic place to enhance your love. It has high ceilings for more relaxing adventures, and it is super private. It is ideal for honeymoon couples or anniversaries for small families with kids.
Heavenly View For 2 Honeymoon Cabin with Jacuzzi
Just as the name, this cabin is located at the right spot for a perfect view. The cabin has a strategic placed hot tub where you can enjoy Morning Mountain View as the sun rises or an evening relaxing at the heart-shaped hot Jacuzzi. It has a king bed in the spacious bedroom for a secluded night. It is close to all attractions within pigeon forge for a romantic getaway.
Romantic Log Cabin in Pigeon Forge
This cabin is an ideal place to turn all your focus on love and the bond you share with your loved one. It offers a loft king bedroom with Jacuzzi for a moment of love and adventure. The cabin is fully furnished and has an outside grill, WIFI, and kitchen, among other amenities. This ensures that your stay is comfortable and full of romance.
"A Little Romance" Cabin
This is the ideal place to be for all your romantic honeymoon getaway. It has a hot tub pool table and a Jacuzzi for a romantic experience. Additionally, the one-bedroom cabin is fully furnished with essential household amenities to ensure that your stay is comfortable and full of romantic adventure. It is a perfect place for an anniversary or a couple vacation away from the busy city life.
"Heavens Window" Cabin
The cabin is perfectly located to provide an exceptional mountain view in a luxurious home. It has plenty of amenities, including bedroom Jacuzzi deck, front hot tub, kitchen, TV, fireplace, and WIFI, among others for a comfortable, romantic stay.
While at the cabin, you can also enjoy pool games at the arcade game too. It is located along with the home community of Black Bear Ridge Resort. The heavens window guarantees that you can view life from a different point of view and share quality time with your loved one.
Pigeon forge has all the unique spots to visit and enjoy quality moments of love. When you stay in cabins, you get the opportunity to make personalized decisions on how your vacation will be. Additionally, cabins are perfectly secluded to ensure your honeymoon focuses on the two of you with minimal interruption from others. This guarantees it's a perfect way to share your love moment and get to know your partner much better.
He is an expert travel advisor and enthusiast. He has traveled extensively in the USA, Central American, South America and Europe. He has visited every Sandals Resort and is one of a select few Diamond Elite members of the Sandals Chairman's Royal Club.
Dan graduated from Johnson & Wales University with an associate degree in Culinary Arts. Later he graduated from the University of Utah with a bachelor's degree in International Studies with a focus on people and culture.