A destination wedding is a dream experience for many. There are many reasons why Riviera Maya could be ranked as the top destination for dream weddings. However, many people shy off from all the logistics and planning to be done. But we are always here to ensure you have a seamless and smooth process. Here is a list of the top places to get married in Riviera Maya.
Why Choose the Riviera Maya For a Destination Wedding
1. Beautiful Beaches – Riviera Maya offers miles of beautiful beaches, soft sand, and turquoise waters. Not only is the place perfect for weddings, but also honeymoons.
2. Breathtaking scenery – While exchanging vows in Riviera Maya, you won't have to worry as much about floral arrangements and the ceremony's décor. Your natural wedding on the beach will be unforgettable beautiful as you will experience crystal waters, shimmering sand, and swaying palms.
3. Perfect weather – If you choose your destination wedding in Riviera Maya during the right season, you will experience sunny days on end. The place brags of perfect all-year-round tropical climate and temperatures. This means you can have your dream wedding by the beach even in winter.
4. Delicious Cuisine – Riviera Maya is home to some of the best chefs in the world. They will blow you away with whatever you crave for. The food will be a remarkable experience for you and your guests.
5. World-class resorts – you won't find lackluster hotel rooms in Riviera Maya. The resorts are elegantly beautiful and polished. To top it up, they are all-inclusive and perfect for transitioning from wedding to honeymoon.
6. Affordable Rates – Destination weddings in Riviera Maya are big on romance, fun, and beauty. Surprisingly, you won't have to worry much about leaving a dent in your pocket. Traditional wedding prices are on the rise. However, Mexico offers a great alternative as many resorts have complimentary and low-budget wedding packages.
How Much Does A Destination Wedding In the Riviera Maya Cost?
While many people perceive destination weddings as more expensive than a traditional wedding, but they can actually save money. For example, you might spend $5-7k for a destination wedding, yet the average cost of a traditional wedding in the USA goes for $35,329. That is a lot of money saved. What other reason would you give for not having a memorable wedding?
When it comes to wedding packages, all requirements are included. The essentials include; a symbolic ceremony on the beach, a private cocktail before the ceremony, a private buffet dinner on the beach, a reception area, wine for the toast, a wedding cake, an open bar, and DJ. Generally, most all-inclusive packages offer that but they may vary from resort to resort.
It is important to note that the accommodation for guests is not included, so they will have to cover that cost.
The difference between a $5,000 wedding and another for $10,000 is details such as ultra-luxurious suite accommodation, live music for the ceremony, premium drinks, and romantic candlelit dinner for a night of your choice, among others. Basically what you get depends on the resort of your choice and what you can negotiate.
The average price breakdown for a wedding in Riviera Maya
$6000 average for an all-inclusive wedding package (includes accommodation for 5-7 nights)
$250-$450 per person for flights from the USA
$100 for transport to and from the airport
$50 gratuities
$500-$3000 for wedding extras. These can rise quickly depending on the changes you make
Legal vs Symbolic Destination Weddings
When it comes to choosing between a legal and symbolic wedding in a destination, you need to choose what best fits you.
Symbolic weddings are not recognized legally and makeup 80% of destination weddings. The groom and bride visit their local courthouse or clergy and file the license before traveling. This makes them legally wed before they jet off and make an easy and smooth destination wedding.
The best part of all is that guests never get to know the difference. All weddings are the same, apart from the license.
A legal ceremony must be performed by the judge and an STD test is required. For a symbolic wedding, there is no legal bearing. It is carried out by a non-denominational minister, wedding coordinator, relative or family friend. The bride and groom then receive a symbolic marriage certificate but without a legal license.
When to Get Married in Riviera Maya
The best period to plan your wedding in Riviera Maya is from the last days of October, going on to the first few days of December. This is mainly because of two reasons. Low season and perfect weather. November has been for a long time regarded as the best month for carrying out a destination wedding in Riviera Maya.
These other factors will help you choose a great time to get married;
Prices go exorbitantly high in December
The months of January and February are high season. Wedding dates may not be requested so much because December is close. You might, however, get fair prices
Easter also has conducive weather but chances are high that it could be crowded. This is among the most religious periods in Mexico. Churches do not solemnize marriages throughout this period.
"Cinco de Mayo" (fifth of May) is also a good option, but it is also a high season
July to September is the rainy season and June to November is hurricane season. In this period, you expect high humidity and hot temperatures. One thing to keep in mind is hurricanes in June and November are rare which is why November is still a highly recommended time to go.
Where to Get Married in Riviera Maya
Thompson Beach House
This resort that was built in 2016 is an extension of the Thompson Playa Del Carmen, which is just several blocks away. The beach house lives up to its name as it is literally at the beach. It is so close to the beach you can throw a stone from your room's balcony into the water. It is most suitable for people who value their privacy as it consists of just three floors and 27 rooms.
Wedding guests at the beach house enjoy cabanas, private daybeds, and an oceanfront lounge. They can also enjoy activities such as bicycles, paddleboards, yoga, and other water sports available on site. You can take a five-minute stroll to the main hotel. There you'll enjoy the fantastic pool on the roof, with seating and private cabanas. Beach house guests also have access to the restaurants and bars at the hotel.
Grand Hyatt Playa Del Carmen Resort
This resort offers couples a private and luxurious wedding venue. The resort has remarkable architecture and offers a great selection of services, accommodation and location spaces on your big day.
Built-in beautiful Mexican culture, this hotel will ensure your wedding experience is nothing short of magical. The natural details and lighting will take your breath away, as will the bold colors and distinctive textures.
The maximum capacity in this resort is 3,509 guests. You can choose to exchange vows in the ballroom, oceanfront, and beach, or patio setting.
They offer all-inclusive wedding packages, giving you options to meet your needs. They also have in-house services for guest accommodation. Other wedding services provided at this resort include cakes, get ready rooms, event coordinator, wireless internet, setup/cleanup, and lighting/sound.
Zamas
This resort is one of the most exclusive in the Riviera Maya. The spectacular venue offers a wide range of possibilities for events. Weddings hosted here are ambitions to yearn for. The sunsets in the ocean while the tropical breeze and moonset the mood for a romantic evening. The venue offers a private and spacious beach, lavish suite, beautiful pool and a capacity of 400 guests.
Hotel Esencia
Hotel Esencia is a 29-room resort located on a stretch of white sandy beaches between Playa Del Carmen and Tulum. Planning a wedding at the resort is easy thanks to an in house team of skilled event and food and beverage staff. The team will work with you to customize services to match up your needs and collaborate with top-notch wedding planners to pull off dream wedding.
You can choose to have a beach ceremony or have a seated reception on the hotel's lawn with overhead twinkle lights. The hotel also manages two villas down the beach away from the hotel grounds. These two villas respectively accommodate 21 and 10 guests.
There's a cake for you and your guests and also a wide variety of meals to choose from for the reception. Catering is done in-house. After the wedding, you may choose to wind down at the hotel's spa that features treatments inspired by the Mayan culture.
Viceroy Riviera Maya
The Viceroy Riviera Maya is an award-winning resort whose white sand beaches meet the turquoise waters of the Caribbean. It provides the ideal setting for an unforgettable dream Playa Del Carmen wedding. You get to choose the backdrop to your wedding. Whether on the beach, before the sunset or sunrise, or under the stars, this venue assures a luxurious ceremony. The resort also has a rainforest garden with tropical monkeys and birds.
Couples have seven beautiful venues to choose from. You can use these not only for the wedding ceremony and reception, but also rehearsal dinners, cocktail parties, and farewell brunches.
This venue is especially suitable for couples who love food and trying out different delicacies. You can choose to serve your guests with traditional Mexican cuisine, high concept dishes or seafood.
Secrets Akumal Riviera Maya
The Secrets Akumal is an exotic and beautiful resort. Its clear waters and white sands glitter under the mellow Caribbean sun. It is a perfect venue to gather with family and friends to celebrate.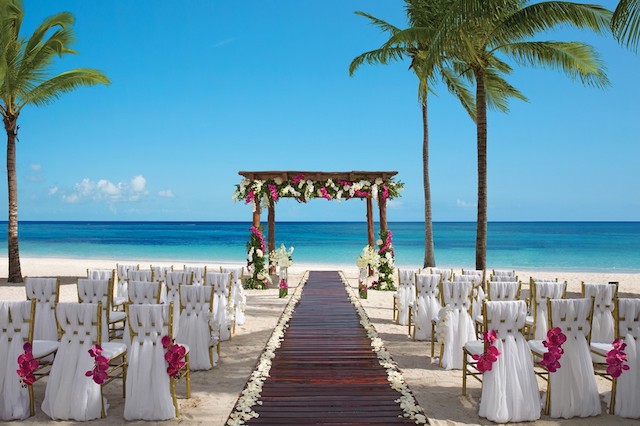 They offer several wedding packages to help in the planning of your wedding. Services in the packages can include wedding coordination, reception, cocktail party, cake, flowers, live music, photography and many other items.
Hotel Riu Palace Riviera Maya
In the recently renovated Hotel Riu Place, you get to enjoy the white sands of Playa del Carmen. The beach and garden gazebo can accommodate 100 guests for your wedding. The resort offers three packages for couples tying the knot on-site, be it a religious ceremony, civil ceremony or renewal of vows. Common amenities in all the packages include;
Wedding cake
Bridal flowers
Sparkling wine and toast
Officiating services
There are additional services to the groom and bride. These services depend on the package selected. They include celebratory t-shirts, couple massages, and complimentary room upgrades. The resort also has wedding planners who will help you with the arrangement.
You and guests have a pool and spa at your disposal. You can enjoy water fountains, swim-up pool bar, and a built-in Jacuzzi. The spa has multiple rooms for treatment, sauna, Jacuzzi and fitness center and beauty salon.
A local tax fee of $240 is levied on all weddings.
Paradisus la Esmeralda
This resort is an all-inclusive resort that offers classy service and many family-friendly options. The Family Club option is suitable for families traveling with children, while the Paradisus la Perla offers an adult-only section.
Their wedding packages include legal, symbolic, Hindu, Jewish, renewal of vows and same-sex. All packages include 24 guests and each additional guest pays $88. The resort has a wedding organizer who helps with the coordination.
Also in the package is cake and wine toast during the wedding, hairstyling, and makeup for the bride recorded music during the wedding and a three-hour private reception with a buffet-style meal.
Hard Rock Hotel Riviera Maya
This luxurious hotel has 1,264 rooms. The resort gives a stunning view of private white sandy beaches, tropical feel as well as exclusive snorkeling areas. The Hard Rock hotel is big on events so it will not let you down at your wedding. They offer approximately 90,000 sq. ft. area for events and a capacity of 3, 830 people.
If you want a smaller but elegant wedding, there are oceanfront terraces. There is also a chapel at the beach where you can host your wedding, whether civil or religious.