If you decided to celebrate your new beginning in a postcard-worthy location, with relaxing turquoise waters, gorgeous white sand beaches, tasty foods, and plenty of things to do, Jamaica is your answer.
The capital of Saint James Parish on Jamaica's north coast is not only famous for its important cruise ship port, but it is also a superb spot for honeymooners, giving them the chance to spend their most romantic escape in lavish beach resorts, relax on soft warms sands, indulge in the local cuisine, explore fascinating culture, and adventure into all kinds of thrilling or relaxing activities.
If you want all of these amazing experiences, continue reading and find out all about the memorable honeymoon Montego Bay promises newlyweds from all over.
Montego Bay Adult Only All-Inclusive Resorts
Sandals Montego Bay
This is where it all started. The first-ever Sandals Resort is cleverly designed and completely luxurious, tucked along the beachfront with reefs to be explored. Visit the new Over-the-Water Bar for a cooling drink in the sunshine, or spend some time in your personal Tranquillity Soaking Tub. Why not make this the holiday of a lifetime, and make your vows under the Over-the-Water Chapel, where serenity will welcome you into married life in one of the most beautiful settings imaginable. Round trip transportation is available between the different Sandals Resorts nearby.
Swim right up to your suite with a Love Nest Butler Suite, where you can spend your perfect getaway with a loved one with everything is taken care of for you. Wall-to-wall glass doors open onto a large patio with a Tranquillity Soaking Tub with vistas over the Caribbean Sea ahead. Any room you find yourself in guarantees a perfect stay.
Sandals Royal Caribbean Resort and Private Island
This is a great retreat for a couple who can't decide where to go; Sandals Royal Caribbean blends the best of two wonderful worlds – Britain and the Orient. The Great House, beautifully adorned in Georgian-style furnishings and complementing solid English traditions such as high tea and croquet. Only minutes away on the exclusive private offshore island, over-the-water bungalows await. Tucked away in a luscious setting, welcome pleasures such as an authentic Thai restaurant, castaway island nighttime entertainment, and poolside and beachside luxury make this location perfect for those wanting a holiday to remember.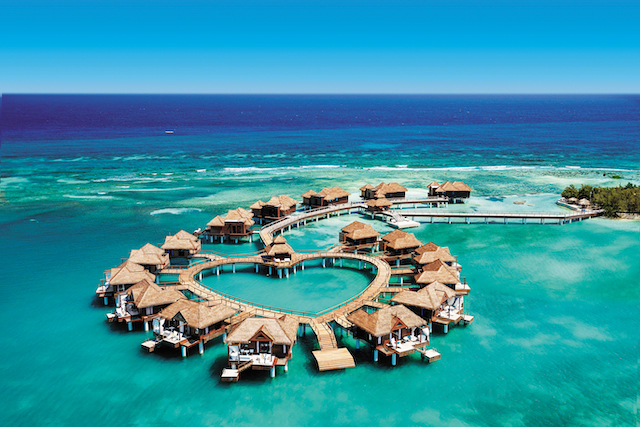 From the Over the Water Private Island Butler Villa with Infinity Pool – where you'll find floating water hammocks and a personal butler – to the Caribbean Deluxe, situated on the second floor of the Carisbrooke building, you can expect opulence and attention to detail at every luxurious corner.
Hotel Riu Palace Jamaica
Located on the beachfront, overlooking gorgeous Mahee Bay, Hotel Riu Palace Jamaica is a deluxe adults-only all-inclusive hotel awaiting romantic with many surprises that promise to enhance their escape.
Spent your evenings in stunning rooms and suites with modern design and balconies or terraces, some with breathtaking bay views, as well as whirlpool tubs, enjoy a 24/7 room service and amazing dining options, including Italian, Japanese, fusion restaurants and a steakhouse.
For your memorable days, you have three infinity pools with two swim-up bars to choose from, as well as a spa, a gym, and the chance to try thrilling water sports.
Whether your dream honeymoon includes relaxing moments on comfortable deck chairs soaking up the Jamaican sun or exciting sports and activities like windsurfing and scuba diving, Hotel Riu Palace Jamaica promises to fully pamper you.
Prices for one week of upscale treatment at this romantic hotel begin at $1,300.
Hotel Riu Palace All-Inclusive Benefits
All food, including three meals per day, plus snacks from 11 restaurants are bars. Several restaurants are a la carte.
Free sun loungers on beach
3 infinity swimming pools, gym, wifi
Hyatt Zilara Rose Hall
Hyatt Zilara Rose Hall is a romantic, adults-only retreat in Montego Bay. The hotel includes a large secluded pool for adults only, including the IslandZ Bar with swim-up seating. On the beach, guests have access to comfortable chaise lounges and umbrellas attended by beach butlers, and of course the warm, crystal clear waters.
The fitness center at Hyatt Zilara Rose Hall has cardio and strength training equipment along with spectacular ocean views, located in the main building behind the Zen Spa. Fitness classes—including yoga, Pilates, boot camp, and cardio mix classes—are available daily.
While meals are included you there are a few add ons available including a candlelight dinner for two served in a private beachfront gazebo, an in-room romance package with sparkling wine, chocolate-dipped strawberries, and a sensual bubble bath, personalized flowers, and spa treatments.
Hyatt Zilara Rose Hall All Inclusive Benefits
Unlimited food and beverages—including alcoholic drinks—from a range of restaurants, bars, and lounges.
Watersports including kayak, catamaran, boogie board, snorkel
Fitness classes and sports including yoga, boot camps, and aquatic workouts.
Daily activities and live entertainment
Iberostar Grand Rose Hall
If you are eager to have the ultimate luxury experience in wonderful Montego Bay, Iberostar Grand Rose Hall, with its lavish amenities and excellent butler service, might be your best answer.
The upscale adults-only hotel promises all kinds of couples the perfect setting to disconnect and enjoy each other's company. Pamper yourselves with relaxing spa treatments, indulge in mouthwatering local and international dishes at either of their five restaurants, and sample perfectly made cocktails at the four bars, including a cool swim-up bar.
There is nothing you want, and you won't find, at the Iberostar Grand Rose Hall. And, if you make your decision fast, you can enjoy an early booking price of about $ 2,900 for a week of deluxe pampering.
IBEROSTAR GRAND ROSE HALL INCLUSIONS
Food from 5 restaurants and 4 bars, including one swim up bar.
Personalized butler services
Live entertainment
Secrets Wild Orchid Montego Bay
Secrets Wild Orchid, Montego Bay is located on a peninsula in Montego Bay next to the Secrets St. James with a private beach and surrounded by turquoise waters. The adults-only luxury resort offers an array of activities, several restaurants, bars, and lounges. You can unwind lounging poolside with cooling cocktails, or enjoy the Caribbean breeze and soak up the sun on the lovely beach. If you're looking for a little relaxation, treat yourself to the Secrets Spa by Pevonia® offering a superb range of relaxing body treatments.
The Unlimited-Luxury® includes gourmet dining options, unlimited international and domestic top-shelf spirits, natural fruit juices and soft drinks, pool and beach wait service, mini-bar with soft drinks, juice, bottled water, and beer, endless daytime activities, and nightly entertainment.
While staying at Secrets Wild Orchid you have complete access to Secrets St. James.
Secrets St. James Montego Bay
Secrets St. James Montego Bay is an adults-only resort and hotel that offers access to a number of gourmet dining options, unlimited drinks and cocktails, and poolside or beachside butler services. The resort holds regular theme parties, has live entertainment nightly and features oceanfront entertainment venues and bars.
A full-service spa is available onsite, providing many treatments and massages, as well as salon services. Rooms offer stunning views of the surrounding resort grounds and the ocean, providing a relaxing backdrop for any adults-only getaway. No reservations are required at resort restaurants, and room service is also available from all establishments onsite. The seven gourmet restaurants onsite provide something for everyone, from seafood and steak to Mexican cuisine, Italian, and a grand buffet that offers everything from local cuisine to international fare. There are also multiple bars and lounges on the property with various themes and entertainment options.
Preferred Club guests also get access to Breathless Montego Bay, which has five additional bars, seven restaurants, and two pools. This resort is situated on half a mile of white sand beaches on beautiful Montego Bay, offering private beach access.
The Unlimited-Luxury® includes gourmet dining options, unlimited international and domestic top-shelf spirits, natural fruit juices and soft drinks, pool and beach wait service, mini-bar with soft drinks, juice, bottled water, and beer, endless daytime activities, and nightly entertainment.
Amazing Montego Bay All-Inclusive Resorts For Families
Hilton Rose Hall Resort & Spa
Hilton Rose Hall Resort & Spa is a 4-star all-inclusive beachfront resort in Montego Bay, Jamaica.
You won't have to worry about anything during your stay, because Hilton All-Inclusive Resorts run a simple concept: There's just one service level, meaning each and every guest is equal. All you have to think about when booking is whether you want the standard mountainside room or upgrade to a full ocean view.
The property features a full-size gym, an 18-hole golf course, several tennis courts, a private beach, a water park, three pools, and seven restaurants. All non-motorized watersports are free of charge and there are waterskiing and scuba diving options available as well.
If you are looking to get out of the hotel for a bit of adventure, a shuttle will take you into town. There's also the possibility of renting a car right at the hotel. If you would rather lounge by the pool, we can highly recommend the Pina Colada. Lean back and enjoy your drink in the company of a beautiful Caribbean sunset. It sounds like a perfect honeymoon to us.
Recommend by Nick from The Danish Nomads
Hilton Rose Hall Resort All Inclusive Benefits
All food, including three meals per day, plus snacks from 11 restaurants are bars.
Beverages, including all non-premium brand liquor, draft beer, and wine by the glass.
Non-motorized watersports
Unlimited access to the fitness center
Sugar Mill Falls Water Park
Hyatt Ziva Rose Hall
Set on a delightful beach in Montego Bay, Hyatt Ziva Rose Hall is another all-inclusive Jamaican retreat hotel that promises newlyweds their dream honeymoon.
Active couples can spend their vacation enjoying exciting activities, like snorkeling, beach volleyball, and yoga sessions, while honeymooners looking for an oasis of relaxation have the chance to unwind by the swimming pool, indulge in tasty cocktails at the swim-up bar, take advantage of the two heated whirlpools, and pamper themselves with luxurious massages and salt exfoliation at the hotel's Zen Spa.
Foodies are spoiled with local flavors and unlimited international food and beverages, and those looking for intimacy can enjoy a spa treatment in the privacy of their rooms.
The gorgeous rooms at Hyatt Ziva Rose Hall welcome you with a spectacular design and lovely terraces overlooking the pool, garden, or ocean. For an enhanced experience, you can choose a swim-up room for direct access to the pool.
Prices depend on your stay and begin at $356 per night.
Hyatt Ziva Rose Hall All Inclusive Benefits
Unlimited food and beverages—including alcoholic drinks—from a range of restaurants, bars, and lounges.
Watersports including kayak, catamaran, boogie board, snorkel
Fitness classes and sports including yoga, boot camps, and aquatic workouts.
Daily activities and live entertainment
Jewel Grande Montego Bay Resort & Spa
Perfectly combining exotic attractions with deluxe accommodation, Jewel Grande Montego Bay Resort & Spa promises romantic couples the tropical island paradise they need to have a memorable honeymoon.
Elegant rooms and cabanas, breathtaking beaches, a multitude of dining options, a variety of water sports, and a world-class full-service spa are some of the things you will find at this high-end resort.
Just imagine yourselves relaxing by one of the two swimming pools available, sipping delicious cocktails, and letting the Jamaican sun caress your skin.
Whether you choose to stay in one of the superb private beachside cabanas or the gorgeous Montego Bay accommodations, the lavish amenities at Jewel Grande will make you fall in love with this place.
And, the great news is that the prices are as friendly as the locals you will meet during your Jamaican explorations, starting at $353 per night, including taxes and fees.
Jewel Grande Montego Bay Resort & Spa Inclusions
Unlimited access to all restaurants, eateries, and bars
Complimentary Wi-Fi
Unlimited spirits, popular beers, and wines, plus room service
Iberostar Rose Hall Beach
Another sumptuous hotel that has the well-known Iberostar signature is Iberostar Rose Hall Beach.
Located on a lovely beach along the Caribbean Sea coast, this informal all-inclusive hotel welcomes its guests with flawless room service and romantic sea views. Whether you and your loved one are active people or you are looking for a relaxed vibe to enjoy while sunbathing and sipping tasty cocktails, this hotel is for you.
Multiple outdoor pools, a fantastic spa, four restaurants promising unforgettable culinary experiences, as well as five bars, including a chic swim-up bar are some of the amenities waiting for you at Iberostar Rose Hall Beach.
Early birds, who are ready to book their most romantic holiday, can enjoy early booking discounts. Prices begin at $ 1,574 for a week of romance and adventure.
IBEROSTAR ROSE HALL BEACH Inclusions
Food from 3 restaurants, an ice cream shop and the Deep Blue pool bar
Free Wifi
Professional entertainment
Iberostar Selection Rose Hall Suites
Iberostar offers romantic travelers another great accommodation option.
Set on a white-sand beach on the Caribbean coast, Iberostar Rose Hall Suites is a chic resort with beautifully decorated rooms, lovely balconies and terraces, some with mesmerizing sea views.
The 24/7 available room service makes you feel pampered during your whole stay. And so does the high-end spa, where you and your partner can enjoy relaxing massages and treatments.
The hotel welcomes foodies with five restaurants and bars, while the adrenaline seekers are surprised with thrilling water sports.
The 5-star hotel also features three outdoor pools surrounded by comfortable sunbeds, making the outdoor areas perfect for long, lazy days in the sun.
The prices depend on your stay and begin at t $ 2,125 for a memorable week.
IBEROSTAR SELECTION ROSE HALL SUITES Inclusions
Food from 6 restaurants, 5 bars and coffee cafe.
Wifi
Professional entertainment
Montego Bay Resort with All Inclusive Option
Round Hill Hotel and Villas
Round Hill Hotel and Villas is only all-inclusive if you want it to be. When reserving your room, yo can choose what meals you want to be included in your booking. This is a great option if you do not drink alcohol or if you do not want to eat three meals a day at your resort as there are three different options.
You will find genuine Jamaican hospitality on the 110-acres with luxury villas, boutique oceanfront rooms, award-winning seaside dining, and an exquisite spa that lies nestled in a lush tropical hillside along a private bay of turquoise waters. Here, guests become family, paradise is found, and experiences become lasting memories.
Best Time to Visit Montego Bay
One of the best parts about Montego Bay is that it has a warm climate throughout the year, without too many changes in temperatures from month to month.
The peak season for this beautiful destination and all of Jamaica, however, is between January and March. But this means that, if you choose the high season for your honeymoon, you will share this beautiful place with crowds of travelers, while risking to pay significantly raised prices for accommodation.
The best rates are available during summer. But, since this is also the hurricane season, we don't recommend it, regardless of the low prices. So, if you want more tranquility, reasonable prices, and pleasant weather, the best time to visit Montego Bay is from November to mid-December.
Why You Should Spend Your Honeymoon in Montego Bay
With one of the busiest airports in the Caribbean, Montego Bay is among the most popular destinations on the islands. Its natural beauty is perfectly combined with the high number of luxurious all-inclusive resorts, making it a favorite destination for honeymooners who are eager to celebrate their new beginning in an eclectic place.
Whether you're interested in pampering yourself at upscale hotels featuring sensational amenities, you dream of romantic moments on perfect white sandy beaches, you want to experience the bustling Jamaican nightlife, or you prefer more thrilling experiences, the enchanting "Mobay" promises to satisfy all your desires.
Swimming within the Caribbean sea horses, exploring beautiful cave systems, adventuring into exciting bamboo rafting excursions, and floating through old plantations and jungle scenery during boat trips, are some of the many memorable things that make Montego Bay an excellent destination for both romantic and more adventurous couples.