Hawaii is one of the most popular destinations in the USA and the world to honeymoon for a good reason. The tropical setting boasts pristine beaches and a relaxed atmosphere that is the perfect way to start your marriage. Hawaii really has something for everyone. Whether you are looking for adventure by hiking volcanos or surfing, to take in the culture by enjoying a luau and some typical Hawaiian music played on the Ukulele, relaxing on the beach, or a bit of a mix.
An added benefit to Hawaii is its proximity to the USA. For the California coast, you can get to Hawaii with four-hour flights. Additionally, since you are traveling West, it makes it easy for you to get there in the early afternoon due to the hour change.
Top Hawaii Honeymoon Resorts
Hawaii Luxury Honeymoon Resorts
Four Seasons Oahu at Ko Olina
The elegant and spacious king-sized rooms at the Four Seasons Oahu come with large private balconies or lanais (Hawaiian patios), deep-soaking marble tubs, and glorious views of the gardens, mountains, or ocean. There's a beautiful salt-water infinity-edge pool for just adults, two other swimming pools, a full-service luxurious spa, a choice of fine-dining and beachside restaurants, tennis courts, a games rooms, and a range of free daily activities.
You can arrange exceptional tailor-made trips and experiences to make your stay truly special. Honeymoon activities include couples' massages and training in massage techniques to learn how to pamper each other at home, romantic private picnics on the beach, and candle-lit dinners without another soul in sight.
See our full review of the Fous Seasons Maui at Walea.
Four Seasons Wailea Resort
The elegant and spacious king-sized rooms at Four Seasons Wailea come with large private balconies or lanais (Hawaiian patios), deep-soaking marble tubs, and glorious views of the gardens, mountains, or ocean.
There's a beautiful salt-water infinity-edge pool for just adults, two other swimming pools, a full-service luxurious spa, a choice of fine-dining and beachside restaurants, tennis courts, a games room, and a range of free daily activities. The resort just steps away from the beach where you can snorkel to see sea turtles.
See our full review of the Fous Seasons Maui at Wailea
Kalaekilohana
Kalaekilohana is a luxury boutique hotel without the luxury price tag that comes with the larger resort. Well located in between both the Hawaii Volcanoes National Park and Pu`uhonua `O Honaunau National Historic Park, the property is a great place to stay a few days while experiencing the Island.
Accommodations include breakfast with locally sourced ingredients and breakfast with dinner available at an additional charge.
Grand Hyatt Kauai Resort & Spa
The Grand Hyatt Kauai Resort & Spa is one of the best Kauai resorts whose famed breakfast will be a great way for honeymooners to wake up in the morning.
Their extensive pools, lazy river, a saltwater lagoon, and waterslide all boast the property's activity and while the beaches aren't swimmable, their spa, golf course, tennis courts, and horse-riding stables make up for the short walk to a swimmable beach.
Four Seasons Resort Lanai
Located on the southern shore of Lanai, the Four Seasons is an exclusive retreat. The resort borders a marine preserve with colorful reef fish, sea turtles, and spinner dolphins and has two lagoon-style pools that overlook Hulopoe Bay.
The resort is family-friendly, but much of the clientele are couples with many honeymooners. Because the property is so massive with no bordering resorts it feels like a private island resort.
Koloa Landing Resort at Po'ipu
At Koloa Landing Resort you can find deluxe studios and large villas that feature floor-to-ceiling windows. The landscape of this hotel is gorgeous and perfect for honeymooners who are looking to get away from a beautiful setting.
Enjoy amenities like a poolside bar & grill, 4,000 sq ft day spa with 5 private treatment rooms, and the island's only all-copper Ofuro Japanese soaking tub and three gorgeous resort pools.
Ko'a Kea Hotel & Resort at Poipu Beach
Ko'a Kea is Set on Poipu Beach, near Kauai's southernmost point and offers either ocean or garden views and have private balconies or patios. Enjoy a pool with ocean views, an upscale seafood restaurant, a pool bar and a spa along with an activities hut on the beach for ocean gear.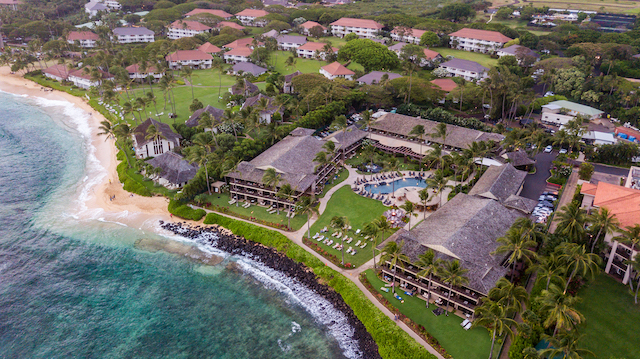 Visit the spa with a focus on natural and indigenous ingredients to ease aways the stresses from your wedding together in the romantic couple's suite.
Andaz Maui At Wailea Resort
Enjoy the beachfront Andaz Maui at Wailea Resort, a luxury hotel with five different pools to relax and soak up the sun, including three ocean-facing, cascading infinity pools, a lagoon pool, and an adult tranquility pool. Immerse yourself in the island spirit with regional farm-to-table dining, direct access to Mokapu Beach, and rooms boasting tropical views.
Grand Wailea Maui
The Grand Wailea is a Waldorf Astoria Resort set on 40 acres of tropical gardens bordering Wailea Beach. Rooms are spacious with breathtaking views from private lanais. Try the award-winning dining option including Hawaiian seasonal cuisine. Splash into one of 9 pools and try the three-story lava tube slide, lazy river, and waterfalls.
Ke Iki Beach Bungalows
Stay oceanside at the recently renovated Ke Iki Beach Bungalows on Oahu's Beautiful North Shore. Enjoy romantic sunsets on an acre and a half of palm-fringed beachfront land.
Sunset Beach, only a few minutes away, is known as surfing's Mecca. The surf and scenery are amazing any time of the year.
Mid Range Honeymoon Resorts
Prince Waikiki
Prince Waikiki is situated minutes from Ala Moana Beach and Waikiki Beach and offers delicious on-site dining, a full-service spa. The hotel also features an on-site activity desk, fitness center, and The Library. available for guest use. Printer available for printing airline boarding passes.
The signature pool deck provides the perfect oasis with an adult-only infinity and bar.
Queen Kapiolani Hotel
The Queen Kapiolani Hotel is located steps from Waikiki Beach, right at the edge of Kapiolani Park and it offers unobstructed views of Diamond Head.
The hotel is a 19 floor property with 315 rooms with a retro vibe that were renovated in 2018.
Kauai Shores Hotel
Kauai Shores Hotel is budget-friendly hotel on Kauai's eastern coast with a retro vibe. There are two pools with free morning yoga classes on the property's massive green lawn. The 200 rooms are colorful and bright, with modern tropical decor in a motel style.
Hawaii Airbnb Rentals For Honeymoons
Renting an Airbnb is another option for a honeymoon in Hawaii. In general, they cost less than resorts and can provide you a more secluded getaway. You can also split your time between a resort and an Airbnb. There are a few drawbacks to keep in mind. You usually will not expect the level of service you would expect at a resort, you will likely be further from the beach, restaurants, and other top attractions.
Click on the map below to see some of the top rated Airbnb rentals perfect for honeymoons.
Which Island To Visit On Your Honeymoon
Kauai Honeymoons
Kauai, more commonly known as the Garden Isle, lives up to its name and is the perfect place for honeymooners to steal away and relax. You'll understand what we mean when you visit the island for yourself. Everything is lush and green and beautiful. More than that, it feels otherworldly.
Popular opinion amongst the most experienced Hawaiian travelers is that Kauai is the best island. It is the fourth largest island and does not pull in the amount of tourism that the other islands do, which makes it quiet, relaxed and secluded; perfect for a romantic getaway. Their incredibly scenic mountains, clear blue water, adorable restaurants, and breathtaking hiking views will make sure that honeymooners never want to leave.
Oahu Honeymoons
Oahu blends the city atmosphere with its exotic landscape. The island has a plethora of stunning beaches like Waikiki and attraction like Diamond Head Crater, and Pearl Harbor.
Oahu is just perfect for those wanting to enjoy the lively Waikiki shopping, the beautiful beaches, and the Hawaiian culture by going to its festivals, art scenes, and even the Polynesian Cultural Center.
Apart from immersing yourself in the mesmerizing view of the sea from Waikiki with its breezy palms and inviting grounds, you can also go swimming, snorkeling, hire a canoe or a kayak. The waters of the Waikiki will surely remain etched in your mind for the rest of your life, allowing you to relive your honeymoon years later!
Get up early and make it to the Diamond Head peak for an amazing 360-degree view from the top. The hike itself is 1.5 miles up the crater and can get crowded quickly. A one hour drive from Waikiki will get you to this legendary surf mecca. The North Shore has a more laid-back vibe. In the winter there are amazing waves where you can watch the pros. Also in the area is the Turtle Bay Resort, the Polynesian Cultural Center (a bit of a tourist trap), and Haleiwa Town which is a perfect place for shopping and getting a bite to eat.
Maui Honeymoons
Beautiful Maui is Hawaii's second-biggest island and a hugely popular honeymoon and destination wedding choice.
It offers a little bit of everything with snorkeling spots, black sand beaches on the west side, luxury resorts, and famous sunsets. For travelers who want a more active vacation, Maui is also home to Haleakala, the largest dormant volcano in the world, and the famous Road to Hana, a great 64-mile drive on the east side of the island that connects Kahului with Hana and takes you through some of the most beautiful places in the island.
Honeymooners especially will find plenty of romance between the glorious beaches, lush rainforests, volcanic landscapes, and fascinating cultural activities, Whether you're an active and adventurous couple or a couple who prefers to luxuriate in bliss, take it easy, and relax, the stunning tropical island has something for all lovers.
The Big Island Of Hawaii
The Big Island, the largest Hawaiian island, is formed by 5 volcanoes, has 8 of the 14 climate zones in the world and offers a great variety of activities. The Big Island is perfect for those who like the outdoors and it has some unique places that you won't find anywhere else.
This is where you should go if you are looking to see active volcanos. At Hawaii Volcano National Park you can see lava flows from Kilauea, one of the most active volcanoes in the world, and Mauna Loa, a colossus measuring almost 30,200 feet from the base (underwater) to summit.
Unique to the big Island are the Manta Rays which you can go diving with year round.
3 Recommended Honeymoon Packages
7 Night Maui & Lanai Honeymoon at Four Seasons Resorts
Spend your time in Hawaii at two of the best rated and luxurious honeymoon resorts in Hawaii. After arriving in Maui, make your way to Four Seasons Maui at Wailea Resort. The beachfront resort has 3 pools including an adults-only infinity pool with a swim-up bar and complimentary cabanas. Snorkel with sea turtle right off the shore of the beach in front of the resort and add additional activities like zip-lining, the road to Hana, helicopter tours, and much more.
After three days in Maui, head to Hawaii's unsettled Island next door, Lanai. At the Four Seasons Resort Lanai you will find a secluded oceanfront retreat offering relaxation and adventure. Contact us for pricing and honeymoon extras.
9 Night Kauai & Maui Honeymoon Package
Split your time between two unique Islands of Hawaii. Stay for 5 nights in Maui with luxury honeymoon accommodations at the Andaz Maui at Wailea Resort. Customize your stay with experiences like day cruises, snorkeling, zip-lining, or many others. Next head to Kauai for 4 nights at the Grand Hyatt Kauai Resort & Spa where you can relax on the beach, at the resort pool, and enjoy a couples massage at Anara Spa. Before you head home, take a helicopter tour of the entire island.
Honeymoon Package Extras
$100 USD Property Credit per honeymoon resort
Room Upgrade
Daily Breakfast for Two
Welcome Amenity
Early Check-In
Free Wifi
Grand Hyatt Kauai Luxury Honeymoon Package
Relax at the Grand Hyatt Poipu Resort with a spectacular ocean view, pools, and a spa where you can enjoy couples massages or other treatments. The pools are very large with adult pool waterfalls, a lazy river, a water slide, hot tubs, and a saltwater lagoon pool. Go on a helicopter ride above the Island to see every side of the diverse island, enjoy local cuisine, and go tubing down the old ditches from the sugar cane plantations.
HONEYMOON PACKAGE EXTRAS
$100 USD Property Credit per honeymoon resort
Room Upgrade
Daily Breakfast for Two
Welcome Amenity
Early Check-In
Free Wifi
See other Hawaii Honeymoon Package Ideas
Hawaii Honeymoon Costs
Your budget is going to make a big difference in how you plan your honeymoon and should be the first thing to decide.
Airfare cost to Hawaii
Airfare can always vary but in general, a trip to Hawaii will cost around $450 round trip per person. Flights from the midwest will run around $500 – $650 and from the east coast closer to $700. If you plan on going between islands those flights are very affordable on Hawaiian Airlines or Southwest Airlines. They run all day, every day, and usually cost between $50-$80 each way.
Hawaii Accommodations Cost
The greatest variation in price for a honeymoon in Hawaii comes from accommodations. The variation in quality of the resorts, the location, the view from them room and the time of travel can mean a huge difference in price.
A mid-range 3-star hotel on the beach will usually cost around $300-$400 a night. Luxury 4 star resorts start around $600 a night and go up from there, easily reaching $1500 a night. There are tons of options in between.
Keep in mind that many resorts have resort fees and parking cost.
Hawaii Honeymoon Activities
Regardless of which Hawaiian island you decide to go to for your honeymoon, there are plenty of activities you can expect to find anywhere.
Helicopter Tours
See the Islands from above! See the lush rainforests, cascading waterfalls, and other amazing sites during a thrilling helicopter ride. See the white-sand and black-sand beaches, turquoise blue water, and historical sights. Each island offers a unique perspective but all helicopter tours will make your honeymoon memorable.
Luau
Hawaiian Luaus are very festive experiences with great food, lively music and cultural performances with Hawaiian roots and other Polynesian islands represented as well.
Spa Day
Take advantage of the world class spas by enjoying a spa day. At most spas you can experience massages and treatments using Hawaiian traditions and ingredients.
Snorkeling
Hawaii has some of the best snorkeling spots in the USA. In Maui, you can snorkel the Molokai crater or turtle town. Kealakekua Bay State Historical Park on the Big Island offers numerous snorkeling spots. You can see giant Pacific manta rays while snorkeling at The Big Island as well. In Oahu, head to the Hanauma Bay Nature Preserve which is packed full of fish, but unfortunately packed full of people most of the time.
Zip Lining
Each Island has zip lining experiences perfect for raising your heart beat and zooming through the jungle canopy.
Sunset Sailing
A great way to end a day, sunset sailing can be arranged at all the Hawaiian Islands. Relax together as you enjoy the sunset, usually accompanied by drinks and snacks.
Related Hawaii Articles