When it comes to honeymoon cabin destinations, there are few places more scenic and enchanting than the wooded slopes of the Smoky Mountains around Gatlinburg. Here, you can find many wonderful secluded locations, spectacular views, and romantic getaways. With the grandeur of nature at your doorstep and the intimate comforts within, these Airbnb cabin rentals (many with hot tubs) provide you with the very best that Gatlinburg has to offer.
You can enjoy the seclusion of a romantic cabin while experiencing the attractions and activities in downtown Gatlinburg or nearby Pigeon Forge.
Please Note: As an Airbnb Associate, I may earn a fee when you book the Airbnb rentals mentioned here.
Top Rated Romantic Studio Cabins in Gatlinburg
"Hoot Owl Retreat" cabin With Hot Tub With resort Amenities
If you're looking for a cozy Airbnb cabin close to Downtown Gatlinburg, The "Hoot Owl Retreat" is an excellent option. The studio cabin includes a living area that is spacious, clean, and warm with a king size bed and full kitchen. Additionally, there is a large jacuzzi tub. How does a relaxing night in with wine, pizza, and a relaxing bath sound for a perfect honeymoon evening? The cabin offers a beautiful outdoor hot tub with fresh air and relaxing surroundings and additional seating.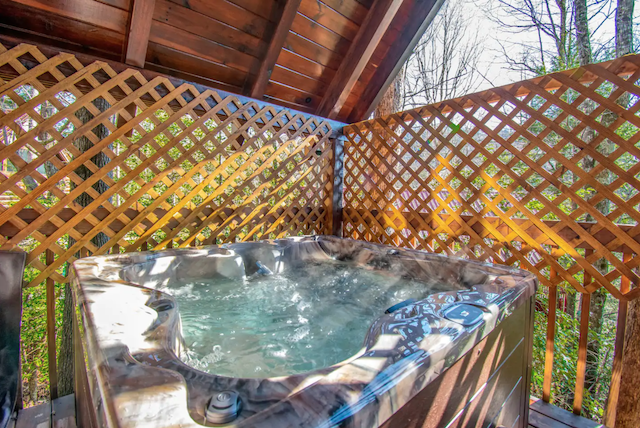 The Hoot Owl Retreat is located in a beautiful cabin resort community putting you within walking distance to the community pool for guests' use (open May-September).
"Honeymoon Magic" Airbnb Cabin
Spend a magical honeymoon in this quaint studio-style Honeymoon Magic cabin, located mere minutes away from downtown Gatlinburg. The cozy interior has all of the comforts and features you require, including a full kitchen, king-sized bed, electric log fireplace, flat-screen TV and spa bath built for two.
Outside you'll find a hot tub and the peaceful scenery of the surrounding forest. The nearby Smoky Mountain National Park contains even more natural beauty to partake in, and Gatlinburg provides many attractions and amenities for your enjoyment. This intimate cabin is the ideal spot for a romantic adventure.
"Just the Two of Us" Cabin with Spectacular View
With an unbeatable view of the surrounding forest and mountains, you may not want your honeymoon to end when you choose the "Just the Two of Us" Cabin. This secluded log cabin is located only 3 miles from Gatlinburg but provides all of the peace and privacy you could want. Fire up the grill and cook a delicious meal for two, then enjoy the waterfall hot tub.
The master bedroom includes a massive king-sized bed, a stone gas log fireplace, and to top it all off, a special heart-shaped spa bath with room enough for two and a gorgeous view of the mountains. You also have access to a full kitchen, open floor plan dining and living area, two comfy reclining rocking chairs, and all the amenities you could need. Don't miss out on the chance for a truly wonderful experience with your loved one.
Best 1 Bedroom Gatlinburg Cabins
Romantic Smoky Mountain Honeymoon Cabin
For any honeymooners searching for the perfect combination of convenience and privacy, look no further. There are a ton of cabins in Gatlinburg to choose from, but how can you compete with a heart-shaped tub when picking a romantic cabin? Not to mention over a hundred reviews for an average of 4.98/5. This is an easy choice. Located within the Hemlock Hills community near Gatlinburg, this wonderful cabin offers seclusion without sacrificing modern amenities. The private lot affords a lovely view of the surrounding forest and affords you the peace and quiet you desire. Bask in the wonder of nature from the deck, either in the pair of wooden rocking chairs or the luxurious hot tub.
Inside, you'll find an all-wood interior with a spacious living area, featuring an electric fireplace, flat-screen TV, and ample seating. The kitchen is fully stocked and ready for you to cook up a romantic meal. The master bedroom includes a comfy king-sized bed and a charming heart-shaped whirlpool tub, situated right next to another electric fireplace—a perfect spot to spend a relaxing and intimate evening with your special someone.
"Bear Dance" Secluded Romantic Cabin With Hot Tub
The "Bear Dance" cabin is definitely a top pick for couples and honeymooners. It is well located between Gatlinburg and Pigeon Forge, making it easy to get around. Additionally, it is secluded with no direct neighbors. cabin secluded cabin.
From the cabin, you'll have a gorgeous view of the Smoky Mountains. Watch the sunset behind the mountains as you relax in the outdoor hot tub, or see the morning mists with a nice cup of coffee.
On the main level, you will find an open concept with a bedroom, bathroom, and fully equipt kitchen, and bistro table. Downstairs is an additional bathroom and a game room with a pool table. Outside there is a firepit and indoors is a gas fireplace, both areas with views.

The Shirebrook Romantic cabin, Spectacular Views of the smokies
Placed cozily in the hill of Pigeon Force in the Sherwood Forest, the incredible outdoor viewing deck from The Shirebrook cabin will leave you in awe. Built-in a manner that offers the most stunning views of the mountains, the outdoor deck has scenic unobscured views of the famous mountain range. The deck even has a BBQ to cook and enjoy the scenery.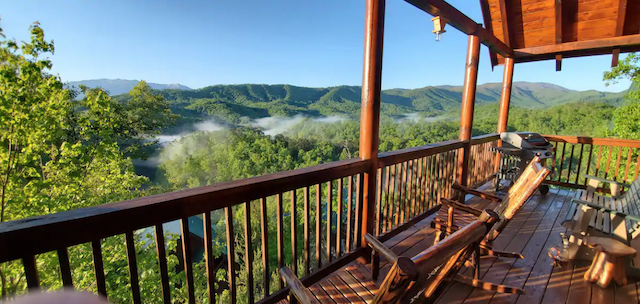 Indoors there is a large living area and kitchen that gives the guests plenty of room to move and relax. There is a king-size room with a full bath that includes a 2 person jacuzzi tub and a games room fully equipped with a pool table, high-top game table, and a 60 game full size upright retro arcade. Guest of the cabin can take advantage of the community pool when it is open seasonally.
Romantic, Honeymoon Cabin in the Smokies
Experience the best of both worlds in this classy-yet-rustic log cabin. Situated in the village of Cobbly Nob, you'll find a spacious, open floor plan, with classic wood and stone aesthetic.
You'll have a luxurious king-sized bed to sink into, a cozy sitting area complete with fireplace, a jacuzzi, and a fully stocked kitchen. A spiral staircase leads up to the second-floor sitting area and pool table. Outside, you'll find a hot tub, deck with grill and seating, and a fantastic view of the wooded mountains. This cabin is the perfect choice for any and all romantic occasions.
Secluded Sevierville Cabin, Hidden Gem in the Mountains
The beautiful cabin offers a massive spacious living area, equipped with a cozy living area and perfect kitchen. This cabin is fantastic for couples. The kitchen comes with full facilities and is situated next to the living room, which gives the place an enormously spacious feeling. The cabin includes a peaceful and hidden hot tub that offers fantastic privacy and sheer relaxation.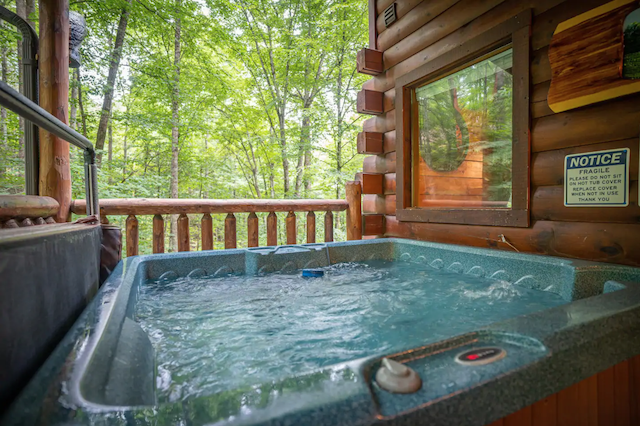 The design of this cabin from the outside is what some might call architectural beauty. The cabin ticks every box for its incredible design inside and out, and the excellent living amenities only match this. The views from around the cabin are secluded, surrounded by green trees. This place is very private and you can tell the owners put a lot of love into it.
Luxury Cabin in Gatlinburg's Mountain Shadows Resort
This romantic cabin in Gatlinburg is built for honeymooners. The cabin includes a bed-side jacuzzi with room for two. There is a stone-surround fireplace to keep the guests warm during the colder months. The living area is exceptionally homely, with a comfortable sofa and chairs.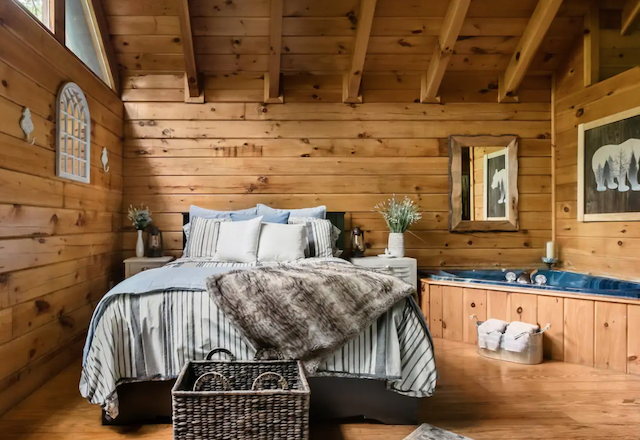 The cabin includes full kitchen facilities to cook your favorite meals and a good size bathroom. Secluded in privacy, the place is surrounded by the vast sea of trees in The Smoky Mountains, you will get fantastic privacy here and feel secluded from the rest of the world. The perfect escape with a good-sized patio that has the essential hot tub.
Honeymoon "I DO" Cabin with Private Hot Tub
The Honeymoon I Do Cabin is tucked away on a secluded ridgetop in the Great Smoky Mountains. It provides a fantastic romantic retreat for you and your partner. The surrounding woods make for a quiet and intimate setting. You can make full use of the outdoor grill, enjoy the clean air on the covered deck (complete with rocking chairs), or relax in the large hot tub. Inside, you'll find all the amenities you could ask for.
The open concept living room features a gas fireplace, comfy couch, flat screen TV and large cathedral windows to allow for natural light and a splendid view. You also have access to a full kitchen, game room with pool table, two-person spa bath and more. If you're looking for the perfect honeymoon suite, then look no further; this cabin has it all.
"Cabin In The Sky" Cabin Getaway (Secluded with Hot Tub)
Found amid the mountains between Gatlinburg and Pigeon Forge, the "Cabin in the Sky" provides a fun environment for a romantic honeymoon experience. Climb the stairs to this towering cabin, located next to a gently flowing creek. Inside you'll find a place both charming and luxurious.
The bedroom features a beautiful four-poster bed, large windows, a vintage-style vanity and even a jacuzzi. The décor is a mixture of clean and classic, and quirky and modern. You also have access to a full kitchen, lounge and even a record player. Cuddle up by the fireplace and enjoy the sounds of classic country music. Outside, you can take in the scenery from one of two decks, or unwind in the outdoor hot tub. Whatever your pleasure, this romantic getaway is the destination for you.
Falconcrest Enchanted Romantic Mountain CabiN
If you're looking for a combination of intimacy and convenience, then the Falconcrest is a top-rated 1 bedroom cabin that is just for you. Located just a short distance from downtown Gatlinburg, this secluded cabin offers you a chance to soak up the beauty of nature, without sacrificing the benefits of modern society. The outdoor hot tub offers a spectacular view of the mountains and forest that is perfect for a romantic getaway.
The interior includes a bedroom, a fully loaded kitchen, and an open living room and dining area. The cheerful black bear décor and unique furnishings brighten up each and every room. Snuggle up with your loved one on the love seat next to the fireplace, or jump in the candle-lit whirlpool tub and enjoy a glass of wine together. And once you've laid down on the plush king-sized bed, you might never want to leave. The cabin is perfect for a honeymoon, romantic getaway, or just a chance to relax together.
Sugarbear Cabin, Romantic Getaway in Gatlinburg
Let your cares melt away among the majestic trees and gorgeous mountain views at this romantic destination, the Sugarbear Cabin. Nestled away just a few miles from Gatlinburg, you and your special someone can indulge in the peace and quiet of your own personal paradise. You'll have access to an outdoor hot tub, a deck with a grill and seating, and even a nearby pool or three.
Once inside, you'll be treated to a cozy and charming layout. This ideal honeymoon cabin features a gas fireplace, full kitchen, a loft area with seating, a king-sized bed, and a full bath. And if you're hoping for some activities to enjoy, the Cobbly Nob community has a golf course available to anyone staying here. Make some wonderful honeymoon memories at this fabulous cabin.
LOVE IS ALL AROUND cabin, A Romantic Gatlinburg RETREAT
The "Love is All Around" cabin is wonderful couples retreat in the wilderness equipped with a wide array of perfect amenities from a steam shower, a whirl tub, and a fireplace in the bedroom to make for a perfect romantic getaway in Gatlinburg. The cabin boasts widespread outdoor space, perfect for relaxing.
Thick green trees surround the cabin giving it a very secluded atmosphere. But you have plenty of things to keep you entertained; the place even includes a games room with over 500 games and a Nintendo games console, the outdoor seating area even consists of a TV to enjoy your favorite.
See more Gatlinburg Cabins Here
How To Make Your Cabin Stay More Romantic
Plan for alone time. While you may be tempted to fill your vacation with things to do around town, make sure you leave time to just relax in your cabin together. Hopefully in your hot tub with a view or around the fireplace. Bring some things to make your time at the cabin special like massage oils, bath salts, handmade soaps, or a bath bomb.
Have flowers delivered from Cupid's Petals Florist
Stop by Kilwin's Chocolates to pick up some truffles
Order lunch to go at one of the local restaurants and have a picnic
Romantic Things To Do During In Gatlinburg
Helicopter Ride Over the Smoky Mountains
Fly high above the beautiful Smokies in a helicopter with your loved one. The landscape sprawled beneath you is mesmerizing, and certainly forms a romantic backdrop for adventure. This is a memory that you will both fondly hold on to.
Visit A Day Spa
What could be more romantic than indulging in a couple's massage at a luxurious day spa? With all the excitement that the Smoky Mountains have to offer, take some time to unwind together in blissful serenity. There are many different spas around Gatlinburg, each offering divine treatments directed for couples, so take your pick!
Rocky Top Wine Trail
Comprised of five wineries, the trail offers 75 unique wines to tickle your tastebuds along the trail. Indulge in some fine wine with your significant other amidst the stunning Smoky Mountains, and collect some souvenirs along the way. Whether you're a connoisseur or simply enjoy a glass every now and then, the Rocky Top Wine Trail is a fantastic experience.
Gatlinburg SkyLift
Snuggle up close on a chairlift for a scenic view of Gatlinburg and the Smoky Mountains as you ascend Crockett Mountain. At the top of the mountain, you can explore the SkyDeck and SkyBridge, both of which provide panoramic views of your surroundings from high in the sky. The SkyBridge even has glass panels in the middle so you can really see how high you are!
Space Needle by Starlight
The 407 feet tall Gatlinburg Space Needle reveals the entire city and mountainous surrounds from a 360-degree observation deck. For an ultra-special visit, take a trip to the top after sundown, and see the city lights shining below you as the stars twinkle overhead.
Great Smoky Mountain Wheel
The classic epitome of romance: cuddling up with your significant other on an old-time Ferris wheel. Head to The Island in Pigeon Forge to take a ride on the large wheel, which provides a panoramic view of the stunning landscape around you. After your trip on the wheel, take a visit to the fountain show for a multi-sensory experience.
Cycle in Cades Cove
A mountainous landscape dotted with picturesque cabins makes Cades Cove one of the most romantic places in the Smoky Mountains. Rent a bike from the visitor center and embark on a beautiful ride with your loved one through the luscious scenery. The Cades Cove is also accessible by car, but there's something truly romantic about a bicycle ride through the majestic landscape.
Ice Skating at Ober Gatlinburg
Skate around the ice rink hand-in-hand with your partner at Ober Gatlinburg Ski Area and Amusement Park. The rink is open year-round and makes a fun activity for couples, as well as the romantic flair of holding hands as you navigate the ice together. You'll also have breath-taking views over the surroundings from Ober Gatlinburg.
Starry Night
Take a short, scenic drive to Clingmans Dome, the highest point in the Smoky Mountain range, and watch the sunset beyond the mountains. Nestle together for some quiet time with your partner and watch the stars come out in the beautiful night's sky, and marvel at the Milky Way above you.
Stay Cozy in Your Cabin
Gatlinburg famously homes comfortable cabins that offer the height of romance to any couple. Recline in a hot tub together with a glass of bubbly, and share a blanket in front of a roaring fire on cooler evenings. Live in a fairy tale in one of Gatlinburg's many homey cabins.